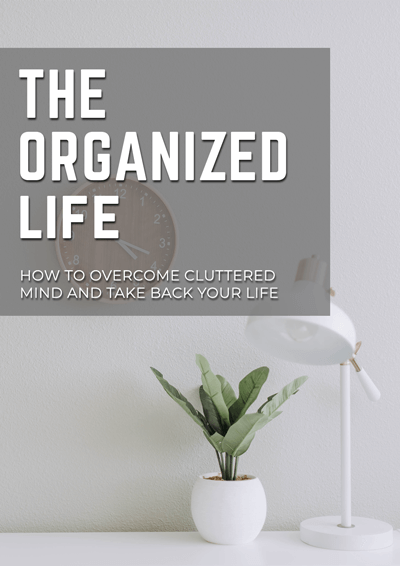 The Organized Life (76-page Guide)
On Sale
$7.99
What Being Organized Really Means? 

Unfortunately, a lot of people have the wrong perception of the word "organized". 
When advised to get organized they use excuses like "It sounds complicated." or  "You only do it in businesses and organizations, and not for daily life."
But can you imagine driving on the road if it wasn't organized? 
Imagine if there is no traffic light. The lanes are not separated. No speed limit… It would be chaos! Driving would be hell! And You'll never reach your destination! 
Similarly, to reach your goals, and enjoy the journey of reaching it, you need to get organized. And it's not complicated at all. You don't need to purchase a huge whiteboard and a marker and have a special room in your house for "organizing".
 Organizing your life is very simple and you can do it right now.
TAKE BACK THE REIGNS OF YOUR LIFE
Today, you're going to learn how to take back control of your life. There was a time when I felt trapped in this vicious circle of being "busy".  So "busy" that I got nothing done.  My house was a mess, my life was a mess and I couldn't find any joy in whatever I was doing.  I "couldn't find the time" to clean the mess in my house.  Although I got nothing done, it felt like I had a lot to do. 
The simple steps I'm about to teach you will remove all the confusion, anxiety, and stress from your life.  It's time to get organized. 
THE SOLUTION TO YOUR CONFUSION
Introducing…
The Organized Life: How to Overcome a Cluttered Mind and Take Back Your Life. 
'The Organized Life' is the ultimate guide for those who want to take back control of their life. The best part? It's easier than you think. Decide what matters the most and what doesn't and start organizing your life based on it. 
Here are some things you'll learn in this rewarding program: 
What is a cluttered mind? What causes it and how can it have a negative impact on your life?
The top benefits of a decluttered mind.
How to organize your home to achieve a less cluttered mind?
How to organize your workplace for greater productivity?
Learn to spot the signs of a disorganized life and learn what makes your life cluttered.
How to better manage your life and have mental clarity at all times.
Discover top secret hacks to organize your life and bring back control.
How removing toxic friendships can improve your life and mental clarity?
How to steer away from a cluttered and disorganized mind
….And many other powerful techniques inside!
But Wait, That's Not All...
Bonus #1 - Complete Checklist

This checklist contains a step-by-step action plan for you to make sure you get the full benefits of The Organized Life. 
By simply breaking one huge topic into easily digestible chunks, you get absolute clarity inclusive of easy-to-follow action steps!
Bonus #2 - Comprehensive Mind Map

This mind map is perfect for 'visual' learners. It outlines everything you are going to discover throughout the entire course.
With just a glance, you will have a clear picture of what to expect and absorb so much more than reading through The Organized Life by pages!
You have everything to gain and nothing to lose by this offer.