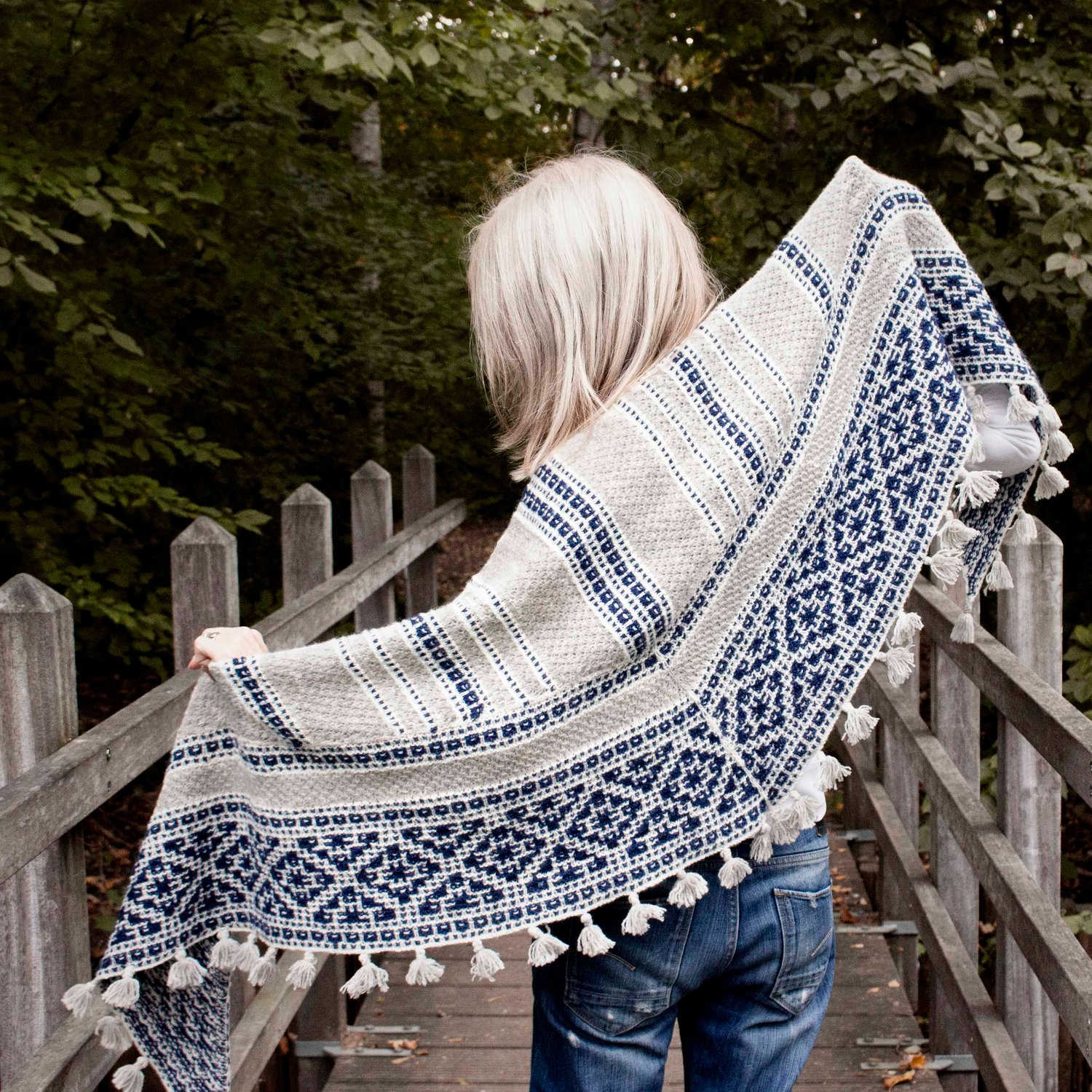 LUNAE
On Sale
Lunae's most prominent design feature are the beautiful, but easy to work horizontal and vertical mosaic bands. But she has more; lots of amazing texture, a lovely, wearable shape, a fun construction, and, if you're in to them, tassels!
And yes, it seems like a lot, but the well thought out details and the meticulously balanced proportions prevent it from being over-the top in any way. Although Lunae is a stunner and an eye catcher, she is also remarkably easy to wear and effortlessly elegant.
Wear yours with pride and a very wide smile!

CONSTRUCTION
Lunae has a relatively shallow, elongated triangular shape. A prominent design feature are the vertical and horizontal mosaic bands that adorn the shawl. To achieve this look the Upper Body of the shawl is worked from side to side. For the Lower Shawl Body, stitches are picked up at the lower edge of the Upper Shawl Body. From here on you will be working downwards, further shaping the shawl by increasing at the sides and the center of your shawl.


SIZE
Approx 200 cm / 78.75" wingspan along the top edge and 55.5 cm / 21.75" deep.


YARN
Fingering weight yarn, preferably with some elasticity and bounce (wool or a wool blend).

MC (without tassels) approx 350 m / 385 yards.
CC1 approx 350 m / 385 yards.
CC2 approx 430 m / 470 yards.

The tassels are optional. The sample has 41 tassels, which used approx 150 m / 165 yards of the MC.

Sample shown in Snaeldan 2-ply (MC and CC2); 100% wool, 360 m / 394 yards per 100 gr, and Hillesvåg Ullvarefabrikk Sølje pelsullgarn (CC1); 100% wool, 350 meters/ 383 yards per 100 gr.

Colorways
MC: Mist
CC1: Lys marine
CC2: Fleece white


NOTE
The Mosaic colorwork is charted only. In the pattern you'll find an explanation for working a mosaic pattern and reading the charts.


HINWEIS
Das Mosaikmuster ist nur in Diagrammen dargestellt. Die Technik des Mosaikstrickens sowie das Arbeiten nach den Diagrammen wird in der Anleitung erläutert.

Die deutsche Anleitung benutzt englische Abkürzungen. Diese sind jedoch im Anhang übersetzt und erklärt.


NOTE
Le travail de mosaïque est présenté uniquement sous forme de diagramme. Vous trouverez dans le patron les explications pour travailler la mosaïque et lire les grilles.

Les instructions en français utilisent des abréviations anglaises, mais elles sont traduites et expliquées en annexe.