Hi, my name is Sam Choo. I am an internet market coach. My forte is in facebook marketing without using paid ads.  These strategies has enabled me to earn up to a 5-figure income a month and a 6-figure income in a year.
It did not happen overnight.
My internet marketing journey started in 2008 when I fired my boss because I suffered miserably at the hand of my supervisor who was a bully.  When I left my corporate job, I was unable to find another job despite sending out resumes after resumes.  At the age of 49, it was hard to find a decent job.  I turned to internet marketing. I created my own job when nobody gave me a job.
Frankly, it was hard in the beginning.  Most of the internet marketing courses were less than ideal. They were expensive. It was a 4-figure fee to be paid upfront.  There were little support after the class was over. If you want more support, you have to pay more.  The learning sessions were short. It was just a few days. How can anyone master a skill in just a few days when college studies take years?
For a long time, it has been my dream to set up a digital marketing academy where anyone can learn digital marketing so  that they can create an online income for themselves. They don't have to beg people for a job any more.  They don't have to be sending resumes after resumes which will end in the rubbish bin. They don't have to beg for a handout.
I wanted to create a learning experience that is affordable, comprehensive and with good support.  Finally after 10 long years, I am more than ready. I have survived and thrived as a solopreneur. I believe,  with God's grace and blessing, and your effort, we can work together to achieve your financial freedom.
Sam Choo Academy
This is an  internet marketing learning and coaching program.  The purpose is to help you create an online income as a digital marketer so that you know how to sell online.
This program combines the best of everything you ever want:
* personal coaching from me.
* group coaching and peer support
* easy access to your coach if you are stuck anytime
* on-line lessons so that you can learn at your own pace from anywhere
Whether you are a newbie or an experience marketer, wherever you may be, you can also sign up.  Everything is online. You can choose to meet me in Singapore for  personal coaching session or we can interact online.
Before I tell you more about the program, let me introduce myself in case you don't know me.
ABOUT SAM CHOO
I have been conducting training from 2014 to 2018.  Now I am focused 100% on coaching. Read what people said about me at https://samchoo.com
Here's what my students said about my coaching. (Solopreneur is the predecessor of the Academy. The Academy is the new improved version)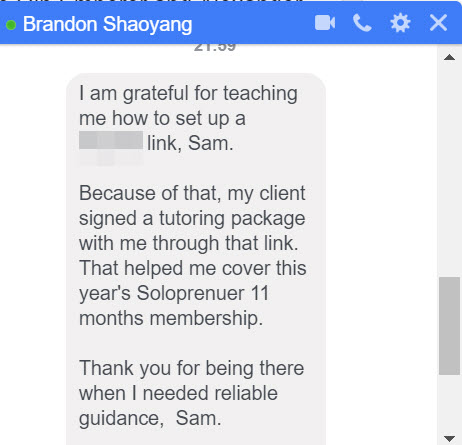 Here's what you will receive in the Solopreneur Package:
What you'll receive:
#1. DAILY INTERNET MARKETING INSIGHTS 
Get my best insight and strategies. I share my best tips almost every day about…
* business ideas
* entrepreneurship
* life lessons
* success formulas
* ways to make money with no-money methods
* Facebook marketing strategies
* Business opportunities (people often ask me for referral. You'll have the priority)
* New business biz models
* My personal experience. Lessons that I learn. What works and what didn't work
* Case studies. Learn from other people's mistakes and success
Get inside my mind as I share my thinking process, my strategies and my best business ideas on how to make money online.
Here's what  shared with my students.
#2. ONLINE GROUP COACHING. 
You will be added to a secret group of like-minded people. Tap on the collective wisdom group. Leverage on each other's contacts and talents. Collaborate and network with each other.  If there are any job opportunities, I will pass them to you.
#3.  ACCESS TO ME (value is $1K a month)
You have access to me online via Facebook Messenger any day, 30 days a month. Ask me any questions. I am online most of the time. You get a fast response. I am like your counselor. Bounce ideas with me. Validate your plan. Tell me about your challenges. I will help you get unstuck so that you can move forward.
If I see your mistakes, I will give you my honest feedback so that you can do better. We all have blind spots, so we need someone else to spot it. We are constantly exposed to negative conditioning. Did people look down on you and tell you that you won't make it? You need a mentor who believes in what you can achieve, who can affirm your strength. I will show you a different perspective to your issues so you can exit from a tunnel vision to a world of possibilities.
Where can you find a coach that is easy accessible?
ANY GUARANTEE?
Note that the result is not typical and it varies from person to person. I cannot promise you how fast and how much you can earn because everybody has different level of motivation. I am not selling a magic wand. This is not a get-rich-quick scheme. This program is not for lazy or busy people. If you don't put in the work, it won't work for you.  A better future is possible for you only if you put in the work.
If you are serious about creating a better future for yourself, this is your windows of opportunity.
There is no registration fee. No upsell. You can unsubscribe anytime.
When you spend 4 years of your life and thousands of dollars on a University education, there is no guarantee you'll get a job after your graduation.  For a small investment, you'll be equipped with a future-ready profitable skill that can make you money.  If you feel that it is not what you expected, you can quit the program anytime. So the risk is minimal.
Compare the value of this program with any other comparable programs. I'm sure you'll agree it is value for your money.
You will have my personal attention.
This is the program that gives you the knowledge and support you need to succeed in your online business. This is the program that I wish I had when I first started. This is your passport to success.
Your investment is
USD$47 a month.
If this program sound interesting, feel free to 
chat with me
 to see if we are a good fit.