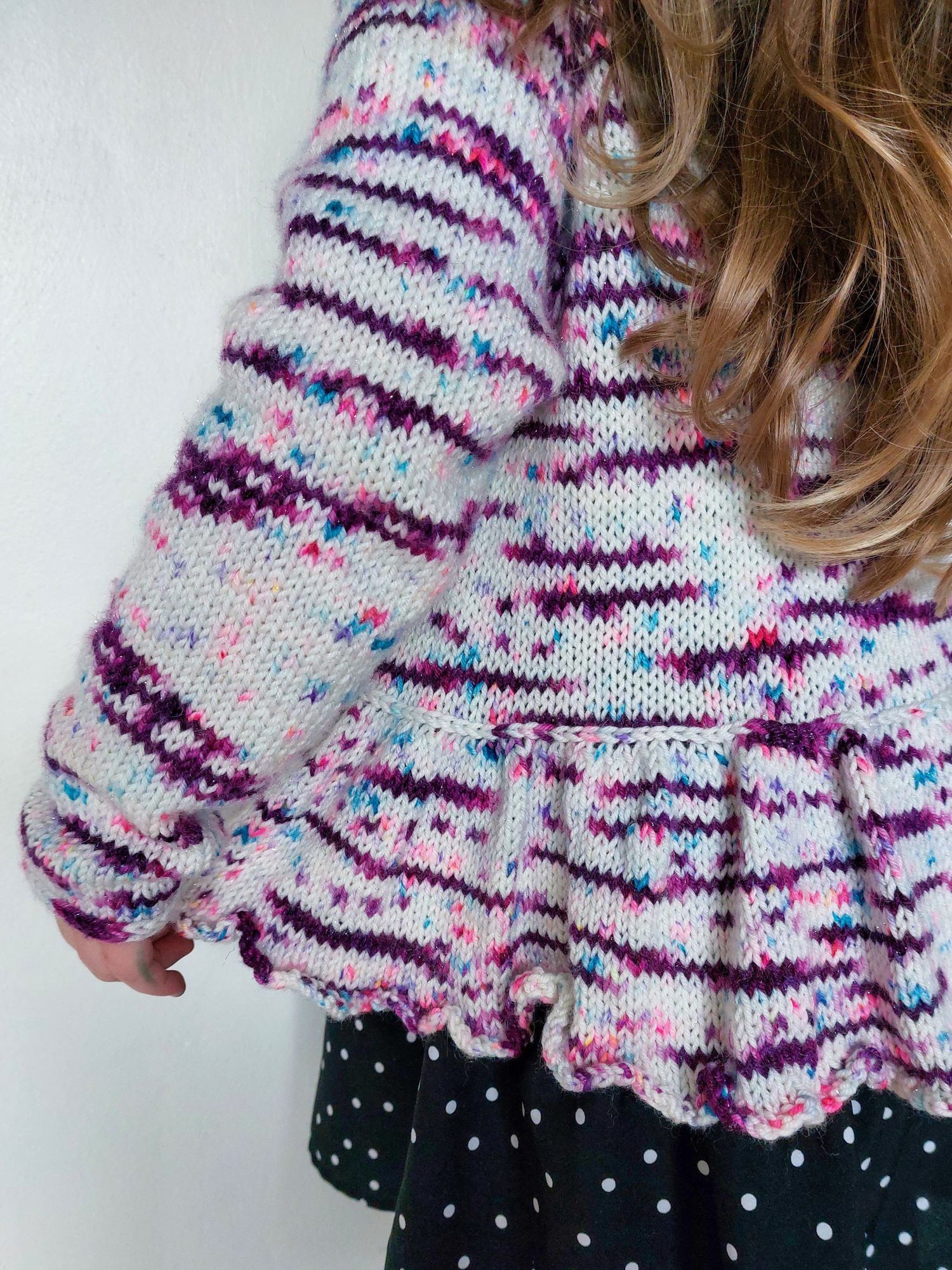 Flutterbye Cardigan
On Sale
Ode, to a 4-year-old. The trembling excitement, flapping of an arm. Quickly but not so quietly, trying to do no harm. The irregular beat of energy jumping around my living room, jumping off the sofa, spinning in circles, dancing all day long!
The
Flutterbye Cardigan
is designed to Pippa's exacting specifications. The i-cord neckline flows seamlessly into the raglan yoke and integrated button bands. She is a girl so obsessed with dresses that twirl she would rather freeze than dare put a jumper over the top. Its simplicity is enhanced by the most vibrant and colourful yarn in her favourite colours which mimic the beauty and vibrance of a butterfly – and her personality too! The peplum body and frilled bind-off gives the cardigan grace as it flutters and twirls, complimenting those favourite dresses or hers!
Sizing
6m (1yr, 2yrs, 4yrs) (6yrs, 8yrs, 10yrs, 12yrs).
Ages are provided as a guide only. Due to deviations in children's body shapes, choose a size based on the actual chest measurement. 3" (7.5cm) positive ease is recommended, allowing for plenty of growing room. However, a more fitted cardigan would look equally as sweet. Therefore, depending on fit preference, pick a size approximately 1-3" (2.5-7.5cm) larger than the actual chest measurement. If choosing a size with less ease, do ensure that the rest of the measurements will also fit.
Chest Circumference (actual size)
20 (21, 24, 26) (28, 29.5, 31, 33) inches
OR
51 (53.5, 61, 66) (71, 75, 78.5, 84) centimetres
Yarn Requirements
The first sample modelled by my daughter, Pippa. She is wearing age 6yrs with 3" (7.5cm) positive ease. The yarn is Quack Yarn Superwash Merino Nylon Stellina 212m (232yds) per 100g in the Colourway 'Funky Facts'.
Any DK yarn with approximately 212m (232yds) per 100g should work. This is a standard specification for a hand dyed sparkle base so have a look at what your favourite indie dyer has to offer and treat yourself and your knit-worthy recipient!
I knit my second sample from Drops Cotton Light,105m (115yds) per 50g in the colourway 'Ice Blue'. This, with short sleeves, has created a beautiful little summer cardi and benefits from being extra easy to care for! There are plenty of hard wearing, purse friendly yarns available from more commercial sources so whatever your requirements are, go for it! Just remember, if you are substituting, that yarns vary greatly so please swatch to not only check gauge but also that you are happy with the fabric properties.
Required Meterage/Yardage
6m (1yr, 2yrs, 4yrs) (6yrs, 8yrs, 10yrs, 12yrs)
350 (415, 500, 595) (715, 885, 1020, 1100) m / 385 (455, 550, 650) (785, 970, 1115, 1205) yds.
This equates to 2 (2, 3, 3) (4, 5, 5, 6) skeins of Superwash Merino Nylon Stellina 212m (232yds) per 100g.
OR 4 (4, 5, 6) (7, 9, 10, 11) balls of Drops Cotton Light 105m (115yds) per 50g.
The stated meterage (yardage) is the estimated quantity needed to create both the garment and swatch.
Needles and Notions
4mm (US size 6) and 4.5mm (US size 7) circular needles OR size needed to get gauge.
Length dependent on your knitting style:
24"+ (60cm+) circular for magic loop in both sizes for neckline, sleeves and sleeve cuffs.
OR double pointed needles in both sizes.
16" (40cm) circular for yoke/body.
A crochet hook of any size for the provisional cast on
6 stitch markers
3/4" (19mm) buttons