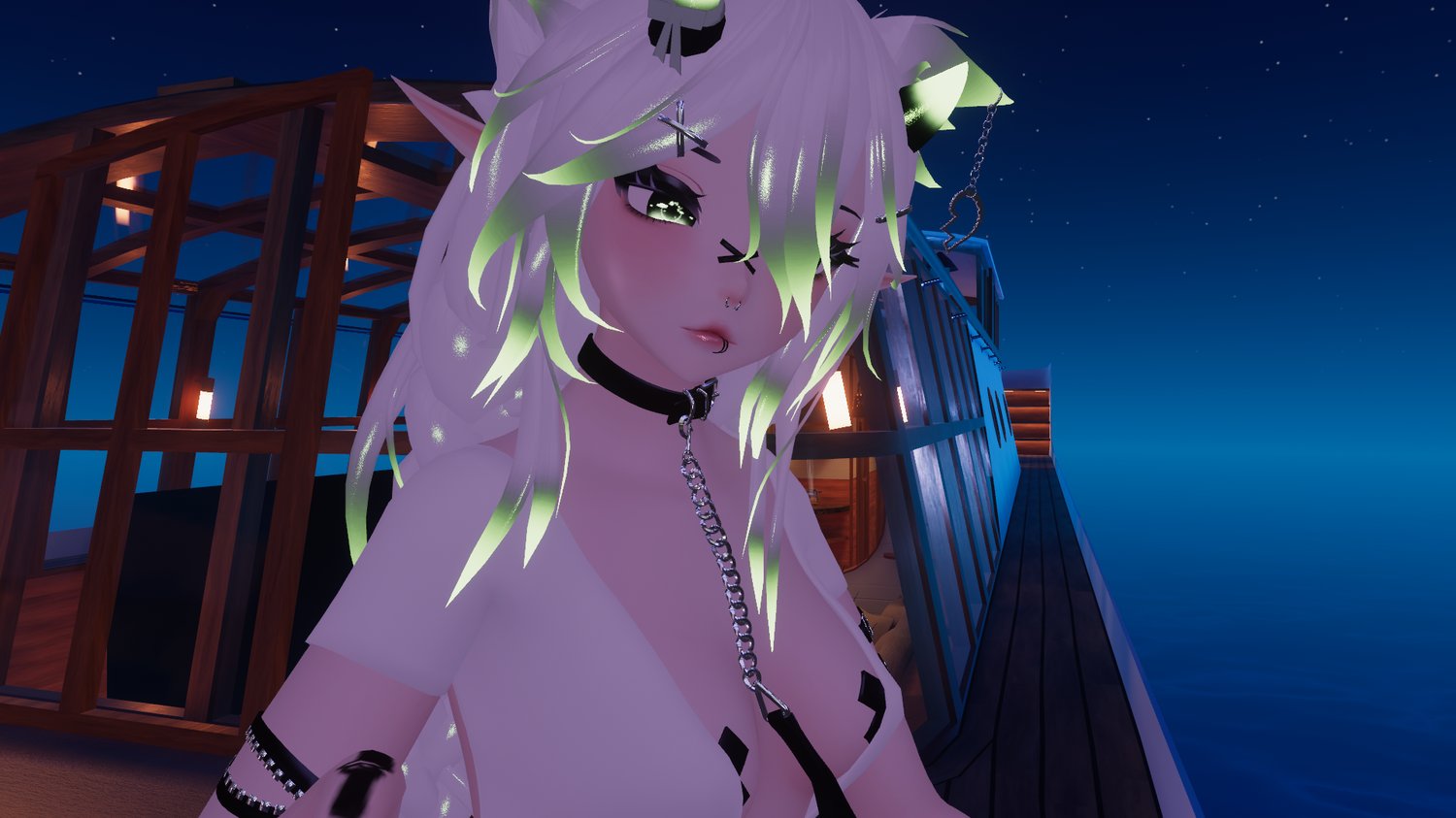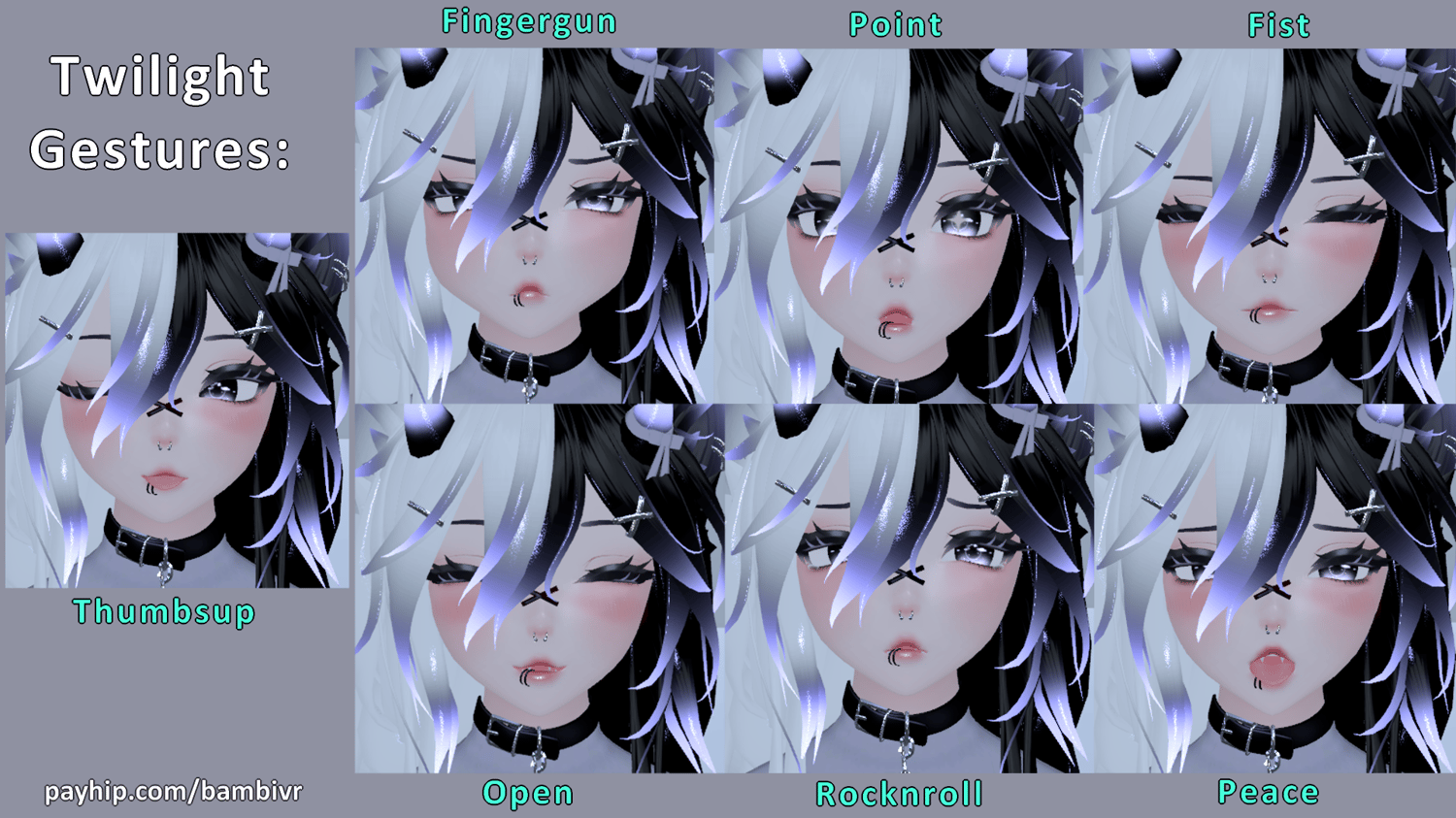 Twilight
On Sale
★ customer reviews at bottom of the page ★
𓆰├ 『 Twilight 』

If I could lock up light in your little heart~ ♡
---
Features:
• SDK 3.0 │ Unity 2019 │ FBT
• Cute pat reaction (Avatar contact) - smiles when patted!
• Toggles: Top, Bodysuit, Shorts Swap, No Pants, Pasties, Panties, Socks, Shoes, Ears, Tail, Collar, Horns, Elf Ears, No Hair Glitter, Headpat reaction off
• Colors: 4 Hair Colors (OG Split Hair, White with black tips, Black, White) │Color Saturation Slider │ Hair Glow Strength Slider│ Hueshift │ RGB cycle mode
• Toys: SleightlyBall Springjoint System (Click for usage Tutorial/Showcase) , VRLabs Marker
• DPS: 1 Penetr. │1 Toy (Can place in world) │ 12 Orifices (Hands L&R, Steppies L&R, Kitty, Feet, Chest, Mouth, Butt, Thighs, Kitty rub, Buttcheeks) + non DPS Version incl. , toggle to open both holes
• Phys Bones, Colliders & Jiggles everywhere as expected, everything grabbable, Tail & Ears posable
• 7 Custom Face Emotes
• Write defaults OFF!
• GoGoLocomotion (Fly/Playspacemover, FBT Float, Stationary Mode and extra animations)
 

Extra Info:

discord.gg/bambi - Join my Server to always get the newest updates, work in progress pictures, Sales, Giveaways and more! Customers get extra stuff <3

Product includes: Model Unity Package, VRCSDK 3.0 , Poiyomi Toon 7.3.050 , How-To-Upload & Troubleshooting Text files. Unity Version 2019.4.31f1. Use WinRAR or 7zip to unpack.
 
- This model uses Phys Bones only. No Dynamic Bones needed.
- Ingame download size: 16,80 MB - Polygons: 220k
- Dynamic Pen. System (optional) is NOT included in this package!
- This avatar does NOT include a Quest version.
- If I used an asset of you on her, DM me on Discord to get 15% off!
- First image is a Blender Render, 2-4 is ingame footage, last is Unity.
- Feel free to DM me on Discord if you have more questions or inquiries.

Credits: These are the creators' Discord names of the assets used, the best way to contact them!

Base - Pandaabear#9873 | Body Texture, Tattoos - Uni#1369 & Sugs#9795 | Female DLC - Riyshin#0666 | Head - Cicieaaa#7777 | Pants, Ears, Bangs, Broken Hearts - ничто#6666 | Braids - Gelw0#1000 | Horns - DOGU#0271 | Top - Miriloo#8133 | Bodysuit - Nauuki#5353 | Pasties - Cupkake#6666 (Server) | Shorts - Darcy#0005 | Socks - 𝓡𝔂𝓾𝓾#2921 | Arm Acc., Laces - vampi#1911 | Shoes - KC#5344 | Collar - Lex#0002 | Panties - Alc#0002 | Marker - VRLabs | SleightlyBall - JustSleightly#0001 | Springjoint (Free) - Raivo#3447 | VRC Avatar Tools - fluff#5265 | Menu Icons - Uni#1369 | GoGoLocomotion - Franada
 
Rules - Terms of Service (ToS) / Terms of Use (ToU)

By purchasing any model/product made by me (Bambi, listed on Bambi's Meadow at https://payhip.com/bambivr) you agree to adhere to and follow the ToS/ToU at all times.
Failure to do so will result in fines and legal action. You will be asked to cease and remove infringing content as well.

1. Under no circumstances you may share/redistribute/leak/rip my models/meshes/products, nor upload them to other's accounts. If you wish to upload for someone else, let me know and we first make sure they bought the model as well.
2. Models must be uploaded and kept private on VRChat at all times. Uploading my models for public avatar worlds is prohibited.
3. Under no circumstances you're allowed to use my models/products for profit. This includes but is not limited to: reselling (edited and unedited), commissionary use, video, art and 3D printed products.
4. No product is refundable. This is a digital product. For digital downloads, consumers will need to waive their cancellation rights before digital content can be provided. This means that once a consumer/customer has downloaded the content, they then have given up their consumer rights to a refund.
5. Under no circumstances you are allowed to take parts/meshes of my models for any use, including my edits of assets. Everything is credited, buy/download from the respective creators. This includes textures and icons.
6. If you're buying a product for someone else as a gift, put their Email, VRChat Name and Discord Tag, the person you're buying it for. Buying and sending it to them is not allowed. If you buy it for someone who can't upload, tell me and I will either upload it for them myself or give you permission to upload it for the person discussed.
7. By buying you will get a personal, private license of my model/product that is unique to one person.
8. Do not claim any of my models/products as your own.
9. Do not remove my nametags/watermarks.
10. Do not use my models/meshes/products, etc. outside of social VR games (VRChat, ChilloutVR, Helios, NeosVR). Exception: If you wish, you can convert them for V-Tubing with proper credit on your streams/videos, after letting me know.
11. STREAMING/YOUTUBE ETC. If you use my models for streaming, YouTube (or other similar platforms for videos including adult websites), always credit with my full shop link (https://payhip.com/bambivr). Has to be on every permanent video and every stream. If you only wear it on the side during a VRChat stream/swap to it, you don't need to credit unless someone asks. Only if you make it your 'main' avatar/persona.
12. TIKTOK/INSTAGRAM If you make content on TikTok, Instagram (or similar photo/video sharing social network platform) with my models, you must credit me on permanent videos by linking my shop (https://payhip.com/bambivr). Alternatively you can also tag me. For Instagram: @bambi.vr (https://www.instagram.com/bambi.vr/) and for TikTok: @bambi.vr (https://www.tiktok.com/@bambi.vr). Has to be on every post containing my models.
13. You may not use my models/products for any harmful, threatening, offensive or abusive material.
14. I am not responsible for any updates that may break my models in VRChat, I may or may not update models if they break due to patches. This also includes script and shader updates.
15. You may not use my models/meshes/character (designs) for any NFT related sales, artwork or similar.
16. Under no circumstances you're allowed to copy/heavily reference my character designs in any way, shape or form.