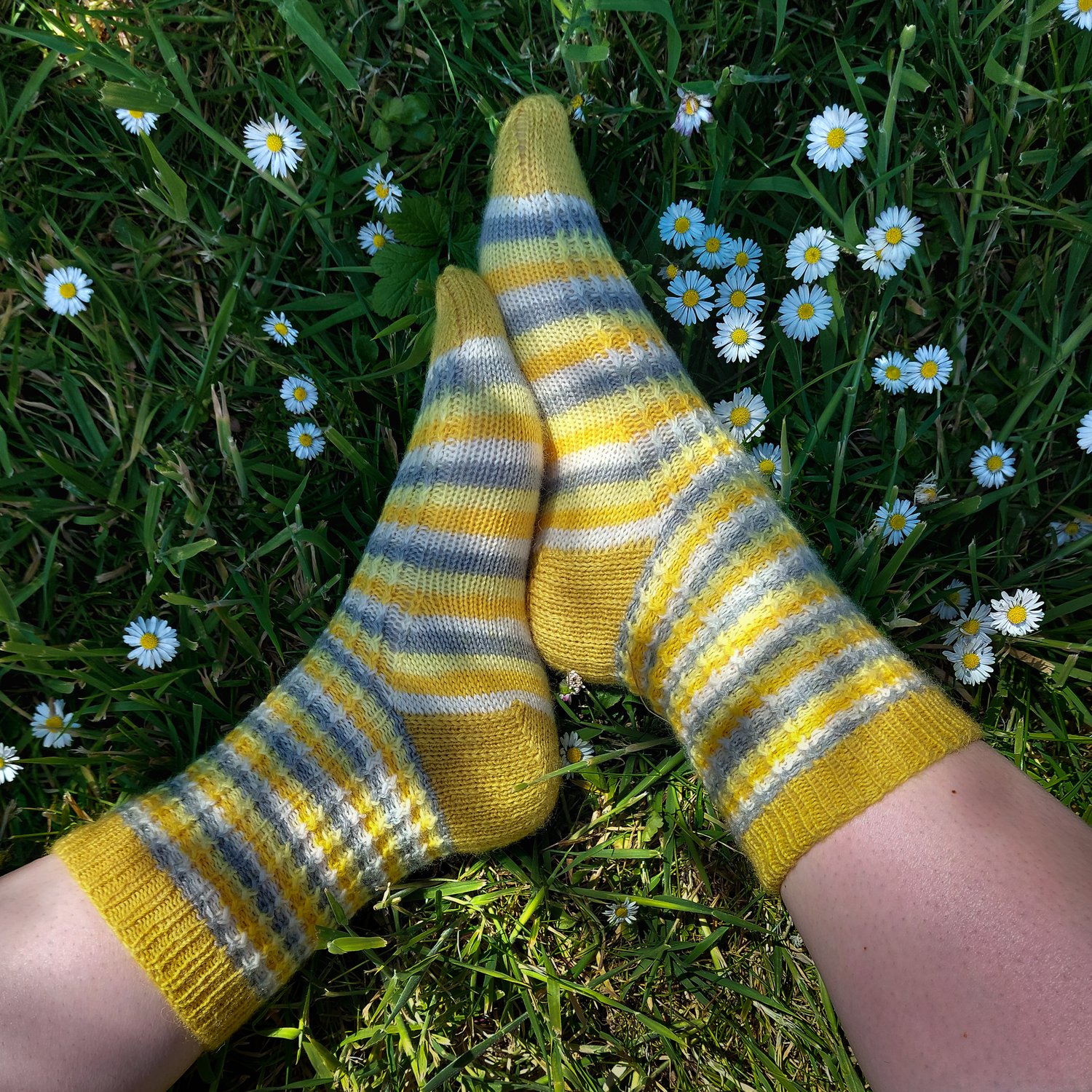 Quinzhee Socks
On Sale
/ˈkwɪnzi/
"A Canadian snow shelter that is made from a large pile of loose snow which is shaped then hollowed to create a domed chamber inside. A quinzhee can be made for winter camping and survival purposes, or for fun."
What's more fun than handmade woolly socks to keep your toes warm on chilly days? The signature zigzag 'Quinzhee cables' not only look great but create a highly textured ribbed fabric which has lots of warmth and stretch. My husband absolutely loves ribbed socks because they provide such a great fit and they have definitely become his most worn pair by far!
The Quinzhee Socks are knit from the top down and in the round. The cuff features a simple 1×1 rib in a contrast colour (if you wish!) and then the slip stitch 'Quinzhee' cable design is worked around the whole leg. The heel turn is of a traditional heel flap and gusset construction then the cable design continues along the top of the foot until the toe is worked which is a classic wedge shape. The instructions are intended to be 'needle type neutral' so work whether you are using Magic loop, a small 'sock' circular needle or DPN's.
Sizing
Baby (Toddler, Child) (Small, Medium, Large)
Size labels provide a rough guide only, I strongly recommend choosing a size based on the actual foot circumference and intended amount of negative ease rather than relying on the size labels alone.
Finished foot circumference
5.5" (6", 7") (8", 9", 10") / 14cm (15cm, 17.5cm) (20cm, 22.5cm, 25cm)
0.5" (1.25cm) negative ease is recommended for the Baby, Toddler and Child sizes and 1" (2.5cm) negative ease is recommended for the Small, Medium and Large sizes.
Pick a size between 0.5"-1" (1.25cm-2.5cm) smaller than the actual foot circumference, depending on recipient and intended fit.
Yarn Requirements
My husbands sock is the Large size worn with the recommended 1" negative ease. Knit in West Yorkshire Spinners Signature 4ply Solids, the main colourway is '129 Dusty Miller' and the contrast colour is '157 Juniper'.
Suggested Yarn
For the main colour, 4ply sock weight yarn with approximately 400m (437yds) per 100g plus approximately 20g of the same yarn type in a contrast colour.
Required Meterage (Yardage)
Main colour (MC): 205 (240, 295) (330, 365, 410) m / 224 (262, 323) (361, 399, 448) yds.
This equates to 1 (1, 1) (1, 1, 2) balls of 4ply sock weight yarn with approximately 400m (437yds) per 100g, for all sizes.
Contrast colour (CC): 1 mini skein (20g) of the same yarn type should be sufficient for all sizes.
*Required meterage (yardage) is based on the specified gauge and recommended yarn, plus extra for swatching and assuming a large shoe size of a men's UK 10.5 (EUR 45, US 11).
Needles and Notions
2.5mm (US size 1.5) OR needle size needed to obtain gauge.
DPN's or long circular needle if using the magic loop method.
A short circular e.g. 9" (23cm) needle may be used for the leg, heel turn and foot elements of the sock but DPN's or Magic loop will be required to complete the toe.
2 stitch markers.
Cable needle.
Required Techniques
Knitting in the round.
Cable knitting.
Grafting of the toe stitches to close.