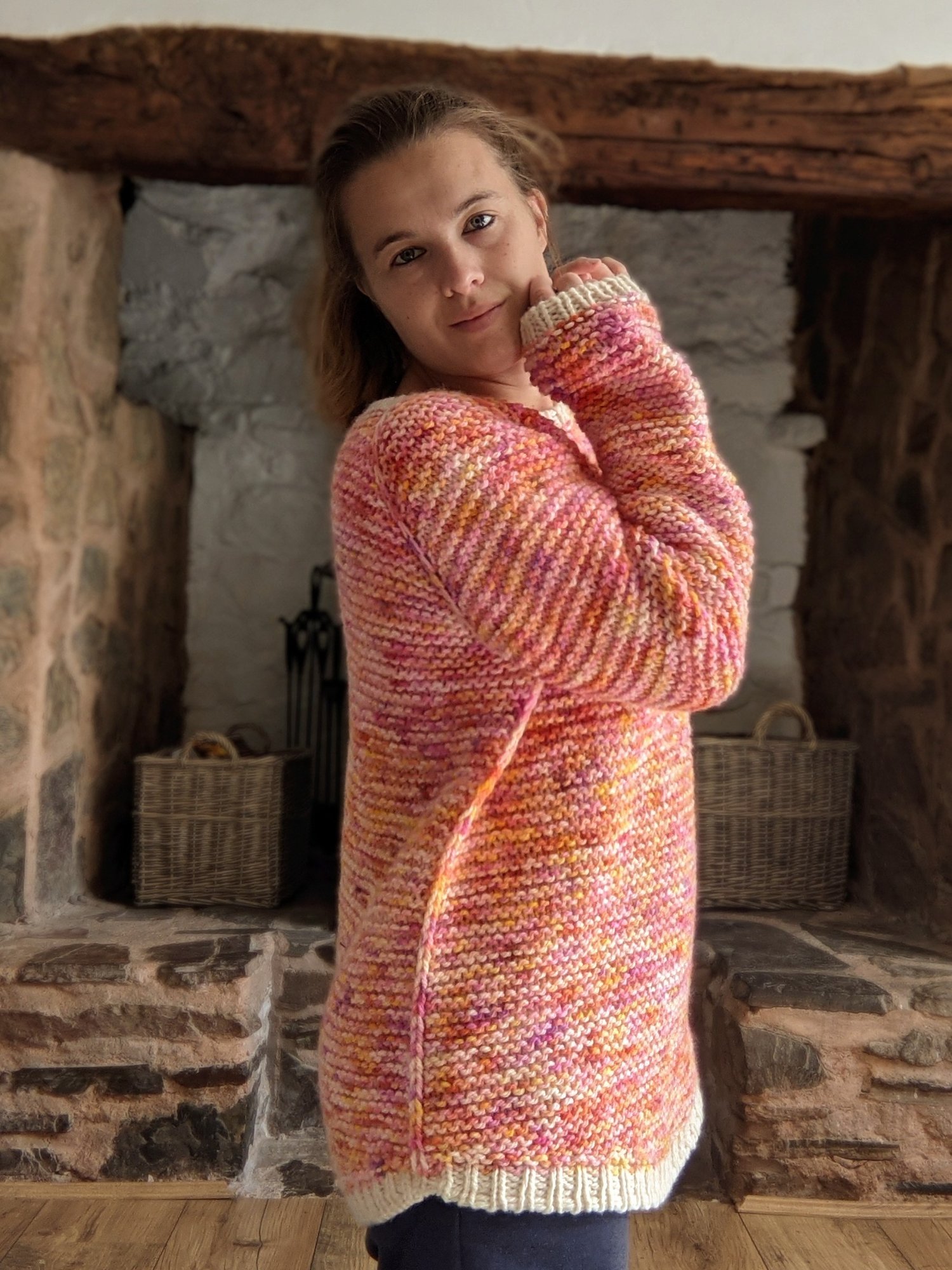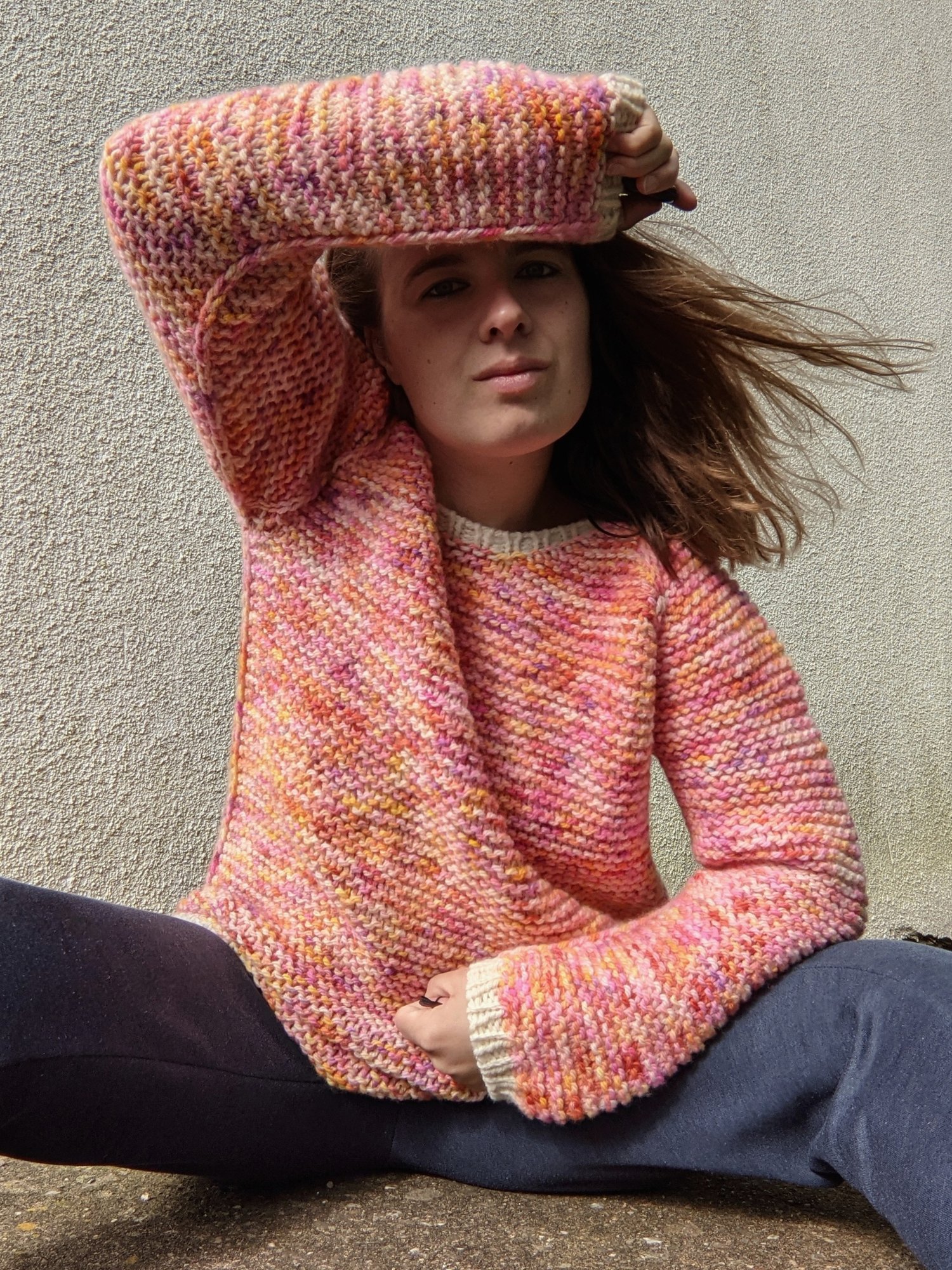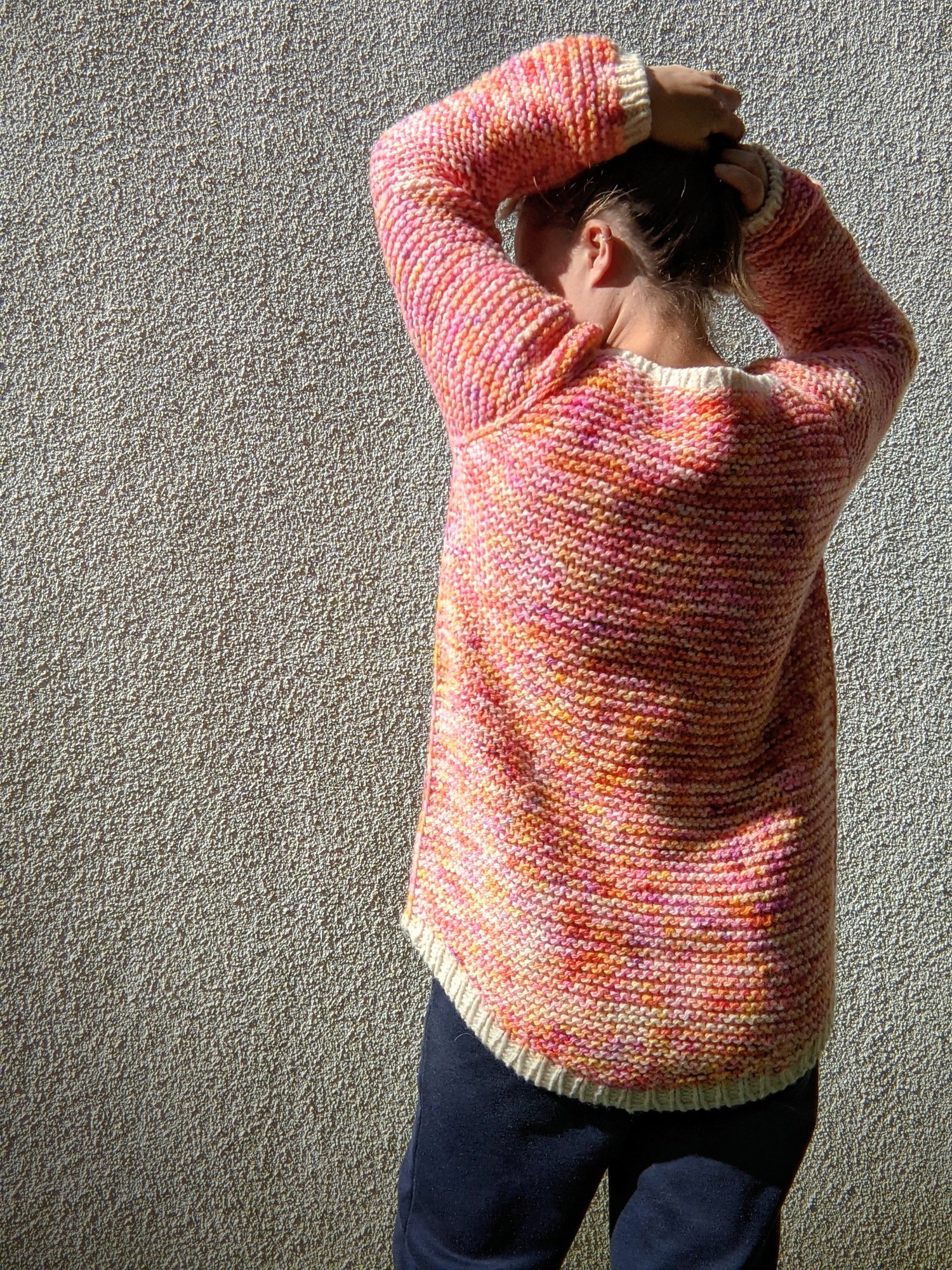 Garter Squish Adult
On Sale
This easy to wear jumper was originally designed for my daughter. It quickly became her favourite cosy knit and I knew I needed one for myself too. Is personifies warm squishy cuddle. It boasts a simple, seamless design in a chunky weight yarn. The texture created by the garter stitch means this is a super versatile, comfy cosy garment.
Garter Squish
is top down, knit in the round and uses short rows to shape the neckline. It has two style options for the bottom hem shaping. Interest is added by the seamless joining of the rib neckline into the slipped stitch raglan stitches which then continue through the body and sleeves. This creates a faux seam appearance and gives the garment extra 'squish factor!'.
Size Range
1 (2, 3, 4, 5) (6, 7, 8, 9)
Chest Circumference (actual size)
34.5" (38.5", 42.5", 46.5", 50.5") (54.5", 58.5", 62.5", 66.5")
OR
86.5cm (96.5cm, 106.5cm, 116.5cm, 126.5cm) (136.5cm, 146.5cm, 156.5cm, 166.5cm)
Choose your size based on the chest measurements shown in the schematic. The garment is intended to fit with 4.5" (11.5cm) positive ease, so pick a size approximately 4.5" (11.5cm) larger than the actual chest measurement.
Garter Squish is designed to be worn as an oversized sweater. If you have chosen a size with the suggested chest ease, there shouldn't be too much issue with fit in that sense. However, if your bust measurement is significantly larger than your underbust or you have a generally smaller frame in relation to your bust, you may benefit from sizing down and creating extra space for your bust in other ways. Notes regarding personalized bust shaping can be found at the end of this pattern.
Yarn Requirements
Any chunky/super chunky yarn with approximately 100m (109yds) per 100g. Many hand dyed chunky yarns are this exact specification making them an excellent choice. Have a look at what your favourite indie dyer has to offer and treat yourself and your knit-worthy recipient!
Alternatively, there are plenty of hard wearing, purse friendly yarns from more commercial sources so whatever your requirements are, go for it!
Sample 1 shows the full hem shaping. It was knit with Hand Dyed Merino Chunky Yarn 100m (109yds) per 100g. The sweater shown is a size 2 worn with approximately 4" (10cm) positive ease.
Sample 2 shows the back only hem shaping option. It was knit with 2 strands of Drops Karisma 100m (109yds) per 50g. Colours '16 – Dark Grey Mix' and '73 – Petrol'. The sweater shown is a size 4 worn with approximately 2" (5cm) positive ease.
Suggested Yarns
• Hand dyed Merino Chunky, 100m (109yds) per 100g.
• Two strands of Drops Karisma, 100m (109yds) per 50g held together.
• The kid's version used Lion Brand Hue & Me, 125m (137yds) per 125g. 20% wool, 80% acrylic.
Required Meterage/Yardage
1 (2, 3, 4, 5) (6, 7, 8, 9)
780 (890, 1060, 1450, 1470) (1530, 1670, 1833, 2030)m / 855 (975, 1160, 1585, 1610) (1675, 1825, 2005, 2200) yds
This equates to 8 (9, 11, 15, 16) (16, 17, 19, 21) skeins of Superwash Merino Chunky, 100m (109yds) per 100g OR 16 (18, 22, 30, 32) (32, 34, 38, 42) balls of Drops Karisma, 100m (109yds) per 50g
The stated meterage (yardage) is the estimated quantity needed to create both the garment and one swatch. Amounts needed are based on the yarns stated. Due to the large differences between the makeup of chunky yarns, there may be differences in required amounts if you decide to substitute yarns.
Needles and Notions
7mm (US size 10¾) and 8mm (US size 11) circular needles OR size needed to get gauge.
Length dependent on your knitting style:
24"+ (60cm+) circular for magic loop in both sizes for neckline, sleeves and sleeve cuffs.
OR double pointed needles in both sizes.
16" (40cm) circular for yoke/body as required.
Scrap yarn or stitch holders.
4 stitch markers.
1 locking/removable stitch marker OR a cable needle.