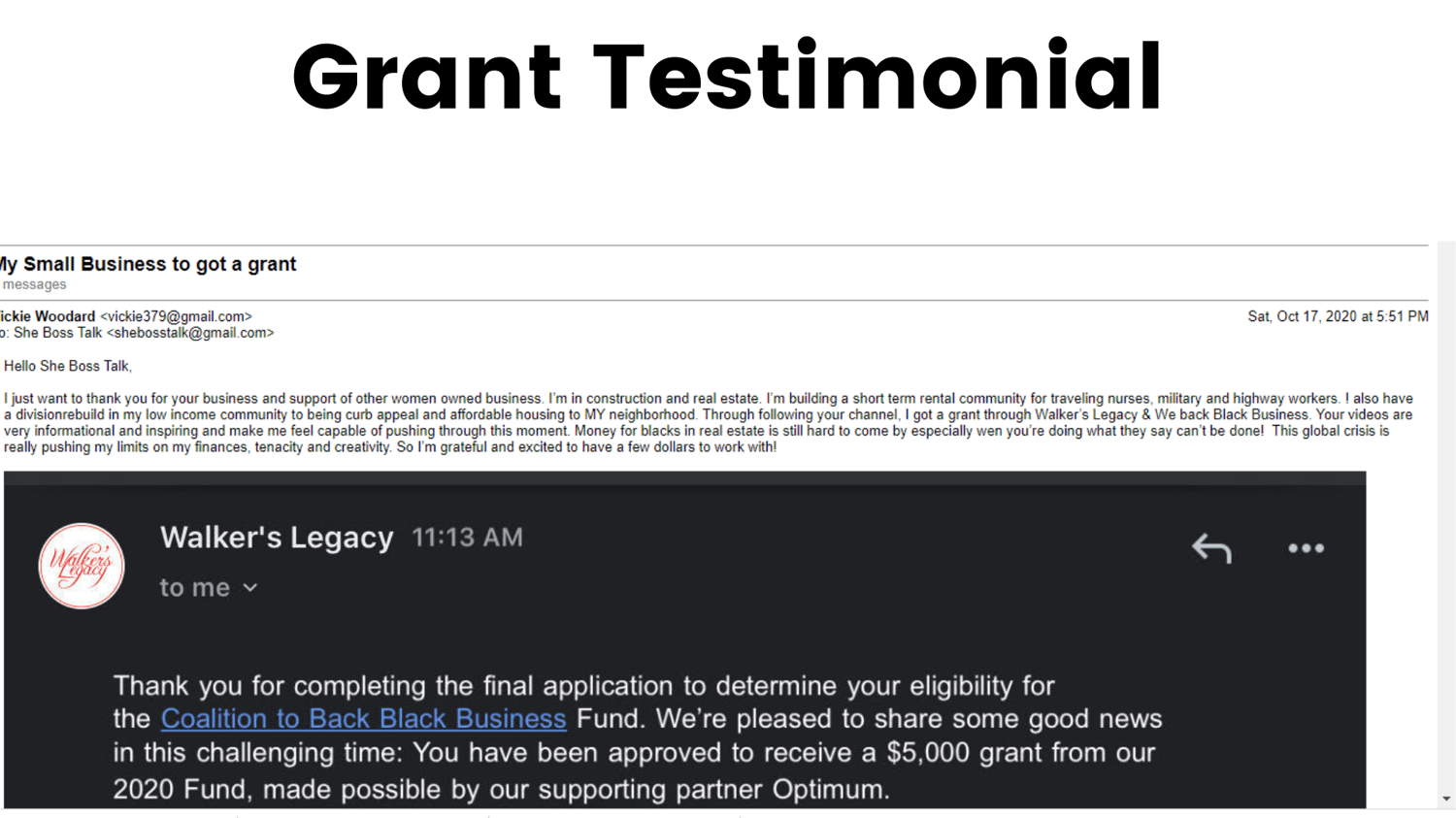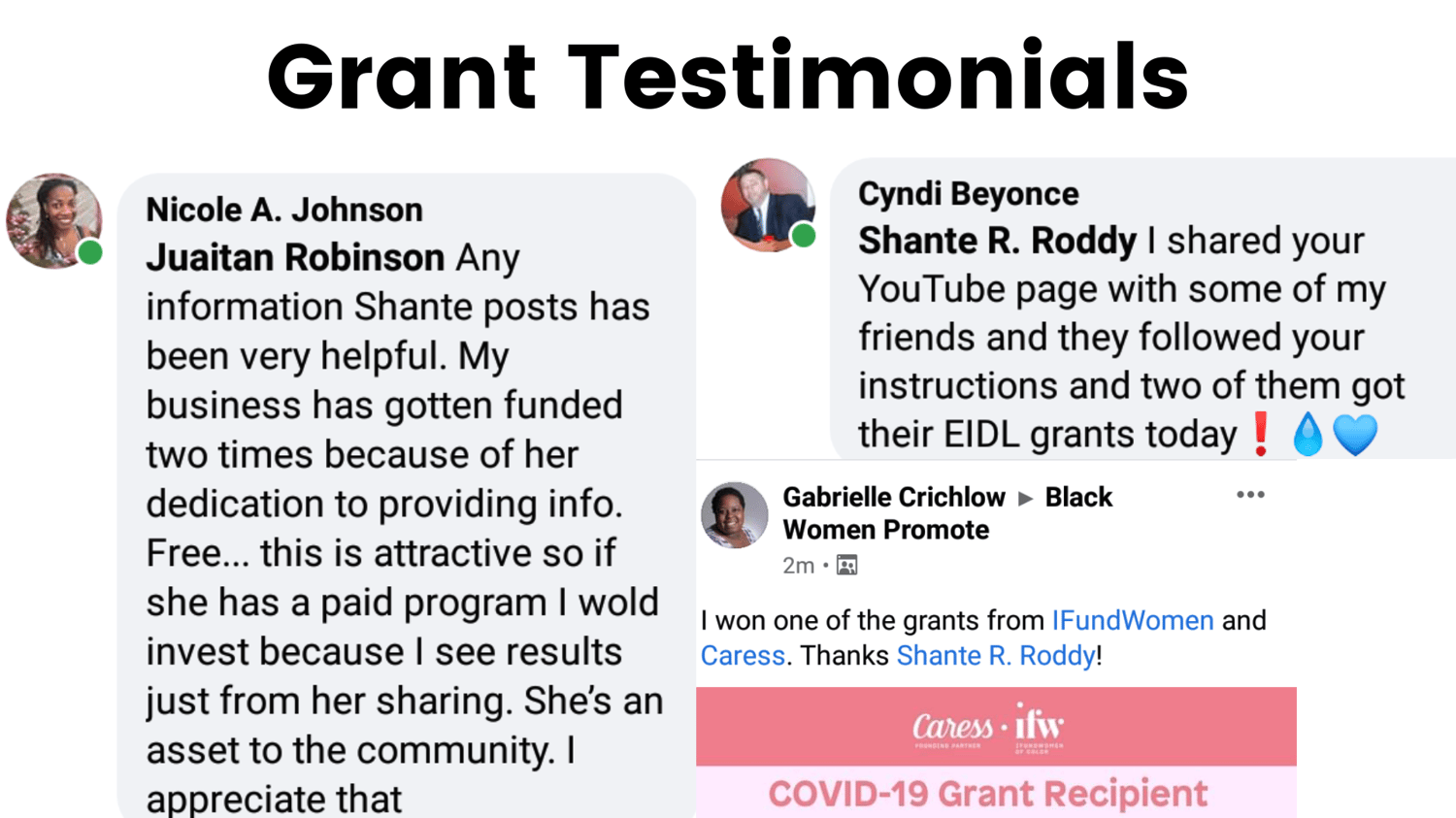 The Winning Grant Application Cheat Sheet & Checklist
On Sale
THERE'S A GRANT WITH YOUR NAME ON IT😀💰 
DON'T HESISTATE! DON'T DELAY!⏰ GET YOUR CHEAT SHEET TODAY!📜

I'M RESPONSIBLE FOR OVER $3M IN AWARDED MONEY FOR OVER 1000 BUSINESSES AND ENTREPRENEURS. Don't believe me??? See the the testimonials for yourself. 

Get started with
THE WINNING GRANT APPLICATION CHEAT SHEET & CHECKLIST
- your step-by-step guide to writing a stronger and competitive grant application. Unprecedented times have challenged so many entreprenuers and business owners.There are unprecedented opportunities to get FREE grant money for your business. No long proposals or grant writers are needed. 
This product will help businesses, entrepreneurs, for profit and non-profit entities!🆘
DO YOU NEED FREE MONEY FOR YOUR BUSINESS, MISSION, CAUSE?
Worried you don't have what it takes to get funded? Or is writing the grant application stressing you out? Don't go it alone. I have created this tool to take the stress out of the grant process.
YOU ARE RECEIVING THE INSIDER TIP THAT HAVE HELPED OVER 1000 BUSINESSES OBTAIN OVER $1M IN FREE GRANT MONEY FOR THEIR BUSINESS THAT THEY DO NOT HAVE TO REPAY!
I have personally secured over $50,000 in counting of grant funding in just a few months for my business and positioned me to build a team and scale during the pandemic. If I did it, you can too!!! 
This detailed (21-page fillable PDF) includes practical tips and recommended tools for entrepreneurs and small business owners that will help increase the chance of winning a grant. It's designed to help you stay on track in the grant application process and ensure you include all the necessary information. We're here to help you win. 
Simplifying the Process for You
Whether you're looking to give your business a boost, raise money for your small business, or get funds for your startup, grants can be an excellent source of revenue to fund ideas, programs, and community projects. Although applying for grants can seem daunting, hang in there and get our simple cheat sheet and checklist to help you complete and submit a
WINNING
grant application.
Don't miss out on a funding opportunity because you didn't check all the boxes. Learn all the steps required to write a competitive grant application and get
FREE
money for your business, and thank us later :). We break down each step in our comprehensive Winning Grant Application cheat sheet and checklist to help you
STAND OUT
from the competition.  
Components of applying for grants and funding
Business formation, structure, and ownership requirements
Getting your business financials in order + recommendations
Preparing your investment strategy and how to stand out 
Telling a story that compells people to give you money
Legitimizing your online presence
Be the early bird
How to fill out that winning grant application and GET YOUR MONEY!
And more.......
Grants are being awarded everyday. Whether you need $500, $5,000, $50,000, $500,000 or more, there's money available. There's no better time than NOW to get
FREE
money for your business. There's billions of dollars available for entrepreneurs and small business owners. Knowing where to find grants, how to apply and how to position your business to win grants is
KEY
. Get ready so you can maximize your results this year. If you're ready to
GET YOUR MONEY
, grab your cheat sheet and checklist combo.💻
NOW
....Take Action!!!!! Grant applications are only open for a limited time, and there is high competition for the funds, so
IMMEDIATE ACTION
is of the essence.
CHECK OUT ALL THESE SUCCESS STORIES!!!

REFUND POLICY: We do not offer refunds on our digital products. If there there is a problem with the download process, please email us for help troubleshooting. If you still are unable to download we will provide a one time courtesy copy with proof of purchases.
For more information on our business services, visit www.shebosstalk.com. If you enjoy this tool and find it useful, then be sure to stay connected for additional resources, tools and training that will set you on the path to success. Like and connect with us and leave a review on our Facebook page 
here
. Follow us on Instagram 
here
. Subscribe to our YouTube channel
here
. To become an affiliate partner and earn passive income, click 
here
.