Are You Lacking Motivation?
You'll know that you lack motivation if you have ever given up on a diet or exercise program if you have spoken about writing a book/starting a business for months but never actually made any headway.
Perhaps you decided that you would wake up every day at 4 AM like the top movers and shakers in the world… and then only stuck at it for a week? (If that?)
This all sounds depressing. But it's not. It's really not.
Because grit, motivation, will power, and determination… these are all things that can be learned. These are all things that can be TRAINED.
And because so few people have these traits anymore, once you develop them… you become superhuman. It's extraordinarily easy to become TOP CLASS when no one else is really trying their best!
But where do you start?
I've written a guide that shares the strategies and tactics to gaining motivation.
Let me introduce to you... 
BULLETPROOF MOTIVATION +  SPECIAL BONUSES FOR TAKING ACTION!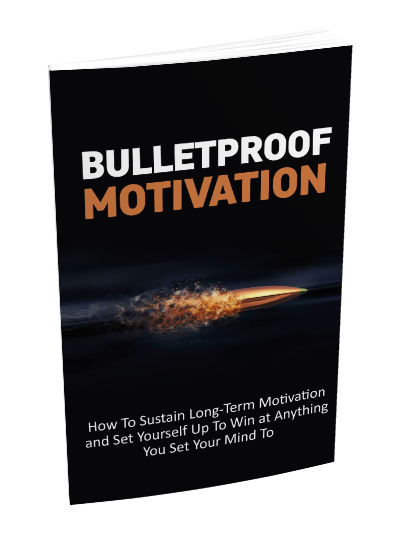 Here's what you'll discover in this ebook:


How to hack your emotions to "want" the right things
How our hierarchy of needs determines what our body tells us to do
How you can increase your own motivation many times over
How to fit your goals in around a busy schedule or routine
How to stay calm and focused during a crisis
How to create more spare time even while working tirelessly toward your goals
How to stay motivated when things aren't going well
How to become accustomed to discomfort and challenge, so they don't even leave a mark!
+ much, much more!


SPECIAL BONUSES FOR TAKING ACTION!

FAST-ACTION BONUS #1:

Point-By-Point Checklist


View or print this handy checklist so that you can check off each point.
It is like a summary of the entire guide but in actionable, bite-sized points so that you can successfully get through the course.