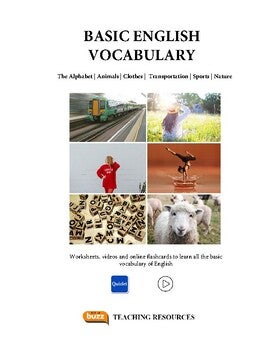 Basic ESL, EFL Vocabulary Workbook
On Sale
$3.45
Preview
This unique book of beginner English vocabulary lesson resources covers the themes of the alphabet, animals, sports, transportation, clothes and nature. All the basic vocabulary students need to master for school.
Use the worksheets as you want, even cut them up for use as flashcards or speaking activities, sorting etc .. Each set has a basic speaking page, a labeling page and a page with the answers.
Each set also has a quizlet set for students to study and play games to fully learn the words. Also an instruction video on the vocabulary to supplement the set.
Download the first sample set - The Alphabet to preview. 
View the read only full version
HERE.
Subscribe to our store
and get all our hundreds of products for one small price.