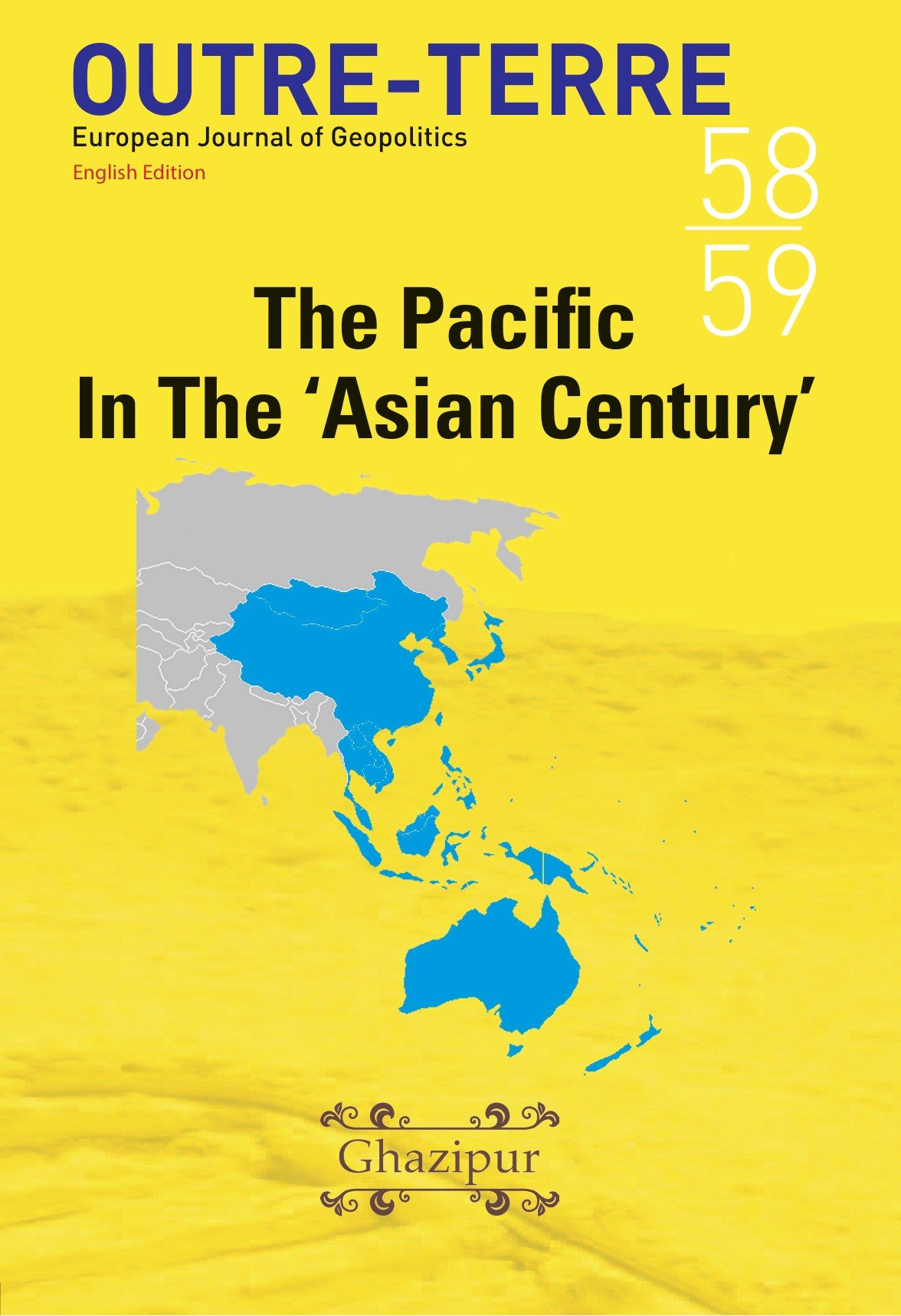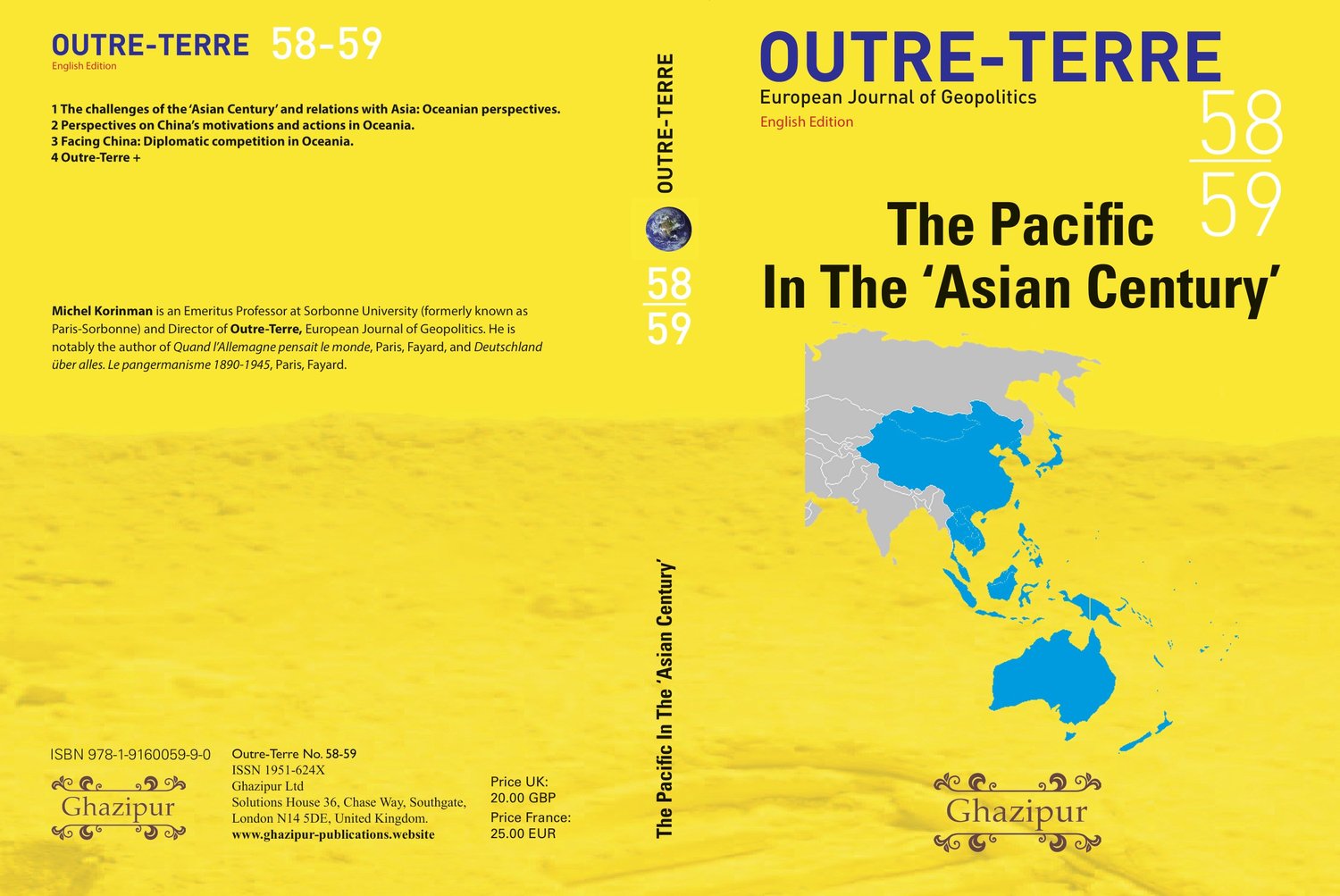 The Pacific in the 'Asian Century'
On Sale
Preview
If you purchase this product, kindly note that you are not authorized to copy this document and/or share it on whatever platform or to whomsoever and/or post it on the internet or on whatever media. You are also not authorized to modify the documents you will recieve, to disintegrate/split them and/or to remove whatever watermark.
---
The Pacific in the 'Asian Century' is the very first English edition of the renowned journal Outre-Terre! It is the fruit of some six months of collaboration between Adrien Rodd, Guest Editor of Issue 58-59 and Editor-in-chief (International-English) of Outre-Terre, and Ghazipur Ltd.

"When discussing the geostrategic interests, tensions or opportunities of the Asia-Pacific or Indo-Pacific region, Asia generally receives more attention than the small island Pacific states and territories, or even Australia. The term "Asian century", coined in the 1980s, expresses this well: Asia's industrialised economies, partly supported by a growing domestic market with a large and growing middle class, will together account for more than half of global GDP by 2050. And precisely, Asia at the beginning of the 21st century is also an issue from the point of view of the various Oceanian governments. This issue focuses on the different modalities of the relationship between the Oceanian world and East Asia, as well as the reactions that these relationships generate among the Western powers," writes Guest Editor Adrien Rodd.
CONTENTS
The Pacific in the 'Asian Century' - By Adrien Rodd
Oceania's States and Territories-Summary Sheets - By Adrien Rodd
Oceania's Level of Economic and Human Development by State or Territory - By Adrien Rodd


1. The challenges of the 'Asian Century' and relations with Asia: Oceanian perspectives
From the Tyranny of Distance to the Power of Proximity–Australia and the Asian Century - By Tim Harcourt
New Zealand and the Regional Security Architecture of the Asia-Pacific - By Dr. Mark G. Rolls
Opportunity Squandered? Institution building in Asia Pacific - By Xinyuan Dai and Joshua Holmes
Asian Impact on the Pacific Island States as the External Motivation for Regionalism - By Dr. Joanna Siekiera
On the Asia-Oceania Interface: The West Papua Issue in a Regional Context - By Ronald J. May
2. Perspectives on China's motivations and actions in Oceania 181
A New Silk Road in the Pacific? - By Sébastien Goulard
The Evolution of China's Military Strategy - By Tewfik Hamel
China's Climate Policy and Small Island States - By Jean-Paul Maréchal
Chinese Debt in the Pacific: Information from the Lowy Institute Pacific Aid Map - By Alexandre Dayant
Reverse Image Engineering: Unfinished and Failed Chinese Infrastructure Projects in Fiji - By Henryk Szadziewski
3. Facing China: Diplomatic competition in Oceania
Oceania in the Face of Great Power Rivalries - By Adrien Rodd
Defence Diplomacy: Battling for the Heart of the Pacific - By Kendra L. Roddis and Alexander C. Tan
Micronesia in Service to an American 'Indo-Pacific' Policy - By Christian Lechervy
The United States on the Move? Military 'Enhanced Engagement' at the Risk of Multipolarity in the Indo-Pacific Zone - By Annick Cizel
The Indo-Pacific and France's Pacific Sovereignty - By Denise Fisher
4. Outre-Terre +
Reshoring in Vietnam - By Laurent Gédéon