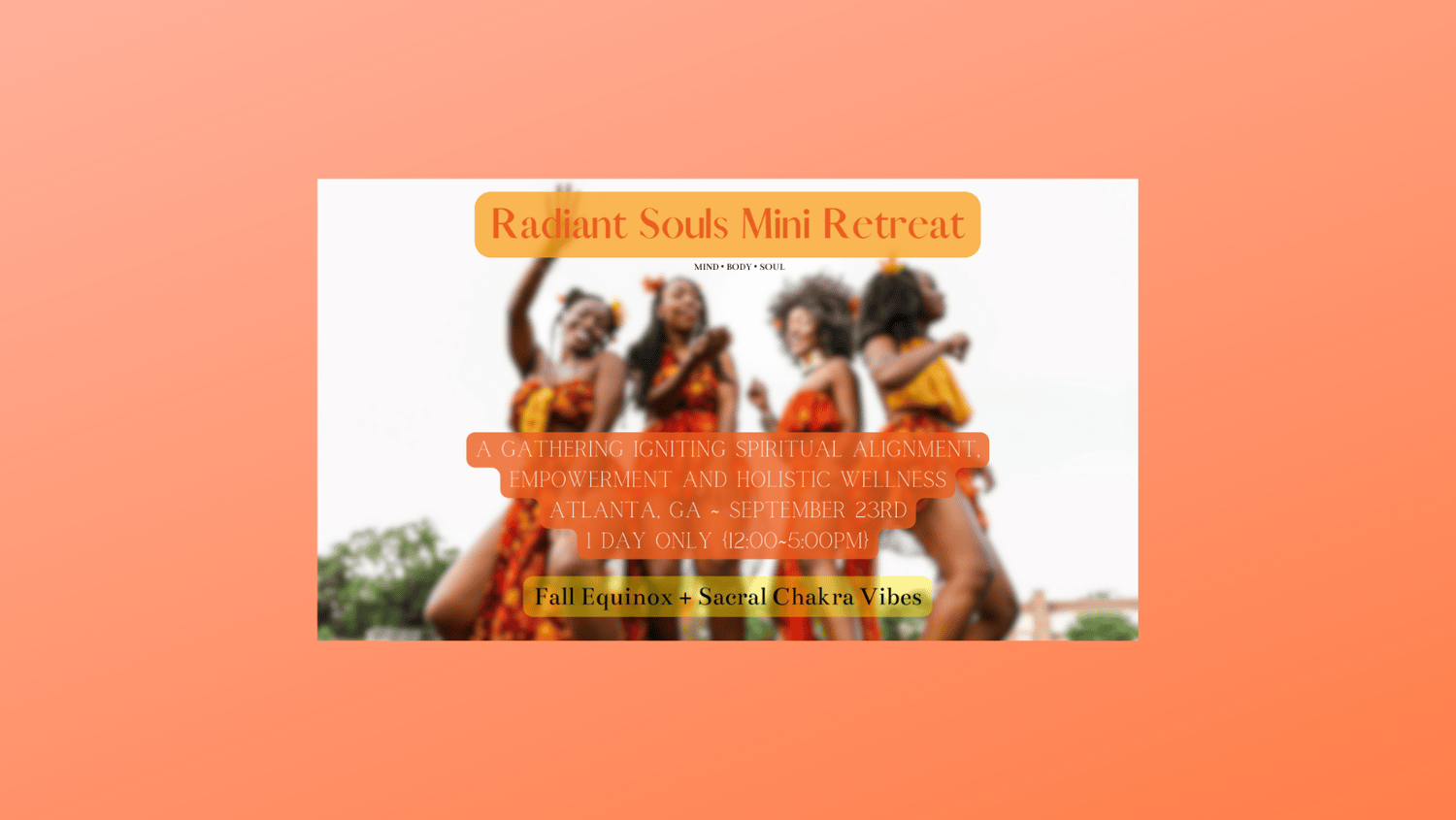 Hosted By: Tanisha Naughton & Janeen Padilla
Radiant Souls is a one day mini retreat for anyone who is looking to ignite their spiritual alignment, empower themselves, and prioritize their holistic wellness. While the event is designed with a special focus of supporting people of color, it is open to anyone seeking a space of community, connection, and self-exploration.
Radiant Souls is designed for you to explore various practices which allow you to connect with others and self, all while nourishing your soul.
Our time together will include introspection practices such as:
Guided Meditation - Find your inner peace
Soulful Conversations - Engage in meaningful and authentic dialogue with others
Oracle Wisdom - Trust your intuition and gain clarity with oracle cards
Reflective Writing - Explore your thoughts and feelings through the power of journaling
Melodic Uplift - Elevate your vibration and mood with music
Embodied Movement - Connect with your body and move with intention and mindfulness
Sound Bowl Healing - Restore balance and harmony
Divine Harvest - Savor the bountiful and nourishing fruits of the earth in every delicious plant-based dish
Creative Alchemy Workshop - Transform your ideas into reality and awaken your inner creatrix
Radical Self-Love - Embrace and celebrate yourself with compassion and kindness
Liberation Release - Let go of what no longer serves you and experience the freedom of being yourself
Location details & itinerary will be provided after ticket purchase.
Need To Know
Radiant Souls Mini Retreat
Saturday, September 23rd 2023
12:00pm - 5:00pm
Atlanta, GA
No Rain Date {event will occur rain or shine}
No Refund Policy *All sales are non-refundable. If the event is rescheduled, all purchases will be honored for the next event date. If you cannot attend the event, you may transfer your purchase to another person. If the event is canceled, all purchases will be refunded in full