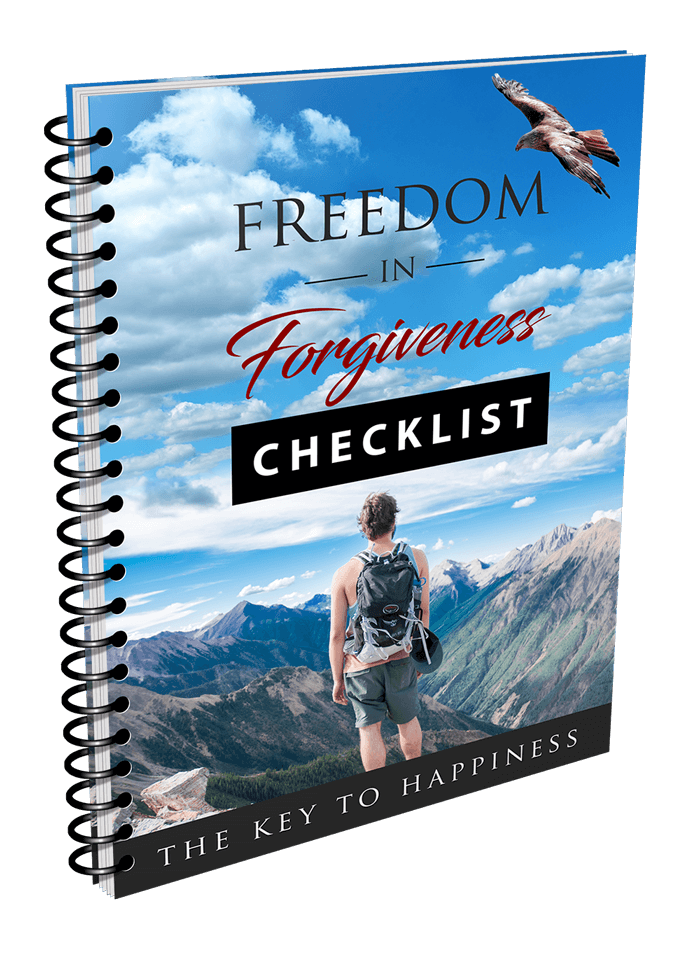 Freedom in Forgiveness (72-page Guide)
On Sale
$7.99
Forgiveness Is The Greatest Gift You Can Give Yourself


It's simple - Happy people learn to forgive even when they have been hurt by others. They accept everything that has happened and find a way to live in a state of resolution with it.
If you want to live without hatred and anger, it's important that you let go of the negative things and make room for the good things to enter your life.
Because when you learn to let go, you open up the potential to create fulfilling relationships and getting into the right perspective.
Now instead of investing all that time and energy into holding on to grudges, why not shift your focus onto something else - mainly moving on with life.
Acknowledge the change you experienced from the incident and give yourself a second chance to start over.
At the end of the day you'll realize that you've grown stronger, more empathetic and compassionate towards others.

Forgiveness starts with the willingness to forgive.


You might think that you're doing those who have hurt you a favor by forgiving them, but in reality you're actually giving yourself the permission to be at peace with yourself.
You're setting yourself free from any hatred, anger and negativity you have keep inside you for years.
The act of loving yourself starts from letting go of all the resentments and bitterness in your life. And breaking free from the emotional chains that have bounded you to them.
Here's What I'll Be Sharing With You Exclusively:
Uncover the true meaning and importance of forgiveness
The danger of refusing to forgive and how it can affect you negatively
Learn forgiveness from past experiences in your life
How absolute forgiveness can change your mind, body, relationships, personal and professional life
... And SO much more waiting to be unearth inside!
This Might Be The Golden Key You're Been Looking For...

Considering that:
You want to build healthy and meaningful relationships with others
You want to achieve greater spiritual and psychological well-being
The best things life can offer comes from being able to forgive
It's time for you to let go of grudges and bitterness that has been holding you back from enjoying life
You want to eliminate the anger and hate you have towards those who have wronged you
Act Now To Grab These Fast Action Bonuses!
Secret Bonus #1 - Complete Check List

This incredible checklist contains step-by-step guidelines for you to reap the most benefits from Freedom In Forgiveness: The Key To Happiness. By simply breaking one huge topic into easy digestible chunks, you get absolute clarity inclusive of easy-to-follow action steps!
Secret Bonus #2 - Comprehensive Mindmap

Perfect for 'visual' learners.
This visually-appealing mind map outlines everything you are going to uncover throughout the whole blueprint.
With just a glance, you will have a big picture of what to expect and absorb so much more than reading through Freedom In Forgiveness: The Key To Happiness by pages!