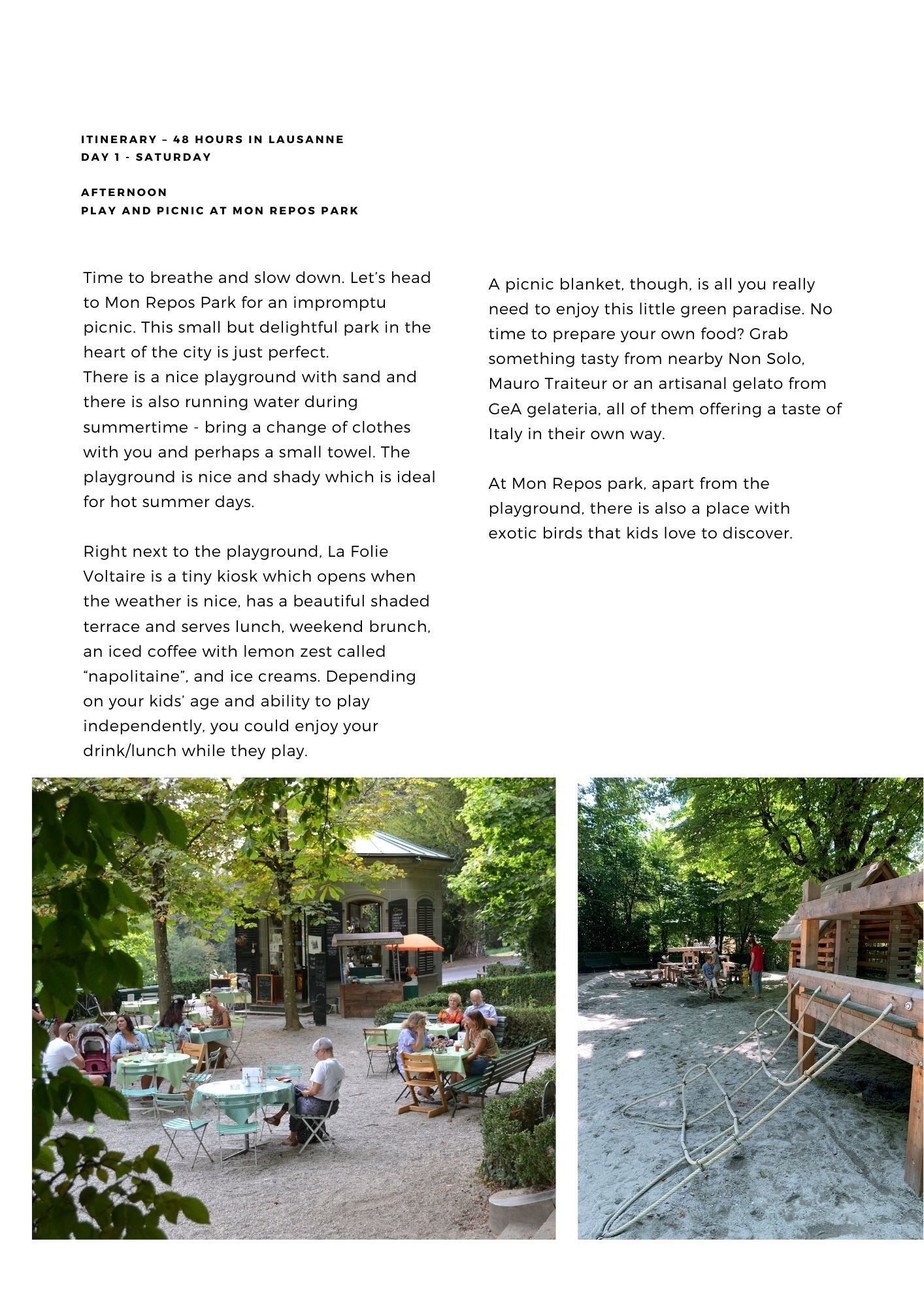 48 hours in Lausanne – A Guide for Families with young kids (ebook)
€14.99
What's this all about
Lausanne is a great city to discover with your family. It also offers many advantages when raising kids here: the proximity to nature, the clean water of the lake, the numerous parks and excellent playgrounds but also good quality food options are some of them.
This guide will give you ideas on how to spend 48 hours in and around Lausanne with your young travellers.
Living in Lausanne since 2011, I have the pleasure to keep exploring the region every single day. Since I gave birth to my first son in 2016, I began experiencing the city differently. Gradually I discovered all the kid-friendly spots, noticed when a restaurant was too small inside or had no access for strollers, and spent more time outdoors at parks and playgrounds with take-away food, coffee and pastries.
It's a whole new world and a beautiful one.
This itinerary is the one I wish I could have in any new place I am now visiting with our two young travellers. Here you will find many family-friendly addresses and ideas to choose from and create your personalised itinerary according to your preferences. Or you can follow the one I created for you if you are not feeling lazy and prefer to only pack your luggage and go explore. Your choice!
I hope you will have a lot of fun visiting Lausanne with your family and that you will find this guide useful.
What's included in the "48 hours in Lausanne – A Guide for Families with young kids" guide (ebook) by Rania Margari
 A two-day itinerary (Saturday & Sunday) guiding you from morning until night around the city, including suggestions for breakfast, lunch, dinner, great coffee and sweet treats.
Practical tips
The "Create Your Own Itinerary" section – a list of family-friendly restaurants, coffee shops, pastry and chocolate shops but also indoor/outdoor activities to choose from and create your personalised itinerary or add a few more days to spend in Lausanne.
What is not included:
Accommodation options
Every single option/activity available: I haven't included everything available in the city – only the best, in my opinion, options. This is a curated guide because I strongly believe that oftentimes, less is more. Fewer options but with better quality. Fewer options that align with one's values and philosophy. Less running around and more enjoying the present moment with your kids.
TERMS OF USE
For personal use only.
DELIVERY
This is a digital product that can be downloaded immediately. You will receive no physical product.
Important: Lausanne is a city that changes fast. Please remember that restaurants, coffee shops and shops change their opening hours/addresses/menus, and some of them close. I've worked hard to ensure that this edition of the guidebook is up-to-date at the time of writing. If you notice that a place has closed or something is not valid, please let me know by sending me an email. 
PUBLICATION DATE
December 2022