The Power of Focus (83-page Guide)
On Sale
$7.99
Preview
Book Sample

Chapter 1: "FOCUS" Defined
Focus
is integral to accomplishment. It may actually fall in the same category as ambition, motivation, leadership and other driving forces behind becoming successful, but does not necessarily get the attention that it deserves. Often downplayed, the role of focus cannot be sabotaged in an individual's ability to be productive.
What all this basically means is that you need to be focused in order to achieve something or become successful in your endeavors. But before we go into that, here is a look at what focus really means.
By definition,
focus
is a skill that allows people to start a task without procrastination and then keep up their attention and effort until the job is complete. It is an ability to not only pay attention to things that they are engaged in but also avoid distractions that will impede the work they are trying to do.
In fact,
focus
is so important to getting anything done that you can't really think without focus. When you hear about things like perception, memory, learning, reasoning, decision making and problem solving, you know that none of these can be done successfully unless you focus.
On the contrary, a wandering mind will make you less effective in your work and your productivity will suffer. The same will also compromise the quality of work giving you less than optimal results. Not to forget that you will also be wasting time every instance your mind drifts off. . . . . .
BONUS #1: Complete Check List
This checklist contains step-by-step action plan for
you to make sure you get the full benefits.
By simply breaking one huge topic into easy digestible chunks,
you get absolute clarity inclusive of easy-to-follow action steps!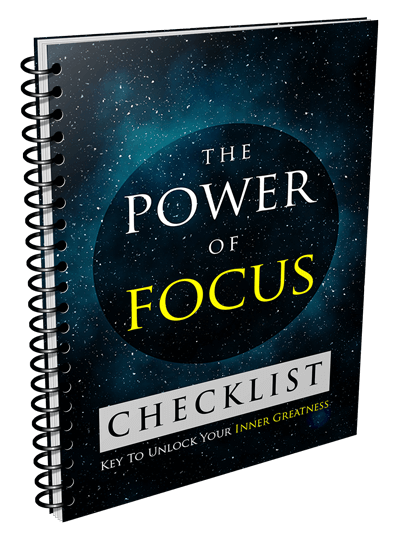 BONUS #2: Comprehensive Mind Map
This mind map is perfect for 'visual' learners.
It outlines everything you are going to discover throughout the entire course.
With just a glance, you will have a clear picture of what to expect and hopefully absorb more.