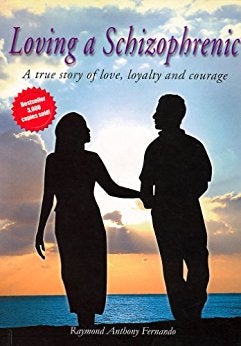 Loving a Schizophrenic
On Sale
SGD10.00
Book review: Loving A Schizophrenic
Author: Raymond Anthony Fernando

Psycho! Mad! Crazy! Siow! Freak!
These are some of the most unpleasant labels those suffering from mental illness have been fighting against most of their lives.
Then there are others who mistakenly believe – out of sheer ignorance, that persons with mental illness cannot be given love as they don't appreciate it. This leads them to pass this kind of hurtful comment: "It's impossible to love some with schizophrenia".

For many families coping with loved ones stricken with mental illness, the journey can be extremely daunting. Many will give up when they can no longer cope due to lack of support. Most family members, like patients with mental illness, "stay hidden". They feel ashamed to reveal that they have loved ones stricken with mental illness.
Dealing with people with depression and those with other types of mental illnesses requires a lot of understanding, patience and compassion. These virtues are needed to help people with depression unlock the emotional pain in their hearts and if they are able to do so with love and understanding at an early stage, then they will be able to move on in life and contribute to their well-being, those around them and to society.
One of the symptoms of schizophrenia is fear; and when fear overpowers them, patients who default on their medications may believe that people are trying to harm them, and thus become defensive. When my wife, Doris Lau falls into a relapse, she becomes extremely fearful and the slightest noise at night will frighten her.
For years, I have witnessed how my wife suffered horrifically from schizophrenia, and one day in 2004, I decided that it is time I write about the struggles both she and I face in an attempt in trying so hard to cope with this severe brain disorder.
This true story will not only heighten public education on mental illness, but it will also promote caregiving as a noble job, and in the case of blissful unions, value the sanctity of marriage which speaks of caring for a spouse in sickness and in health, for better or worse.
In managing a loved one with mental illness, it is crucial to practice the 3Ps Patience, Perseverance and Prayer.
The virtue of love – whether in giving unconditional love to a spouse, children and in God is strongly documented in this book.
There are many books written on mental illness, but this novel is unique as it presents a caregiver's real-life experience of caring for a loved one with schizophrenia from an Asian perspective.
In reading this book, you will get insightful peeks into what are the challenges caregivers face in taking care of loved ones with mental illness.
With an uncertain world, threats of terrorism worldwide, unemployment and poverty on the rise, its best to manage mental illness, before it manages you. If you want to learn about the power of unconditional love and stay resilient in the face of adversities, this is the book for you.
Raymond Anthony Fernando
Author, Loving A Schizophrenic


Loving A Schizophrenic: What others say about this novel
This book is a moving and inspiring account of the difficulties faced by a couple with schizophrenia. It is wonderful to learn that 'Daniel and Soo Mei" manage to overcome the many challenges they face to enjoy a strong and loving relationship. This book gives hope to the thousands of others who suffer from schizophrenia and encourages them to fight and overcome the stigma and disability brought on by mental illness.
Associate Professor Chua Hong Choon
Chief Executive Officer Institute of Mental Health (Singapore)
What moved me about Raymond's book was his unfaltering devotion to Doris, even when her schizophrenia was doing its upmost to tear them apart. He is candid about the struggles, the shocks and the suffering both have to endure. Even though the illness that robbed Doris of her mind is ever present in their lives, Raymond shows that nothing can stand in the way of his love for his wife. What more touching a tribute to that love than putting it all into words? Loving a Schizophrenic is more than a love story but a support manual for all caregivers who also share their lives with mental illness.
Ms Elaine Moira Young
Former Journalist
The Straits Times
Singapore Press Holdings Limited
This book is opportune. It is a poignant and deeply moving account about what true love is all about. It demonstrates how the support and courage of a loving husband, who dares to confront all odds including sociocultural barriers, can be that powerful impetus to restore meaning and hope to "Soo Mei's' fragile and vulnerable life. I am deeply inspired. I trust that this wonderful life story will change your world view of mental illness, just as it has changed mine. More importantly, it should challenge all of us to dare to come forward to accept, respect and support those who are stricken with a mental condition. This is what humanity and hope is all about.

Dr Pauline Sim
Chief Executive Officer
Yishun Community Hospital (Singapore)
Loving a Schizophrenic depicts unconditional love and resilience to great extent, a motivational book to give strength to people who are in a similar plight and an educational book to professionals in helping industries.
Ms Ong Choon Ming
Former Head, Occupational Therapist
Singapore Association for Mental Health
This book is a testimony of Raymond's courage and perseverance in the face of adversity. His inspiration book is a "must read" for all.

Mayank Parekh
Former Director of Human Resources
Merial Asia Pte Ltd
Raymond has been an avid writer, loving husband for his wife with schizophrenia. Above that he actively advocates for the public to understand about mental illness, the person suffering from the illness, and instill hope in patients and caregivers. THIS book will increase understanding of the illness and the help available at all levels for everyone in our society.
Dr Alex Su
Vice-Chairman of the medical board (clinical quality)
Consultant Psychiatrist
Institute of Mental Health (Singapore)

Loving a Schizophrenic touched me deeply as it gives a human face to sufferers of an ailment usually shrouded in shame and silence. I admire your commitment to each other and eventual courage in sharing your story with others. For me, your story was not so much to elicit sympathy for yourselves but was an effort to raise awareness among those who may be ignorant, indifferent or biased towards the mentally ill. Your story spoke of God's love, human compassion, hope and even humour in the midst of despair. May God bless you and your very real struggle with His overcoming love, joy and rewards beyond measure.
Ms Phyllis H S Tan
Chief Executive Officer
Metropolitan YMCA (Singapore