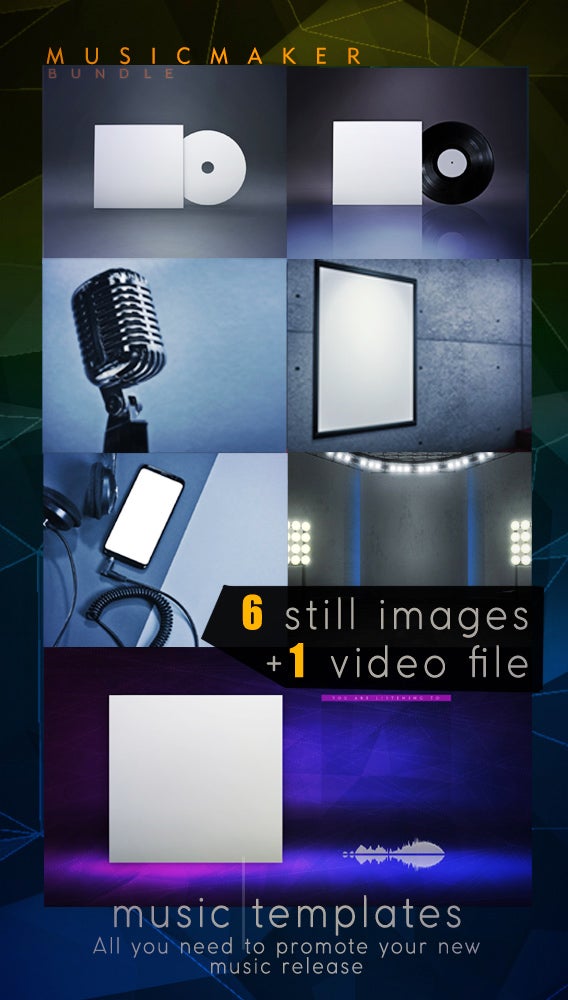 Music maker Promo Pack | Template backdrops, to promote your music release
On Sale
€18.00
In this pack you will find all the templates you need, to promote your new music release!
You can make your EPK, promos for your CD or vinyl album, live performances with green screen, official audio releases (youtube), video thumbnails (youtube), streaming services (spotify) promos for social media.
You just need to add your personal music release cover, your live poster or even your live performance over the Virtual background stage(with green screen), with your favorite editor.

You composed, recorded and mastered your new hit and you feel exhausted?.
And now what? You are just at the beginning. This is when all the magic happens.
In this bundle we provide you the promo backgrounds that gonna make your audio release, stand out.

you will get:
-  6x png still images files +
   1x mp4 video loop file (official audio release video backdrop, for youtube)
- High resolution files
- electronic delivery  
- price include vat

Digital files will be available via email, after your purchase.
Items you see at the images (microphones, phones, etc.), are for demonstration purposes only.
No physical item will be sent or shipped to you.

for personal use only
reselling is prohibited ⛔️

------------------------------------///
A Maingraph production: http://www.maingraph.gr/
🎥 Maingraph is a HQ premium content creator. At the link below you can explore our full collection of video footage, images, or royalty free music http://www.maingraph.gr/shop.html

🙏 thanks for watching!