Open Water Diver Exam Preparation Short Course
Our Open Water Diver Exam Preparation Short Course is now available for enrolment.
Pass the First Time
If you are planning to take your Open Water Diver course in a few weeks, then you need a study guide that will help you prepare for the final test.
The PADI Open Water course is the next step for most divers who are looking to broaden their diving skills and experience.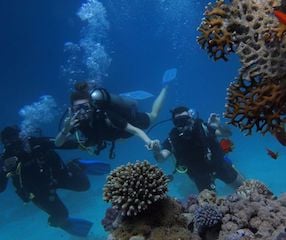 What's Included
This Open Water Diver Exam Prep course will help you prepare for your final test and includes things to know before you take the test, tips from an experienced instructor, tricks for taking the exam, RDP info and 30 online practise questions (57 questions in the handouts).
During the test, you need to answer questions about the basic principles of scuba diving, which shows that you know how to plan dives, choose the right scuba gear and understand underwater signals and diving procedures.
This book is written by an experienced instructor and includes practice questions and answers which are similar to what you will be asked in your test.
Our Open Water Diver course includes everything you need to know about getting your Open Water Diver certification, including tips from a professional instructor and 30 exam questions with answers! It's like having an instructor right beside you when studying for the final test.
We will also email you a Certificate of Completion.
Course curriculum
1

Course Materials & Printouts

2

Things to Know Before the Open Water Diver Test

3

Are You Ready To Take The Test?

Questions to Ask Yourself First

4

Tips From An Experienced Instructor

Do You Need Coaching Before Your Exam?

5

What is a Recreational Dive Planner?

6

Practise Open Water Diver Test Questions

7

Additional COVID-19 Related Questions

Safe Practises Using Rental Equipment

Cleaning Equipment During Covid

Taking The Test After recovering From Covid

Lending Assistance to Another Diver in Need

Elective Specialty Skills For Advanced Open Water