Red Velvet Cake Culinary Masterclass
On Sale
$47.00
Master a stunning Raw Vegan Gourmet 3-Layer Red Velvet Cake. Not only do these cakes look stunning, they are also full of nutrition and super fun to create. Perfect for Valentine's day but also good for any time of year. 
Most raw cakes are made in cheesecake-style cakes with cashews. This is a nice change and the results are a fluffy, moist cake. 
*This masterclass was pre-recorded in high-def professional quality. You will receive a full PDF recipe manual including the video. 
All ingredients are vegan, gluten-free, and refined-sugar-free
.
Learn professional techniques you can use in all areas of raw desserts. 
What's Included in This Class:
How to create a beautiful, elegant, 3-layer, raw vegan red velvet cake using the following recipe components:
Almond Flour
Coconut Milk
Raw Chocolate
Candied Cacao Nibs
Nut-Free Coconut Frosting
Cashew Based Frosting
Date-Free Raw Red Velvet Cake Bases
Option for a nut-free version
My exact method on how to create and frost a beautiful raw cake:
How to create even cake layers  
How to work with frosting for cake decorating
How to properly slice a cake to produce nice clean, even slices
How to use piping tips and produce an elegant finish
Cake decorating
Full recipe manual including the following topics:
Ingredient and equipment list
How to measure ingredients to ensure a successful recipe
Raw dessert culinary ingredients
Where to source your ingredients
Activating nuts and seeds
Storing your ingredients and cakes
Plus - professional 2 camera live stream video and audio. 
Important Facts: 
👉 You will receive a full PDF recipe manual download and the zoom recording link in the document.
👉 Please download the document and video asap. If you need to refer to the email again for the download, the email comes from
'Payhip'
. Search 'Payhip' in your email, it might be in your spam folder.
Join me in this fun, informative culinary masterclass to uplevel your raw dessert skills and learn how to frost a raw vegan cake.
Here's are just a few stunning remakes of this cake: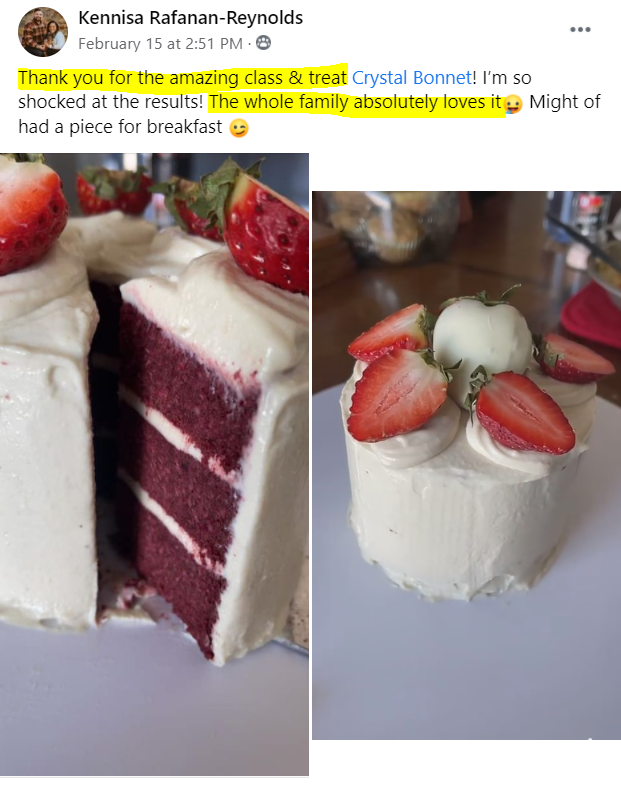 PRICE IS IN USD CURRENCY
Your Instructor is Crystal Bonnet from Crystal Dawn Culinary, Raw Dessert Master Chef. 
Learn more about Crystal 
HERE.
ONLINE COURSES
INSTAGRAM
HEAR WHAT OUR STUDENTS HAVE TO SAY: 
"
Crystal's raw dessert course is one of a kind! A perfect avenue to expand your cooking skills and knowledge behind raw desserts. The recipes are super creative and offer learning opportunities for all levels of chefs. The website is user-friendly and the videos and content are simple to navigate. Her instructions are super clear and all in all, I love her unique style of recipes. I would recommend this course to anyone interested in learning a variety of raw desserts!
" - Kaitlyn Kinder from Rooted in Raw
"
I recently started Crystal's amazing raw chef desserts certification program. I am so amazed at the valuable information the course provides. In addition, the online platform is very user-friendly, and easy to follow. I have made some of the recipes from the course, for my coworkers; they are absolutely blown away with how healthy and delectable the desserts are. Also, I am learning so much, who knew raw plant-based desserts could be healthy and tasty at the same time. I would recommend Crystals course to anyone who has a passion for plant-based foods.
" - Angelia Dickinson, Plant-Based Nutritionist 
"
I could not be more satisfied with Crystal's online course! Every time I have had a question, she has always been so responsive. This course is really the next best thing to having her in your kitchen teaching you herself. If you want to learn how to make the most beautiful, healthy, and best-tasting desserts out there this is the place to be. She has continued to add value to the course even after I joined by adding recipes and doing Facebook lives that are super interactive. As well as polls inquiring what we would like to see added. She really is all about her students and tailors the content appropriately and is so eager to answer questions. It's such a fun and the educational community she has created of people from all over the world who share a passion for raw food.
" - Brian Bidwell 
If you have any questions, please email me at info@crystaldawnculinary.com
Due to the digital nature of this product, this class is not eligible for refunds.