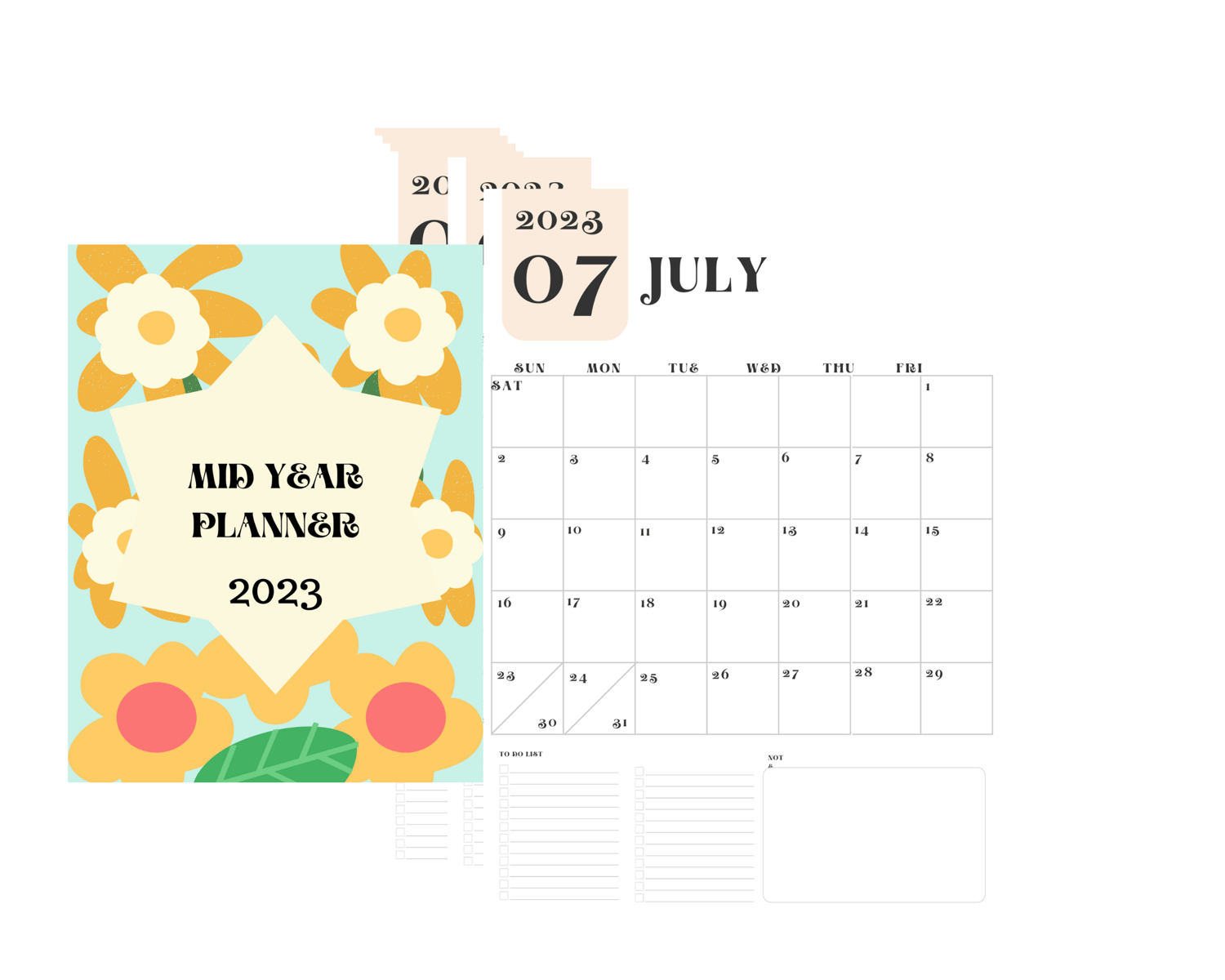 MID YEAR PLANNER PRINTABLE DOWNLOAD
On Sale
"Get Organized and Crush Your Goals with Our Mid-Year Planner Printable Download!
Are you ready to make the rest of this year your most productive and successful yet? Look no further! Introducing our Mid-Year Planner Printable Download, your secret weapon to staying organized and achieving greatness.
Life can get overwhelming, and important tasks can slip through the cracks. But with our specially designed Mid-Year Planner, you'll regain control of your schedule and seize every opportunity that comes your way.
Why choose our Mid-Year Planner Printable Download?
Instant Access: No need to wait for shipping! Get your hands on our downloadable planner right away and start planning for success immediately.
Tailored for You: Our planner is thoughtfully crafted to suit your unique needs and goals. With customizable sections, goal-setting templates, and ample space for notes, it's a perfect fit for any lifestyle.
Crush Your Goals: Whether you're striving for personal or professional milestones, our planner will keep you focused, motivated, and on track to reach those aspirations.
Beat Procrastination: Wave goodbye to procrastination and embrace productivity. Our planner's structured layout will inspire you to tackle tasks head-on, making the most out of every day.
Stay Balanced: Achieve harmony between work and life with our Mid-Year Planner. From time-blocking techniques to wellness reminders, we've got your overall well-being covered.
Environmentally Friendly: By opting for our printable download, you're not only investing in your success but also contributing to a greener planet by reducing paper waste.
Take charge of your future and embrace the remaining months of the year with confidence. Download our Mid-Year Planner now and make every moment count!
Don't let another day pass you by. Invest in your success today and elevate your life with our Mid-Year Planner Printable Download. It's time to turn your dreams into realities!"