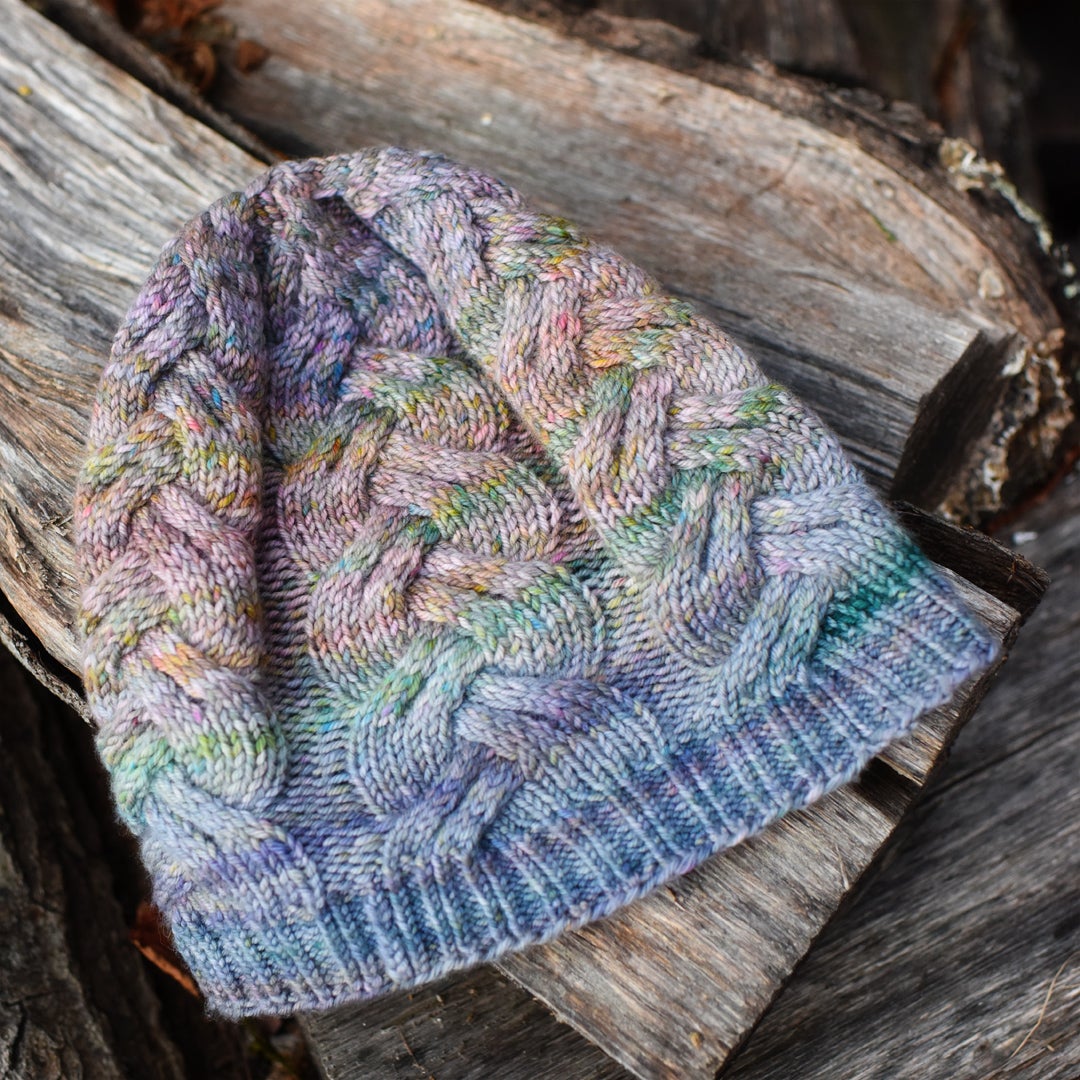 Imply
On Sale
$8.00
---
Imply
verb
to indicate indirectly
---
So if I'm going to do a cable, I want to really do a
cable
. Commit. Go big. Embrace the drama.
But once in a while, that approach can be a little tricky. Big cables sometimes come with big headaches. It can be cumbersome to manipulate all those stitches, and giant cables can make your fabric bunch up in all sorts of irritating ways. But we're knitters...we're clever...we can fix it!
The way these cables are built is really nifty. The cable panel is big (a full 18 stitches wide). But instead of making huge cable crosses, you do a bunch of carefully placed smaller crosses (it's all based on three over three cables...really!) that combine to give you all the drama and none of the headaches.
It's a fun technique, and one that lends itself to lots of other projects (about two seconds after I finished the hat, I cast on some fingerless mitts to match).
---
The hat is written in four sizes (castons of 84, 105, 126, and 147 stitches), and you should feel free to adjust your gauge a bit to fine tune the fit of the hat. Just be sure that you're working at a gauge that gives you a fabric you like with your chosen yarn!
I recommend working at something around 4.5, 5, 5.5, 6, or 6.5 stitches per inch, and I've included a table to help you figure out what gauge you'll want to use for your size. With that range of sizes and gauges, the hat will fit a head between 16.5 and 25 inches (with *lots* of points in between).
---
This is perfect for you if:
- You simply must know how that cable works
- You want a hat that's classic...but not at all boring
It's not for you if:
- You don't like charts (the pattern has charts)
- You hate swatching (you need to swatch to check your needle size)
---
If you're interested in the companion mitts (shown in the next to last picture), you can find them
here
. If you buy both patterns together at the same time, you'll get 50% off the second pattern (make sure you see the discount before you pay, the price for both pieces together should be $12.00).