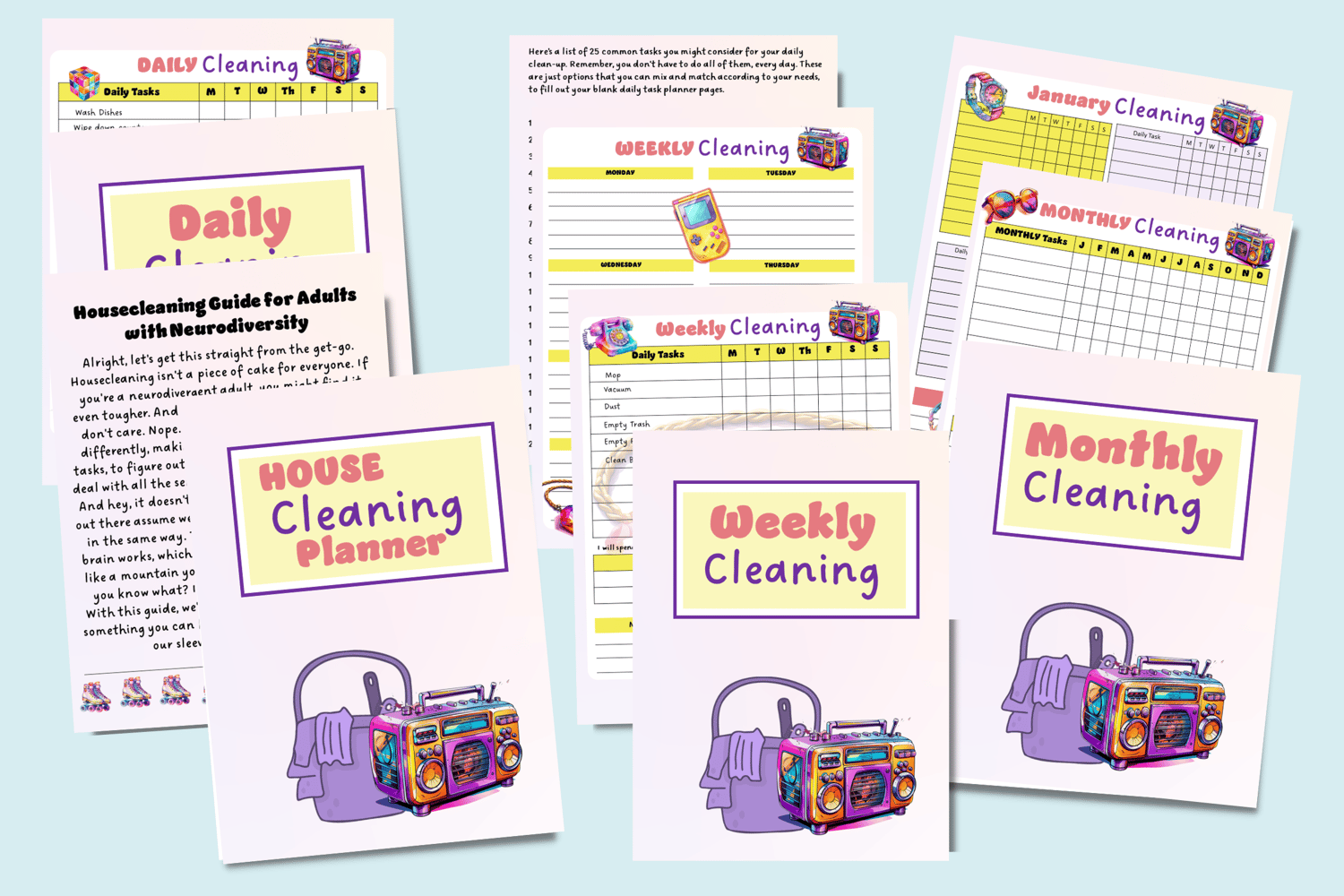 Housecleaning Planner for Neurodivergent Adults
On Sale
Transform Your Cleaning Routine with Our Housecleaning Planner - Designed Specifically for Neurodivergent Adults!
Do daily chores feel overwhelming? Are you struggling to remember when you last deep-cleaned the fridge or washed the windows? Worry no more!
We have a game-changer for you - The Housecleaning Planner.
This revolutionary tool isn't just a list; it's a complete game plan, your secret weapon in easily tackling housecleaning challenges.
Here's what you'll get:
The Daily Cleaning page is your hub for everyday tasks. No more feeling swamped by chores - we've broken them down into bite-sized, manageable tasks. From washing dishes to making the bed to taking out the trash, you'll be ticking things off in no time - and enjoying that win-at-life feeling!
Our Weekly Cleaning page takes the dread out of bigger tasks. Say goodbye to overwhelming cleaning days and hello to distributing tasks like vacuuming, dusting, and bathroom cleaning throughout the week.
The Monthly Cleaning page ensures nothing gets forgotten. Those tasks that don't need daily or weekly attention? We've got them covered. Washing windows, deep cleaning the fridge, and more are all on an easy rotation.
Why is our Housecleaning Planner a must-have for neurodivergent adults? It's all about simplicity and organization.
We know that housecleaning can feel overwhelming, but with our planner, tasks are broken down into manageable pieces and distributed evenly.
You'll know exactly what needs to be done and when. This planner works with your unique neurodivergent brain, not against it.
So, why wait? Make the smart choice today. Grab the Housecleaning Planner, and turn your cleaning routine from a struggle into a well-orchestrated symphony of productivity.
Your future, a cleaner home, will thank you!