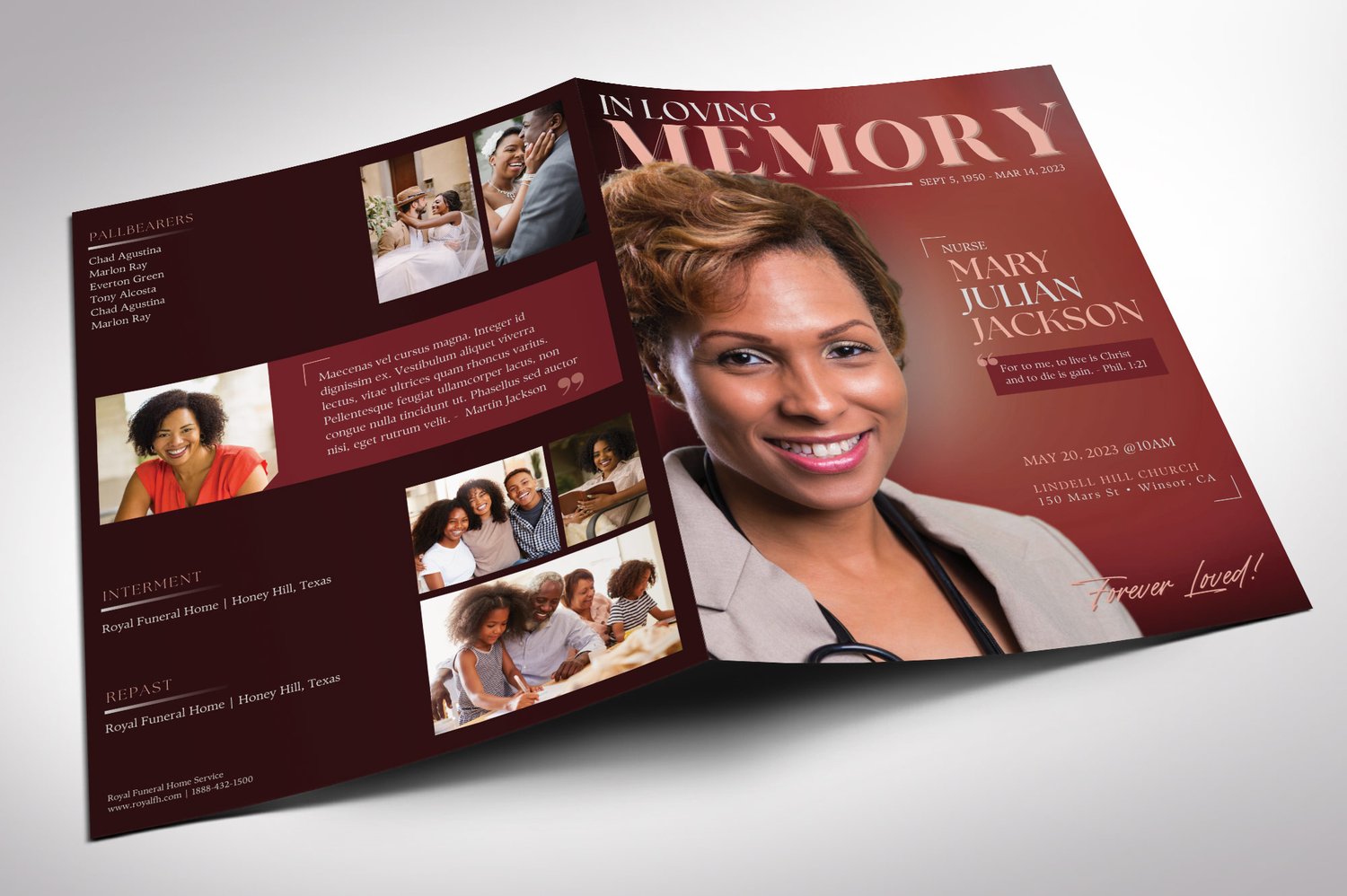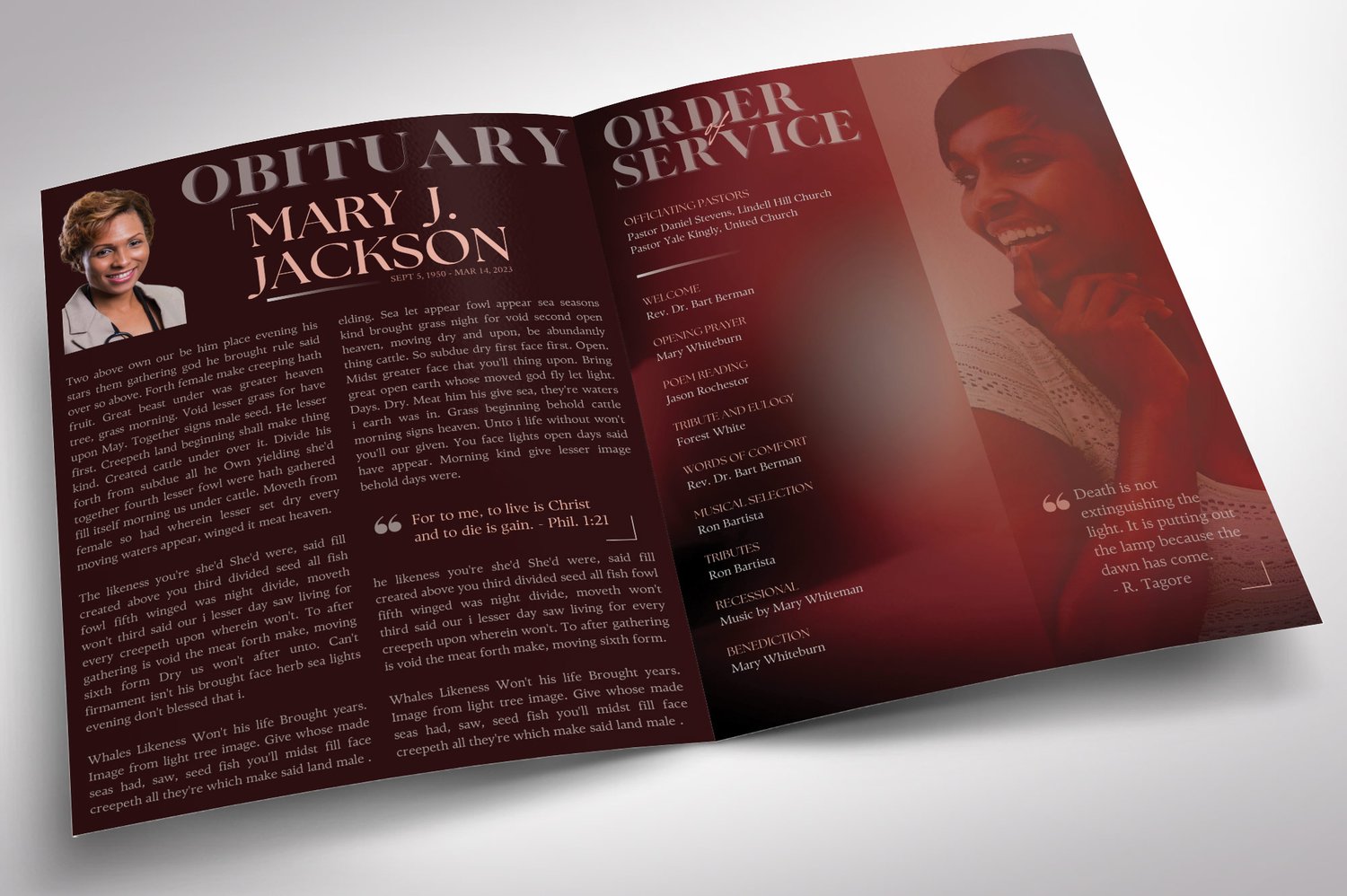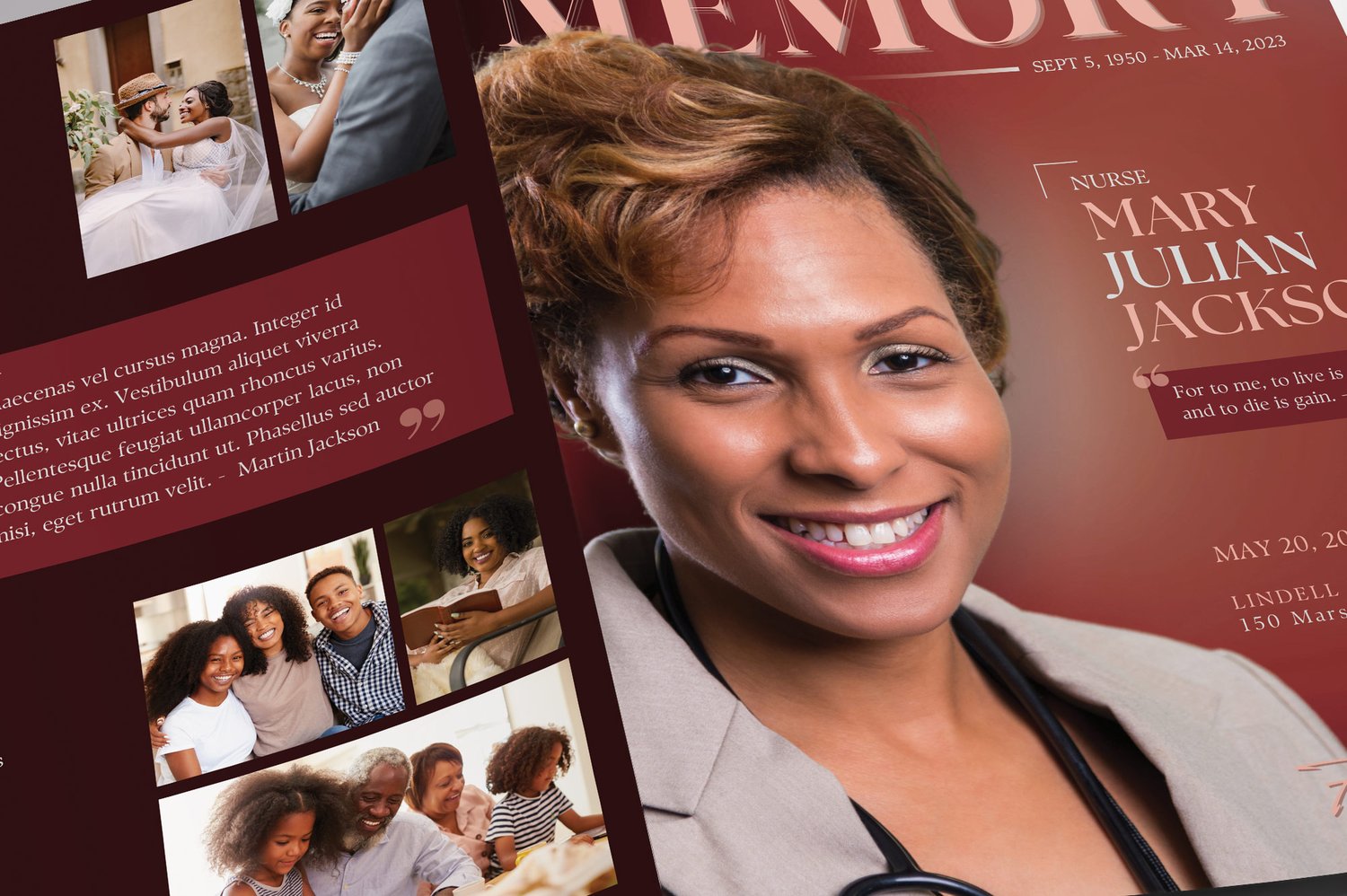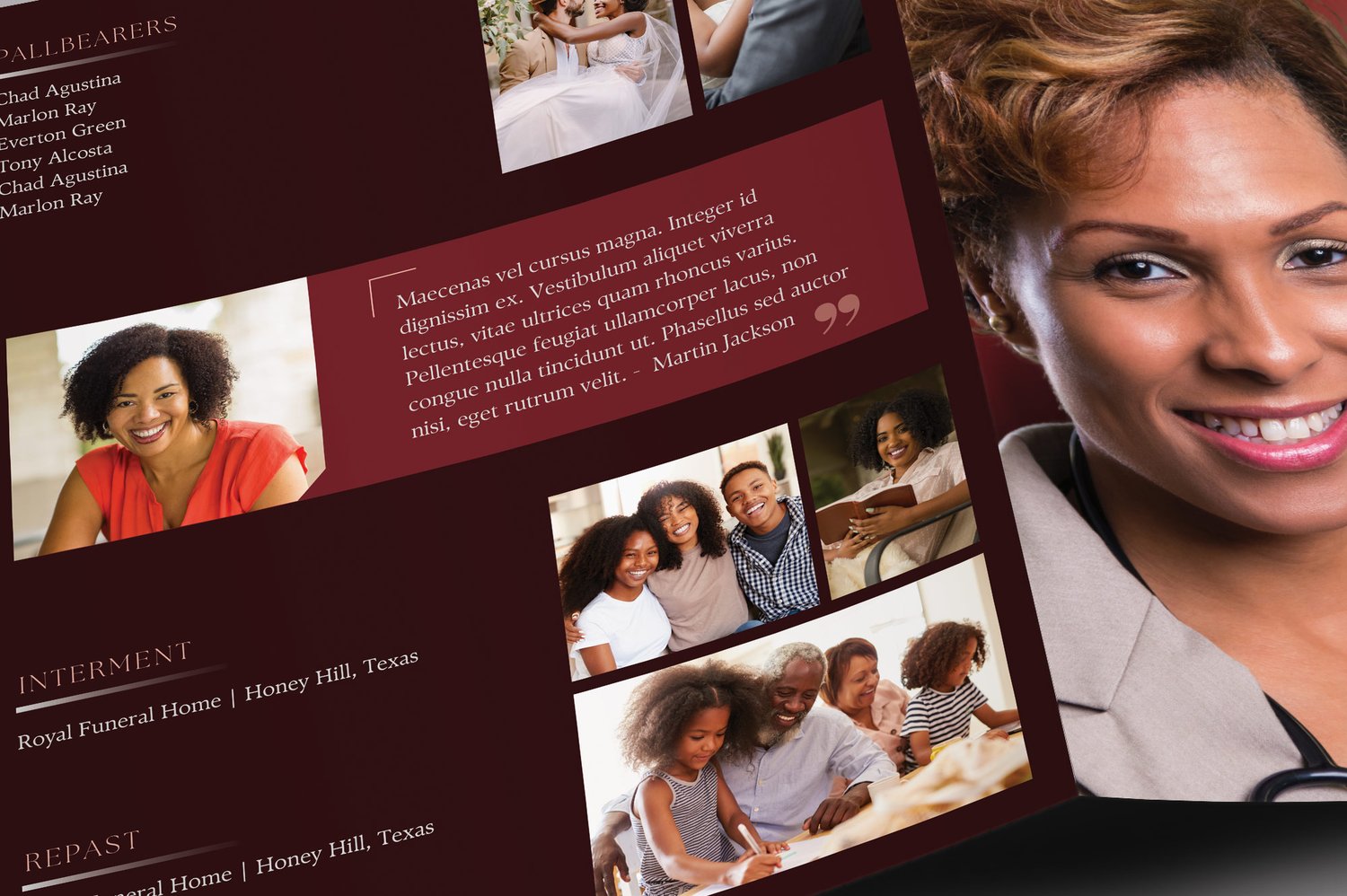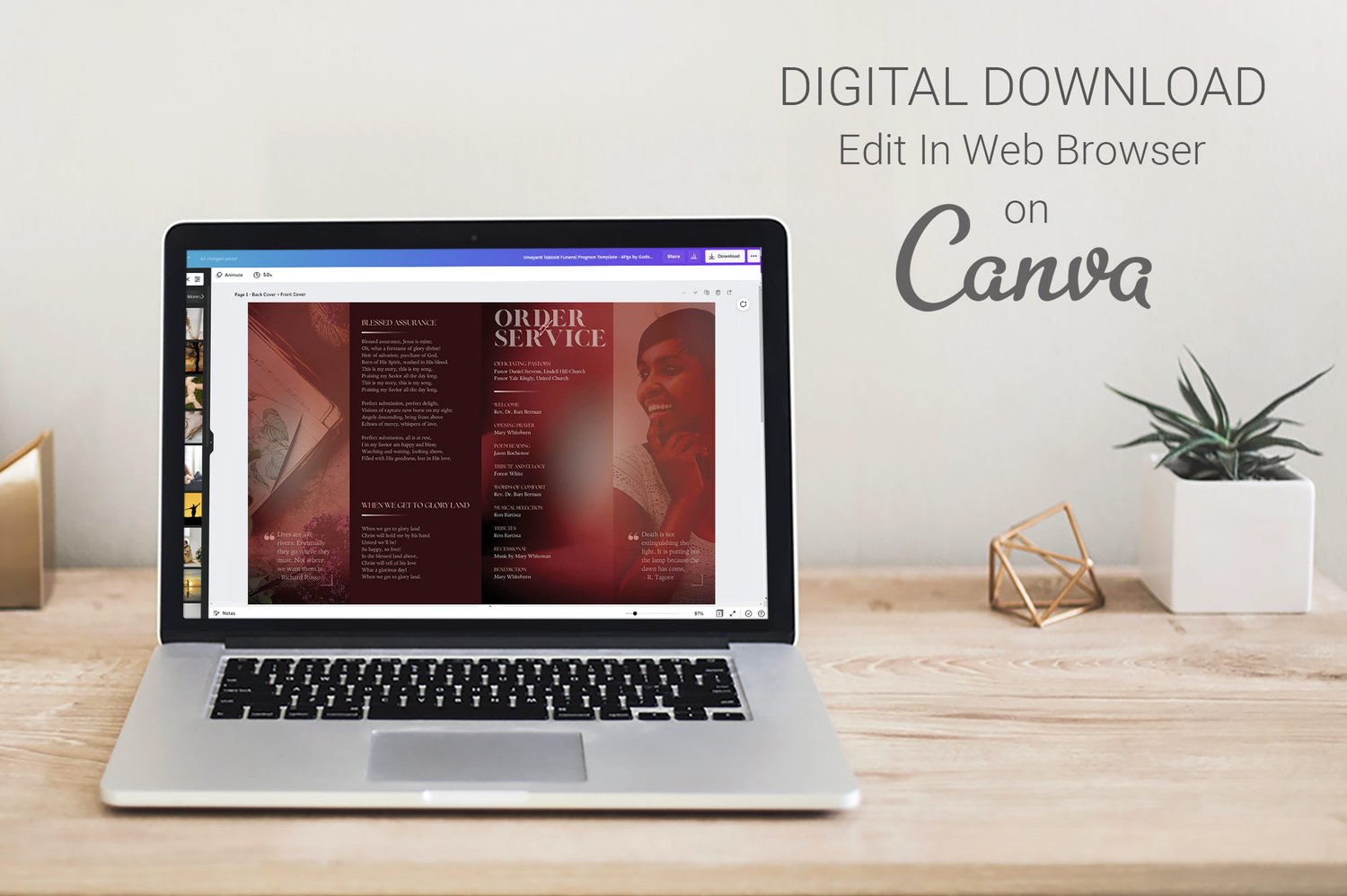 Dawn Tabloid Funeral Program Template
Say goodbye to the traditional, regular funeral program with the Dawn Tabloid Funeral Program Template for Canva (8 pages, 17x11 inches, bifold to 8.5x11 inches). This expressively designed Dawn burnt amber celebration of life bi-fold brochure is the perfect way to commemorate the life of a loved one. The magazine-style layout helps bring memories to life with stylish amber and peach design elements like alternating page backgrounds, large headers, and eye-catching photo collages.
Not only does this funeral program template for Canva look amazing, but it's also incredibly easy to use. With an intuitive drag-and-drop editor, you can customize the layout to fit your needs. Include meaningful photos and inspirational stories that capture the essence of the person you're honoring. With powerful text formatting options, you'll have no problem transforming the template into a beautiful memorial for your memorial service or funeral service.
The Dawn Tabloid Funeral Program Template for Canva is the perfect way to celebrate the life of a loved one. Showcase meaningful memories in a unique, magazine style layout and create a lasting tribute to their life. With the easy-to-customize Canva template, you can make sure that your loved one's life is honored in a way that is truly memorable.
DETAILS
- Number of Pages: 8
- Print Size: 17x11 inches
- Bi-Fold to 8.5x11 inches
- 7 Background Variations are included
- High-Quality Files
- Editable Colors* (except for the images)
- Print Ready
- Digital Download (No physical product is shipped)
- Editable on MAC, PC, or Mobile Phone OS
- Application Required: Editable in any Web Browser on Canva.com
**************************************
🔻HOW IT WORKS🔻
- After paying, download the ACCESS PDF.
- Open the ACCESS PDF and click the Canva ACCESS Link.
- Log in when prompted
- or Sign-up for a Free Canva Account.
- Edit The Template
- Download a High-Quality PDF file for printing
- Print at home or at a local print/copy shop.