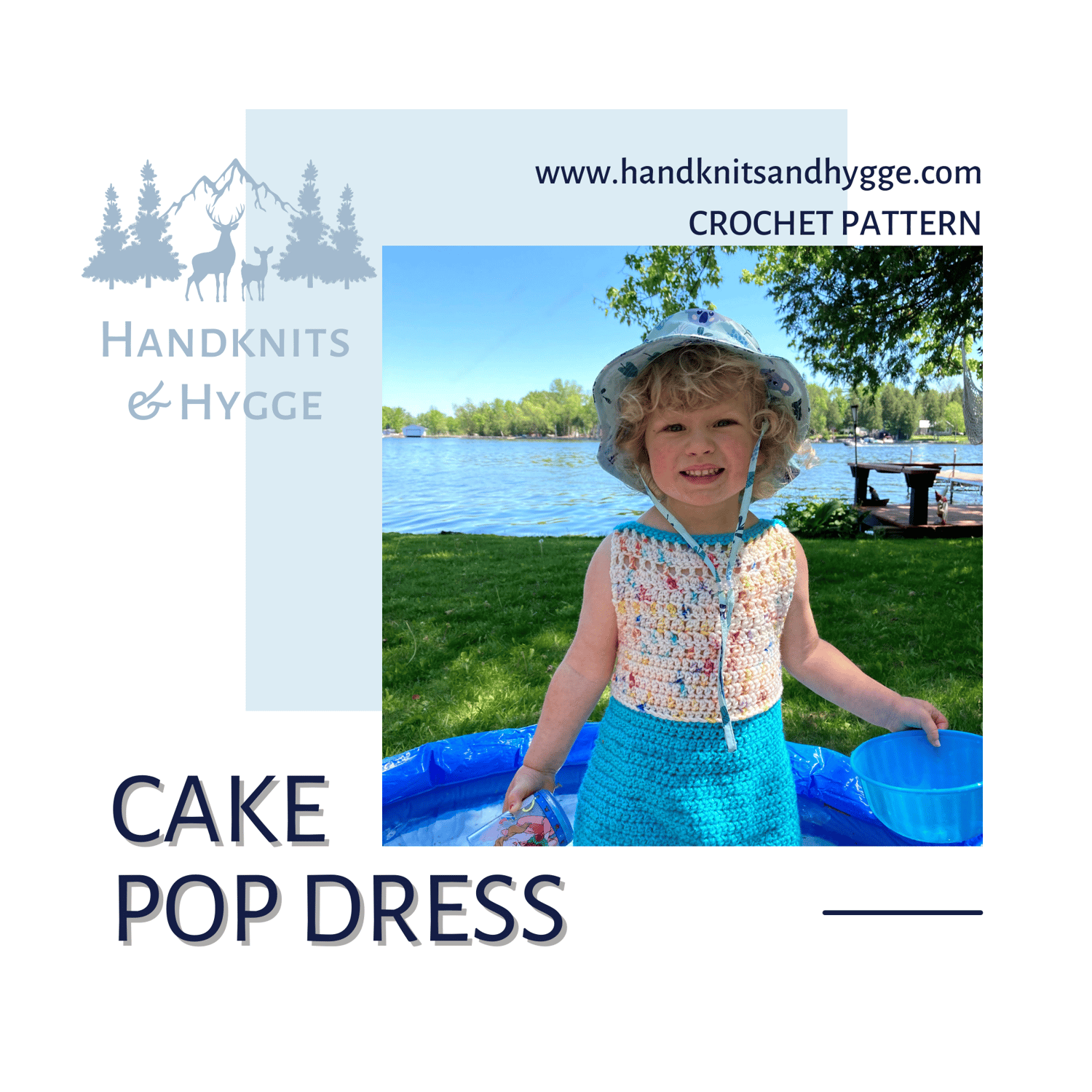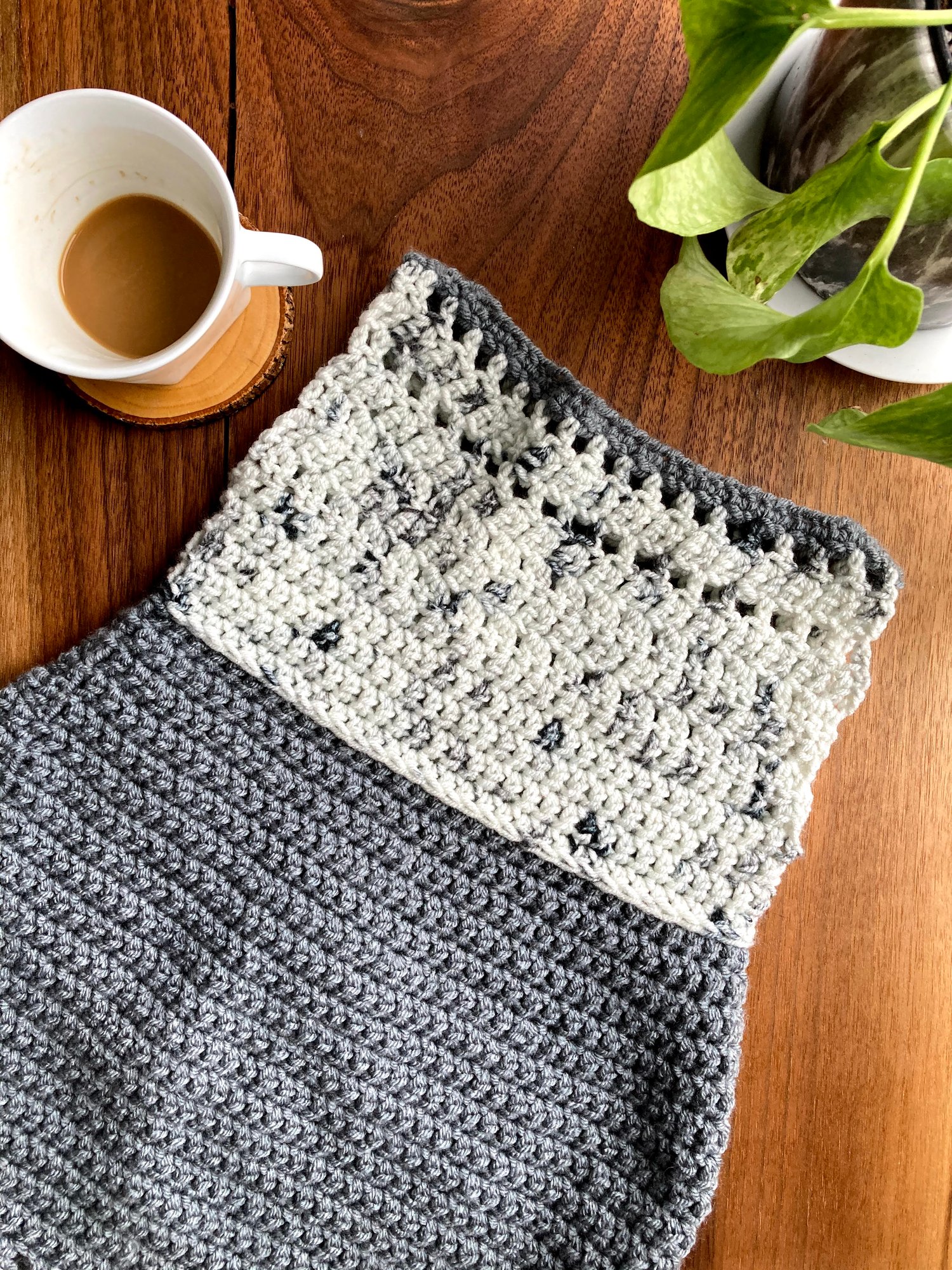 Cake Pop Dress
On Sale
Pay what you want:
(minimum CA$6.50)
Image descriptions: a smiling blonde toddler stands in a kiddie pool in front of a small tranquil lake on a sunny day, wearing a blue bucket hat and a crocheted dress with rainbow speckled lace bodice and bright aqua skirt. A smiling blonde toddler models a crocheted dress with white and black speckled lace bodice and grey skirt holding a grey and white striped teddy bear; the grey dress in progress shown with a green crochet hook and skeins of white & black speckled yarn and grey yarn on a walnut table; the grey dress with a cup of coffee and a houseplant on a walnut table. 

Crochet Pattern
Difficulty Level: Easy
US Terms 

Introducing Pay What Works Pricing: the price given reflects the value of the work needed to provide a professionally tested and edited pattern. To allow more people to enjoy my designs, I'm introducing Pay What Works codes that can be used on all patterns in my shop.
Use code PWW10 to get this pattern for C$6.30 (10% off) 
Use code PWW20 to get this pattern for C$5.60 (20% off) 

Accessibility: This pattern includes three formatting options: printer-friendly (most like a traditional pattern, with minimal images), dark mode (light text on a black background, dyslexic friendly font), and screen reader/low vision (22 point Arial, minimal abbreviations, no italics, columns, charts, or tables; captions & alt text on images).
About
This sweet little dress was designed for my girl. I received a shipment of yarn from WeCrochet to use for my next design and was pleasantly surprised to find some Brava and new Brava Speckle in a variety of coordinating colours to try. My daughter was so excited about the bright and fun colourways, so I asked her what they should become. She decided they should be a dress and I don't think she could be more right! This yarn is perfectly suited for kids' garments - soft, washable, and durable. The design is simple and ready for play. Layering it up with tights or leggings, a t-shirt, or a denim jacket will carry us through from spring to fall. The worsted weight makes this a quick project that can be worked up again year after year, size after size, as your little one grows not-so-little. On the bodice, try adding an extra chain to the turning chain of each row for a slightly scalloped edge detail along the armholes.
Sizes
Toddler/Children's sizes 12mo (2T, 4T, 6) (8, 10, 12) (14, 16).
Finished Chest: 19.75 (21, 23.5, 25.75) (27, 28.25, 30.75) (32, 33.25) inches / 49.5 (52.5, 59, 64.5) (67.5, 70.5, 77) (80, 83) cm.
Finished Length: 16 (18, 20.5, 23.5) (27.5, 30.5, 32.5) (34, 35) inches / 40 (45, 51.5, 59) (69, 76.5, 81.5) (85, 87.5) cm.
Yarn & Materials
MC: Knit Picks Brava (worsted, 100% acrylic, 218 yards/199 metres per 100 gram skein)
168 (218, 265, 339, 409, 473, 540, 590, 627) yards / 154 (199, 242, 310, 374, 433, 494, 539, 573) metres.
CC: Knit Picks Brava Speckle (worsted, 100% acrylic, 218 yards/199 metres per 100 gram skein)
121 (133, 156, 183, 234, 277, 305, 336, 361) yards / 111 (122, 143, 167, 214, 253, 279, 307, 330) metres.
Grey sample in size 2 uses 1 skein of Brava Speckle in colourway "Salt & Pepper" and 1 skein of Brava in colourway "Silver".
Blue sample in size 2 uses 1 Skein of Brava Speckle in colourway "Cake Pop" and 1 skein of Brava in colourway "Cornflower".
Hook: J / 6MM.
Tapestry needle for finishing.
Gauge
13 sts / 8 rows in dc = 4" / 10 cm.
Thank you to my wonderful tech editor
Darcy Hampton
, my fabulous testers, and
WeCrochet
for providing me with their lovely and inspiring yarn!