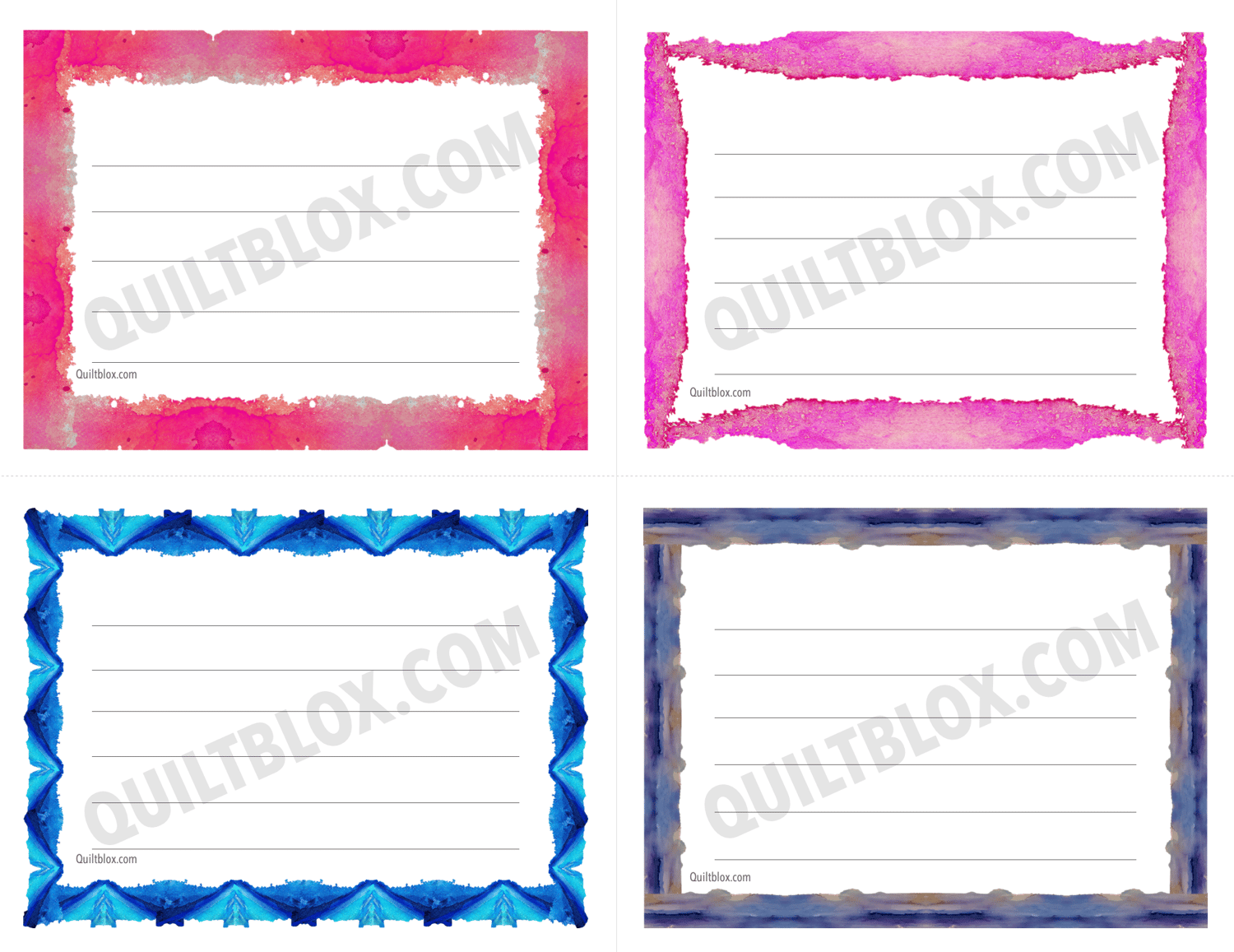 QB147 - Quilt Labels Set 12 - Red and Gold Frame, Pink and Gold Frame, Blue and Gold Frame and Blue Art Deco Frame
On Sale
A QUILT ISN'T COMPLETE UNTIL YOU'VE PERSONALIZED IT
with a label that compliments your quilt. Now it's an easy process to create a beautiful quilt label customized by you for the recipient of your generous gift.
EACH QUILTBLOX QUILT LABEL SET INCLUDES 4 DIFFERENT DESIGNS
- each provided to you - with and without lines to make it easy to either customize your message using your favorite software program or print out on your own fabric and hand write your message.
YOUR LABEL SET COMES TO YOU AS A PDF DIGITAL DOWNLOAD FILE - and consists of 3 pages of detailed instructions and 2 pages of labels.
WATERMARKS are not included in your purchased file. They only show in my online photographs.
ADOBE READER is needed to open the PDF File - you can download it free at: http://get.adobe.com/reader/
THE LABELS FINISH AT 5" WIDE X 3.75" TALL. I have formatted each label set so that it will print out on an 8.5 x 11" sheet - with spacing already included for cutting the labels apart and for seam allowances.
DETAILED INSTRUCTIONS for customizing your message and printing your labels are included.
YOU HAVE THE OPTION OF CUSTOMIZING THE MESSAGE for your label with your favorite fonts, type size, and colors to fit in the space provided on each label design.
YOU ALSO HAVE THE CHOICE OF PRINTING your label design and handwriting your message using your favorite fabric pens.
YOU WILL BE PRINTING YOUR LABELS on your own fabric using freezer paper and an Inkjet printer (not a laser printer).
YOUR PERSONALIZED QUILT LABEL can then be attached to your quilt using your favorite method.
INTERESTED IN LEARNING MORE ABOUT LABELING YOUR QUILTS?
You can find more info
HERE
THIS IS A PDF DIGITAL DOWNLOAD PRODUCT.
Freezer paper and fabric are not included. Nothing will be snail-mailed to you. Your order will be available in your account once you have completed the order - it will also be sent to the email address you provided when you placed your order.
QUESTIONS about how to find and download your Quilt Labels?
You can find out more
HERE
PLEASE NOTE:
While I don't accept returns, exchanges, or cancellations for digitally delivered products, please contact me if you have any problems with your order.