Welcome to Your Sewing Friend,
where the patterns are so user-friendly
that you feel like you have a sewing friend at your side!
Sewing Organizer Patterns
Sewing Organizer Patterns
Here at Your Sewing Friend, we're all about giving you the tools and help you need to have a fun and satisfying sewing experience. Our focus is to create exceptional patterns that make you a sewing success and are so user-friendly that you will feel like you have a sewing friend at your side!


We offer a great selection of easy to follow patterns for unique and creative designs for your sewing enjoyment!
We have clever and cute sewing organizers like the Catch-all Cutie, Sewing Mat Bag, Travel Sewing Caddy and Take-along Tool Apron that will keep your sewing tools handy and make it easy to take them with you.
Our quilt patterns range from traditional piecing (Shortcuts with Precuts) to fusible applique (Seasons of Quilting, Garden Friends, Grandma Sue's Pantry) to hand embroidery (My Favorite Tools) and free motion quilting (Say Sew!), giving you lots of quilting ideas to choose from.
We also have one-of-a-kind purses and bags featuring the Star Spangled Tote Bag, Coloring Books Backpack, Goin' to Market Tote Bag, and Sew Roomy Pocket Wallet so you can make a creative statement wherever you go.
So grab your coffee, take a look around, and find the tools for your next awesome project!
Shortcuts with Precuts pattern collection
Shortcuts with Precuts pattern collection
This amazing quilt pattern set includes 10 different quilt designs that can be made in 5 different sizes!
Choose from twin size, lap size, two different baby sizes, and wheelchair size.
Seasons of Quilting series
Seasons of Quilting series
More awesome quilt patterns!
More awesome quilt patterns!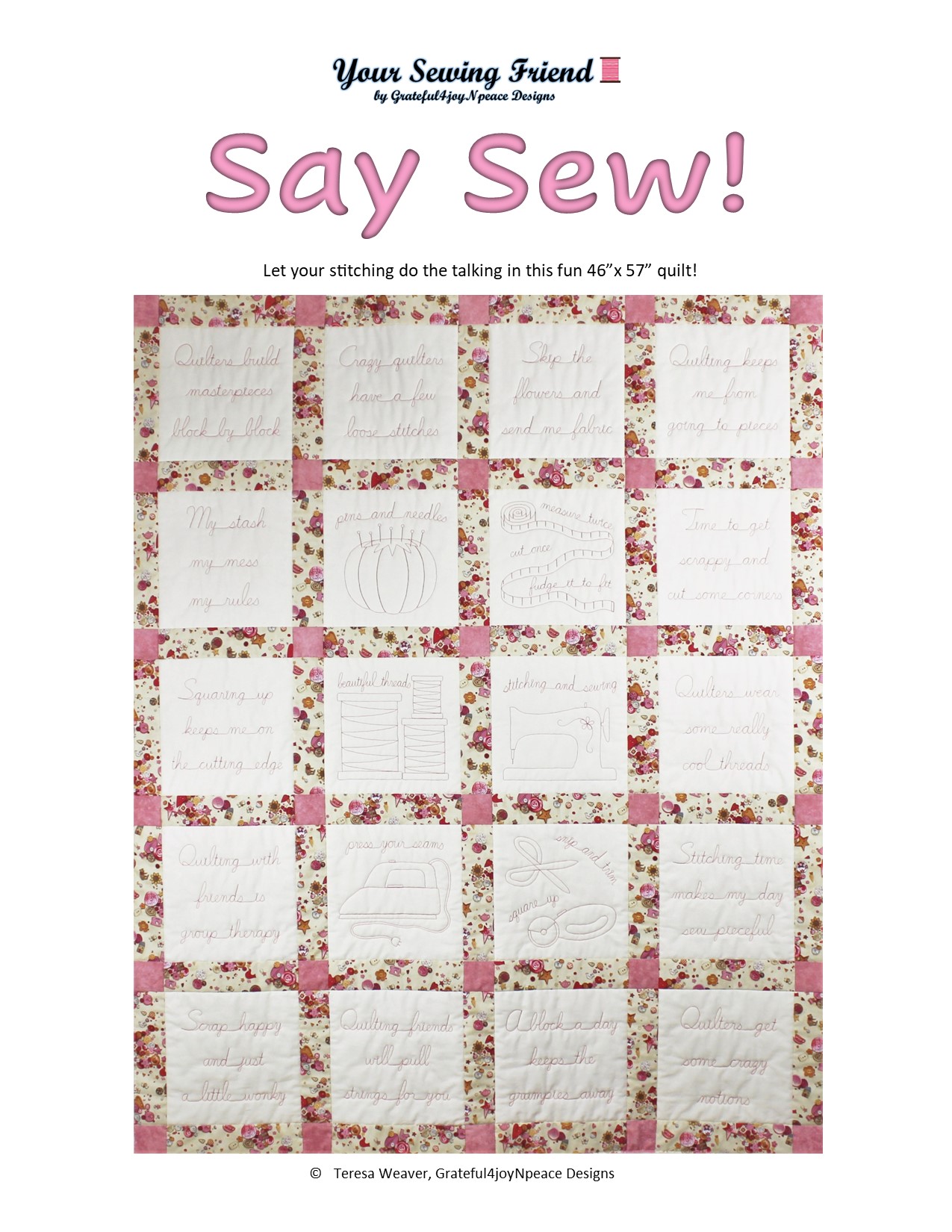 Say Sew! quilt pattern - PDF download
On Sale
$18.00
Need a quilt that makes a statement?  How about one that makes several hilarious ones?  In this quilt, cursive writing meets free motion quilting, and the results couldn't be funnier!

The pattern includes 20 different templates, quilting guides to lead you through the continuous-line free motion quilting, color diagrams for the simple quilt piecing, and a blank quilt layout page for you to plan your quilt colors and block arrangement. As an added bonus, the precisely hand-drawn templates can also be used for hand embroidery!

Get your pattern today and create a conversation piece (pun intended 🤣)!
Customer Reviews
"I'm very happy. I put in two zippers - wow!! Great directions! Thank you!!"
Sally
"Loved this and it was a lot easier to make than I expected! The instructions and pictures are clear and thorough. This would make an awesome gift to give the crafters in your life!"
Vivian
"Quick, easy, super cute pattern that fits my Steamfast iron!"
Dena
"Love it for my mini iron when going to quilt class." Elaine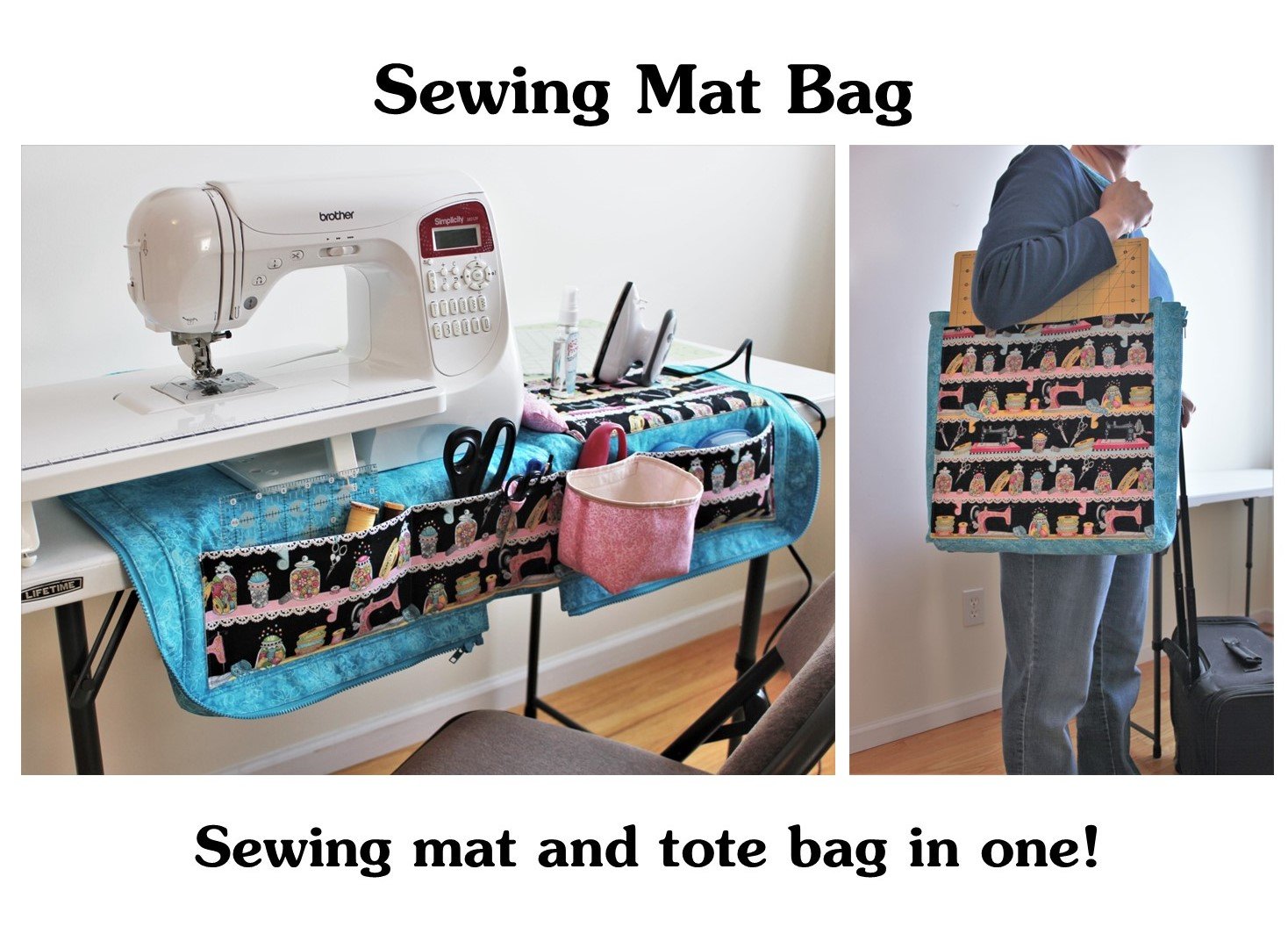 "Amazing end product for even a beginner!"
Nancy
"Easy to follow pattern :)"
Kayla
"Pattern is very detailed. Looks to be beginner friendly. Can't wait to get started. Just what I was looking for!"
Lynn
"Loved making this pattern. Easy to follow instructions."
Mona
"Lovely pattern - full of detailed instructions and good images. It works up nicely and I love the finished result."
Stephanie
"This is a great pattern."
Barbara
"I like it very much."
Sara
"Very clear instructions. Item was easy to construct and great to use!"
Patricia
"Nice idea for having all your sewing things in one place. I bring my embroidery to work for spare moments and I can never find my stuff in the bag I use. This will solve the problem. Thanks!"
Anne
"Great service and quick and helpful response to my question."
Anna
"Great pattern. Easy to follow."
Sherry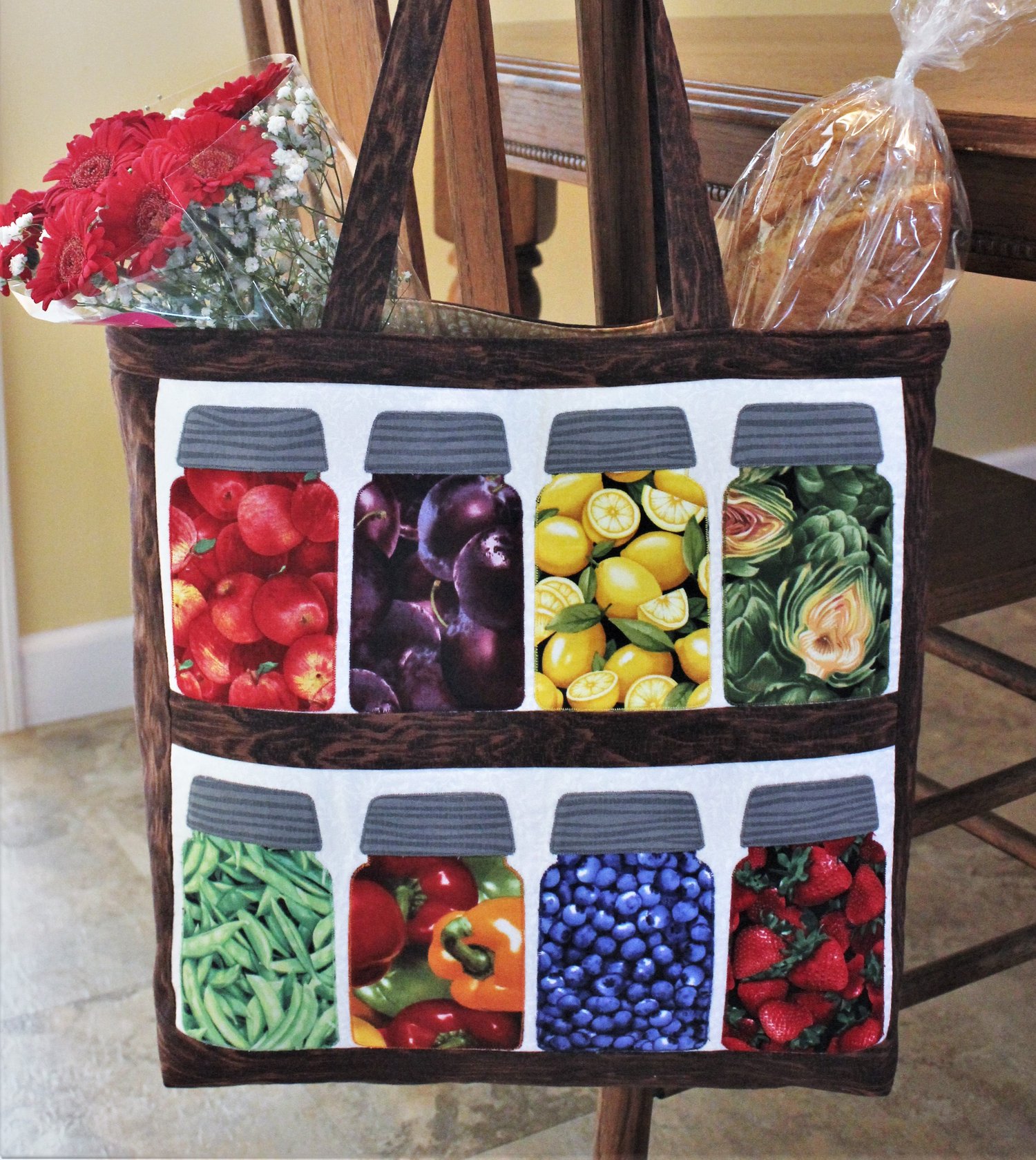 "Pattern was great. Thank you."
Regina
Tote Bag & Purse patterns
Tote Bag & Purse patterns
Quilt Completion Chart
Getting overwhelmed with your growing pile of unfinished quilts? Download our FREE chart to make great progress on your projects and start getting them done!
Video Tutorials!
Check out our quilting and sewing videos covering piecing tricks, organizing ideas and more! Watch the samples below or click on the "View List" button to choose from our entire list of tutorials.
Dimensional Applique
Easy to make 3D pieces to make your quilts pop!
New Tricks with Half Square Triangles
Easy shortcuts for speeding up your piecing!
Wonderfully Wacky Quilt Piecing
Unconventional, stress free and the most fun you will ever have with your scraps!