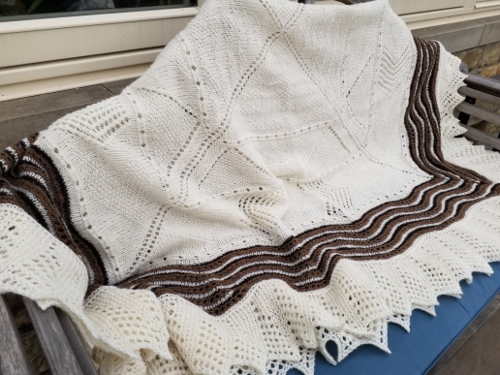 Wild Geese Hap
On Sale
£10.00
Craft:                   Knitting
Category:            Blanket, Lapghan
Suggested yarn:  Daughter of a Shepherd Ram Jam Worsted
                            Daughter of a Shepherd Castlemilk Moorit DK   (both are used in this pattern)
Yarn weight:        Aran / 10ply (8 wpi)
First Published:   December 2019
Gauge:                14 stitches and 22 rows = 10cm/4in in stocking stitch/stockinette
Needle size:        5.5 mm / US 9
Yardage:              780-2300m/ 853-2515 yards
Sizes available:   Lapghan (1m square), Hap Blanket (2m square)
Techniques used:
    knitting in-the-round
    kitchener stitch
    lace
    textured stitches
Did you know that a group of geese on the ground is known as a gaggle, but in the air, flying in V-formation, it is known as a skein? I love that connection between geese and yarn!
The Wild Geese Hap is a square blanket, knit in the round from the centre out. It was inspired by the large numbers of geese that fly high over our house in the Autumn, crossing dry stone walls, fields, and streams, in huge skeins, as they gather to migrate to their winter pasture.
It is a mixture of textured and lace knitting, in natural shades of Aran/worsted yarn, colours chosen to reflect the fawn, black, and white colouring of the iconic Canada Goose. Two sizes are catered for, a lapghan size approximately 1 metre square, and a larger hap/blanket of approximately 2 metres square; either style can be finished with a plain edge or a knitted-on lace edge.
The hap has a central square of textured design depicting the typical triangular flight of geese, edged by 2 borders (1 border for the lapghan) of progressively more lacy motifs on the same theme, divided by narrow ridges depicting dry stone walls. Before the chosen edging (plain cast off or knitted on lace), there is a wide three-colour border of Old Shale depicting the ripples on the surface of the local reservoirs which are home to the geese. The optional lace edge is a long narrow triangle which could be seen as either a variation on the skein in flight or the wings of a goose as it flies.
I have shown the two styles with differing colour schemes, the lapghan warmly brown, the blanket a cool creamy white. The Daughter of a Shepherd yarn is wonderfully 'sheepy', and once washed fulls out with a slight halo, making this a very cosy accessory for a winter's day.
This pattern uses charts with minimal text instructions. Pattern support is available; please
email me
if you have any questions or problems. There is a photo tutorial on the Granary Knits blog explaining the knitted on lace edging.
This pattern can be knit in any aran weight/worsted weight yarn, as long as it gives good stitch definition. Woolly types of yarn are best as they full out to give an extra warm fabric. As always, when substituting yarn, be sure to knit a swatch to check that you are able to get the right gauge for the pattern. Suggested yarn substitutes can be found at
https://yarnsub.com/