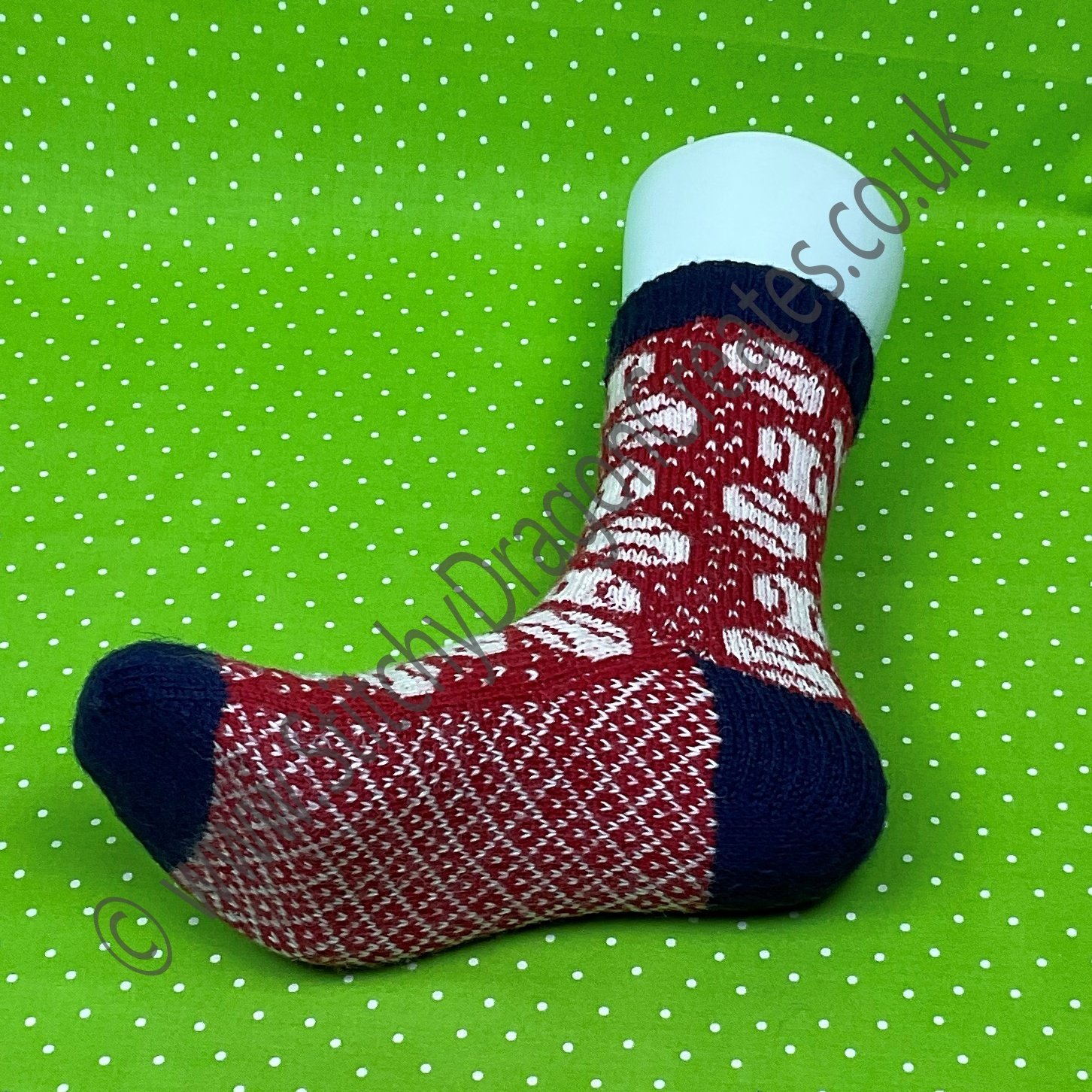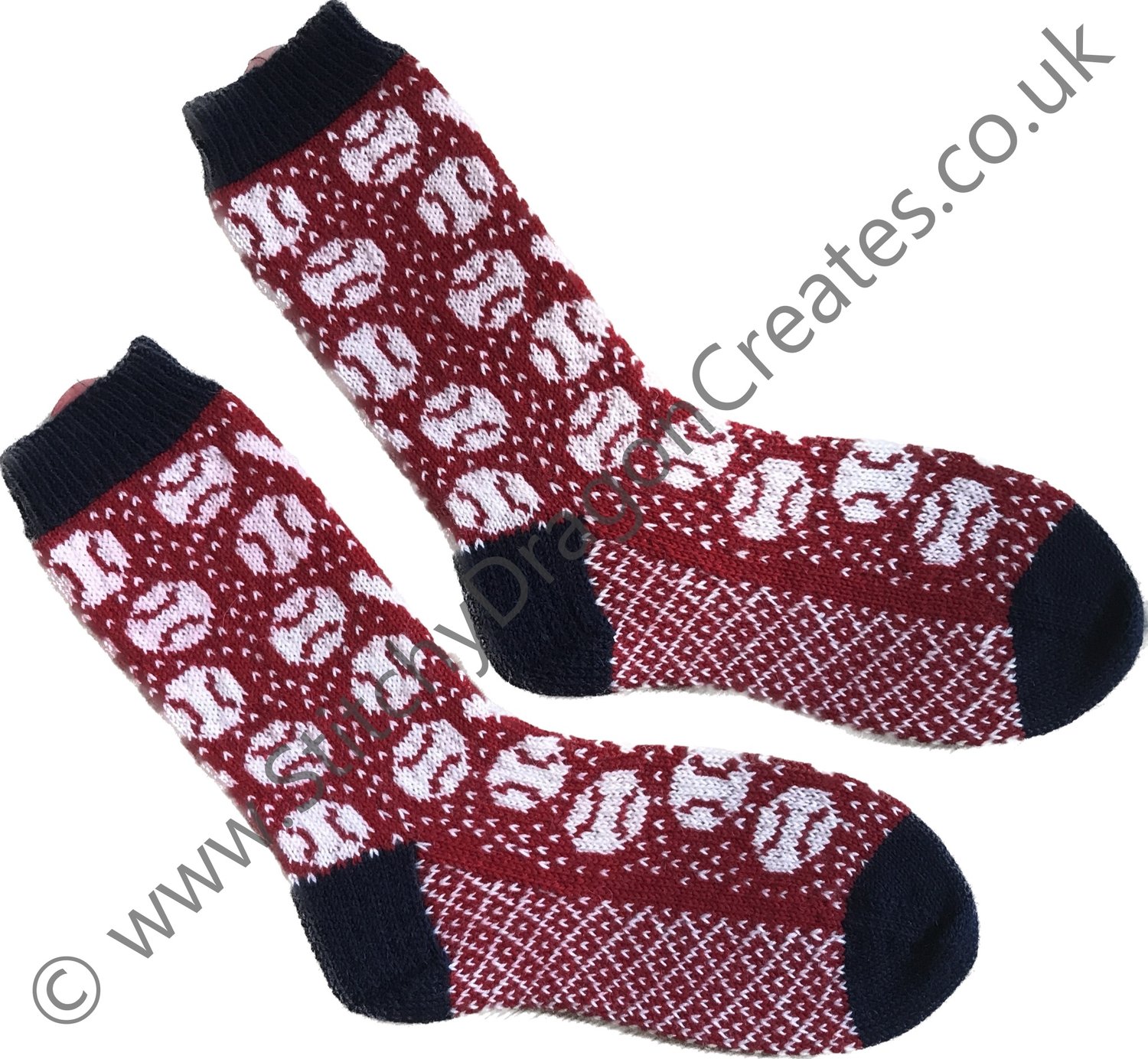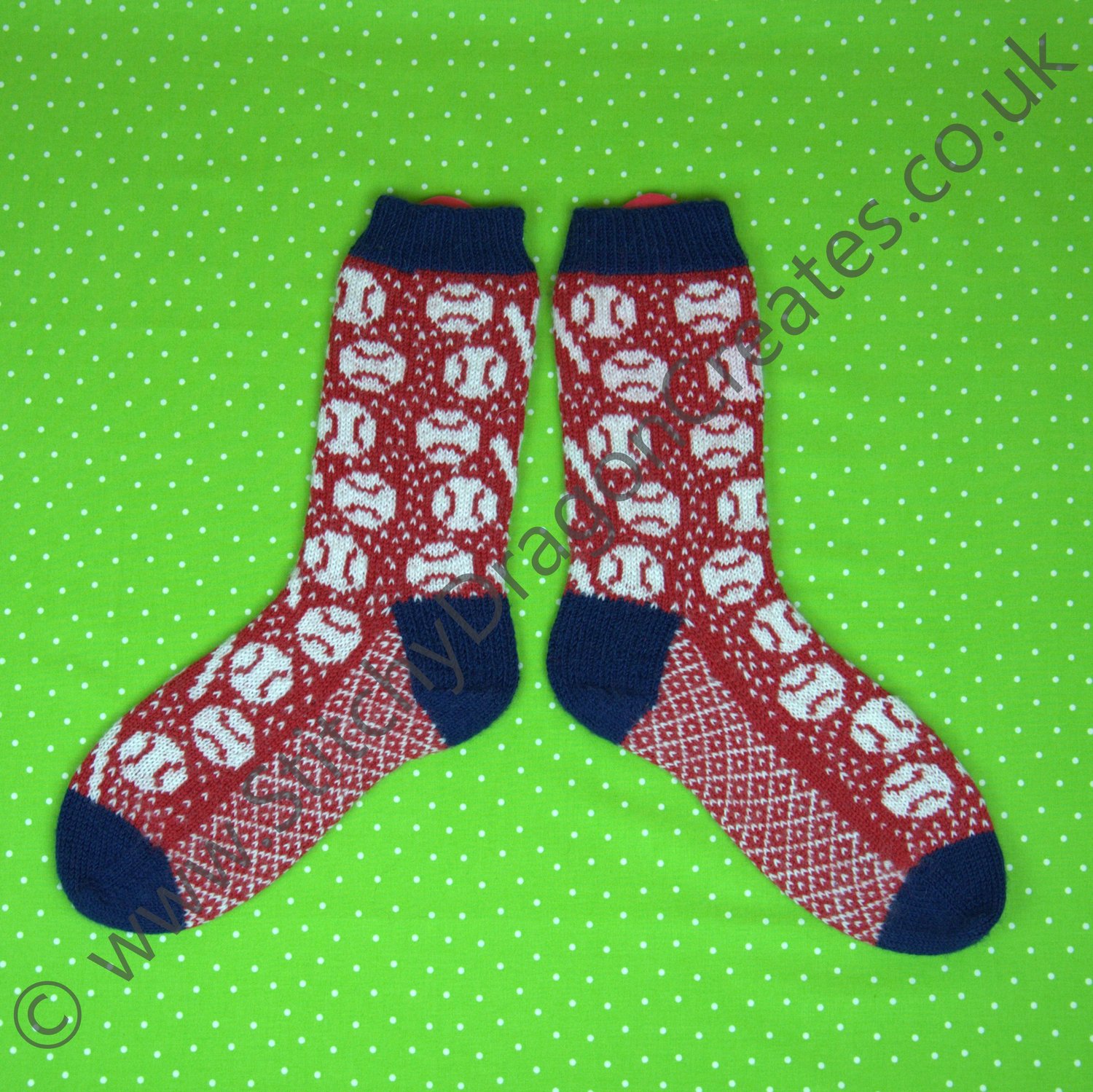 Batter Swing Socks
On Sale
With the start of the baseball season, we know summer is on its way, but it can be cold at those early games (and at the other end of the season too) so how about the perfect socks to keep your feet warm?! Written for a range of sizes you can knit them for all your family and friends. Use green and white for generic baseball socks or pick your team colors – "LET'S GO * * !!"
Method: Featuring motifs of baseballs, bats, and popcorn and with baseball diamonds on the sole, these stranded colorwork socks are knit in the round from the cuff down. They have a round heel and options to knit two leg lengths and customise the depth of the gusset.
This will enable you to knit socks for a greater range of foot shapes (i.e., high or low insteps, high arches, fallen arches/flat feet.).
This pattern contains seven pdfs, the main pdf, a pdf of charts for the shorter leg, a pdf of written instructions on customising your gusset, and four pdfs (one for each size) of additional charts for your customised gusset.
These socks can be knitted on dpns, by magic loop, or on a short circular (in which case you will still need dpns for the heel and toe decreases).
Size: This pattern is written in 4 sizes. All instructions that differ depending on the size you are knitting are indicated with parentheses and color coded like this: S (M, L, and XL).
SizeSock CircumferenceApprox. UK SizesS7"18 cmChildren's 13-4, Ladies 1-4M8"20.5 cmLadies 5-8L9"23 cmMen's 8.5-10.5XL10"25.5cmMen's 11-13
Yarn: You can use any 4 ply (fingering) sock yarn that you like and with which you can get tension/ gauge.
Please note I do not recommend using yarns with a high cotton content as cotton doesn't stretch as much as other fibers and this will affect the fit of your socks.
This pattern works well with two (or more) solid colors, you could use green and white for more generic baseball socks or pick the colors of your favorite team! I have chosen to use three colors for the pair shown; CC2 is used for contrast cuffs/heels/toes only. Be creative, have fun, but keep in mind changes will affect yardage and number of ends to weave in. The amounts of each color required will depend on how many colors you pick, where you choose to use them in the sock, and which size you are knitting. As a guide for the pair pictured (standard size M in three colors) I used the following:
MC – Artesano Definition sock in 42 Inferno approx. 150 metres (164 yards)
CC1 – West Yorkshire Spinners Signature 4ply in 11 Marshmallow approx. 125 metres, (137 yards)
CC2 – Novita Venla in 170 Navy approx. 85 metres, (93 yards)
Gauge: 9 stitches and 10 rows per inch over colorwork pattern.
Needles:
3mm dpns
2.5mm dpns / short circular or size needed for gauge.
Other Materials Required:
2 Stitch Markers
Tape Measure
Scissors
Darning needle to sew in ends.
If making alterations to the main pattern you will also need waste yarn or dental floss for lifelines