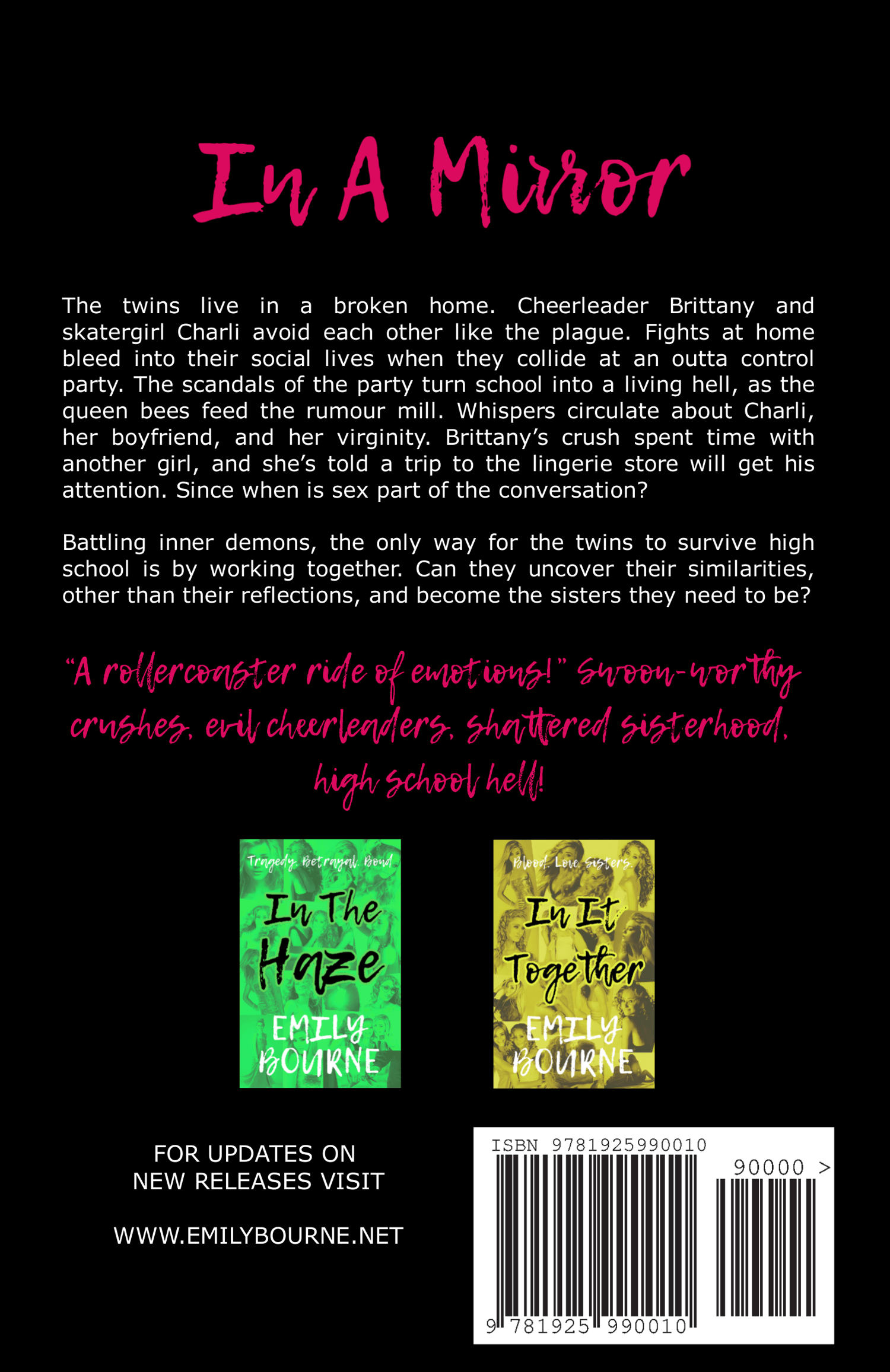 In A Mirror - Autographed Paperback
On Sale
A$29.99
PRODUCT AUTOGRAPHED BY AUTHOR

Secrets. Rumours. Lies.
Who said high school was easy...?

Cheerleader Brittany and skatergirl Charli, twin sisters living in a broken home, avoid each other like the plague. Hostility from home bleeds into their social lives when the twins collide at an outta control party. The scandals of the party turn high school into a living hell, when the queen bees feed the rumour mill with vicious lies.

Whispers circulate about Charli, her boyfriend, and her virginity. Brittany's crush spent time with another girl, and the cheerleaders suggest a trip to the lingerie store will get his attention. Since when did sex become part of the conversation?

Tortured by peer pressure, broken hearts, messed up parents, and off-the-charts anxiety, surviving high school appears impossible. Can the twins uncover their similarities beyond identical reflections, and become the sisters they need to be?

"A rollercoaster ride of emotions!" Read In A Mirror today to join the sisterhood, swoon over gorgeous crushes, battle evil cheerleaders, and escape high school hell!



Likened to a mash-up of FANGIRL by Rainbow Rowell and GOSSIP GIRL by Cecily von Ziegesar
If you love gripping emotional reads that also make you laugh out loud, you'll love the teen romance drama and ultimate beach read that is IN A MIRROR by Emily Bourne. This YA contemporary, coming of age book is filled with social issues from teens navigating the world of sex and dating, to understanding mental health issues and eating disorders, loners and outcasts dealing with a high school bully, siblings with divorced parents and blended families, and overall being a teen and young adult.