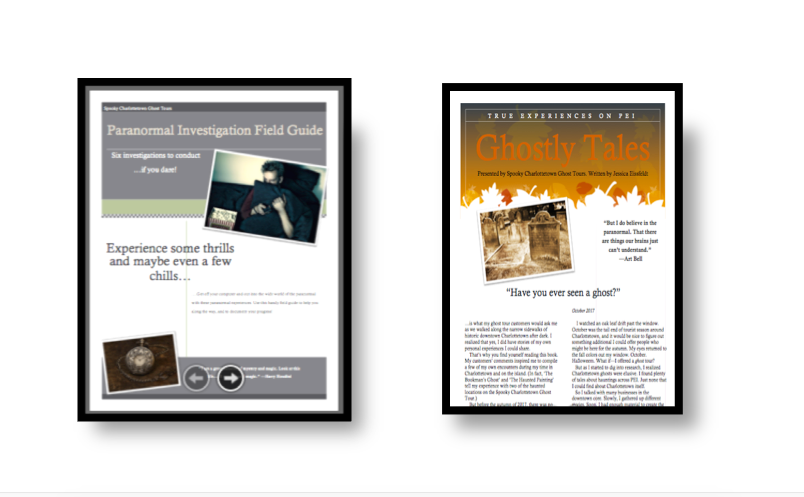 Spooky Charlottetown Ghost Tour: Paranormal Investigation Field Guide + Ghostly True Tales of PEI
On Sale
$2.99
Give yourself goosebumps...
 with real life supernatural experiences + Ghostly True Tales of PEI!

Paranormal Field Guide: 

If you love haunted houses and ghostly tales or are simply curious about what might be lurking in the shadows...try out the Paranormal Field Guide tonight! 

Conduct six different paranormal investigations by yourself or with a friend or family member. 

You'll receive a PDF field guide that leads you through six paranormal investigations. Some of them even use techniques perfected by ghost hunters! Don't forget your lantern...

Ghostly True Tales of PEI: 

Read this collection of true ghostly experiences!

Charlottetown, Prince Edward Island, has been a place steeped in history since its beginnings. Many have lived in and loved this place; some, in fact, who never leave....

But the rows of historic homes along the tree-lined streets of this historic city can reveal a different story after dark...

....Discover just what those stories are when you read the true-life ghostly experiences and accounts ofthe Spooky Charlottetown Ghost Tours guide, Jessica.