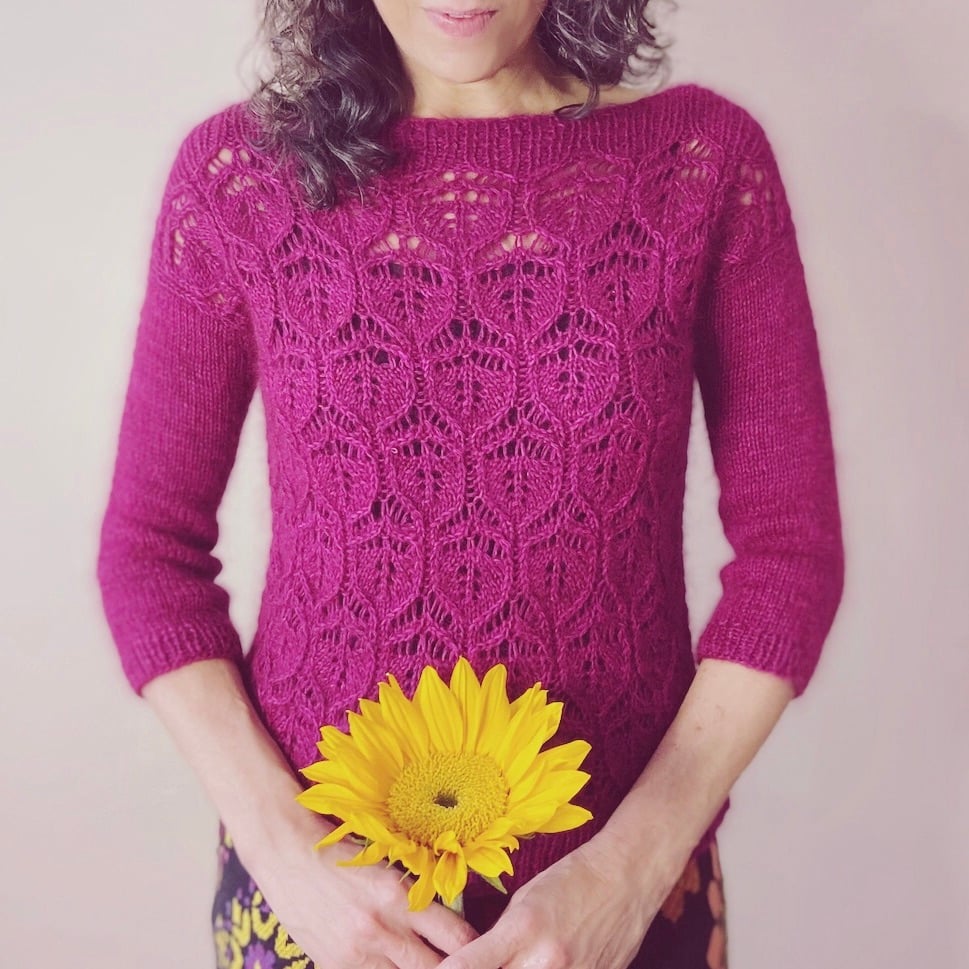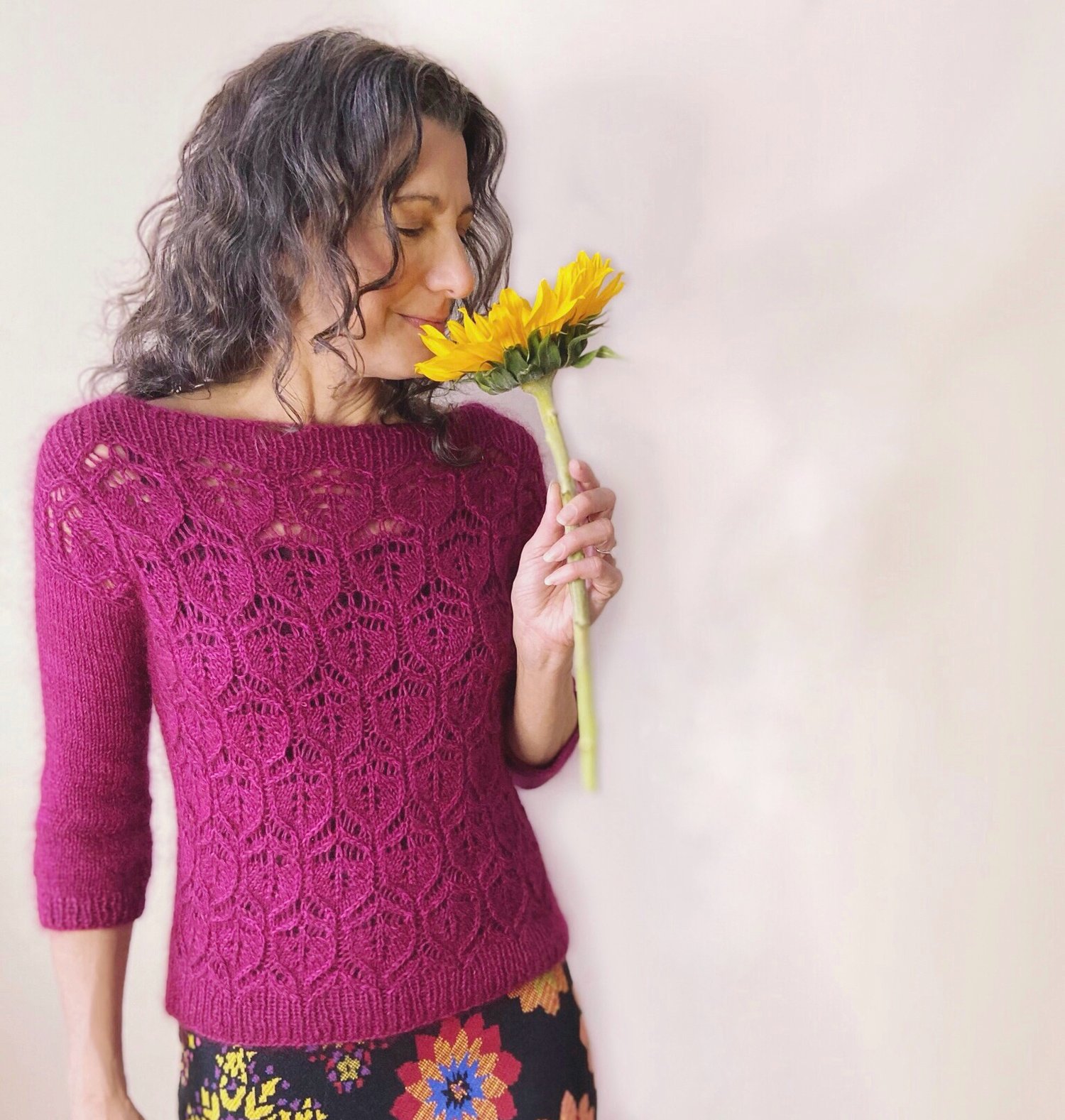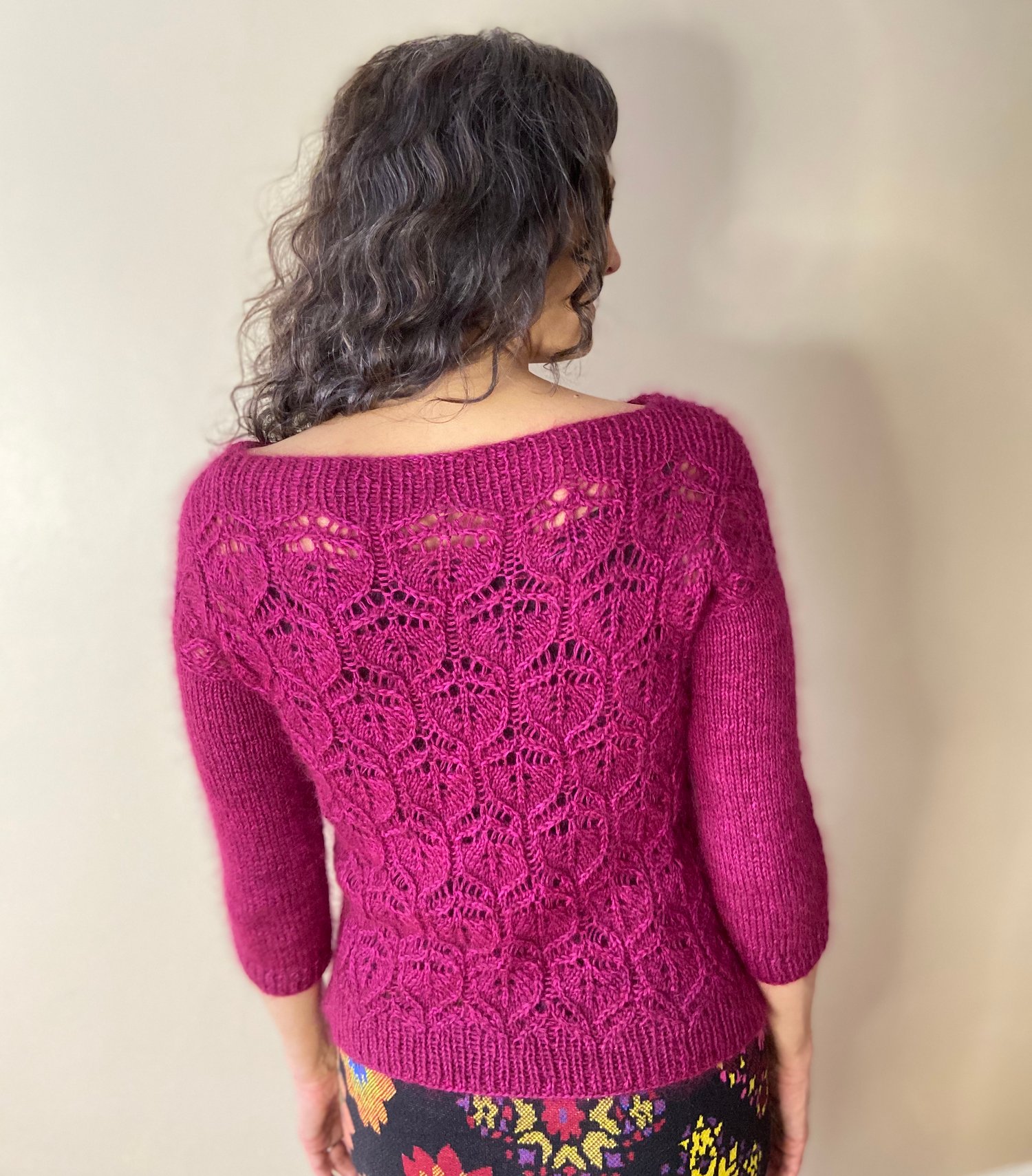 Ruby Tuesday Pullover Knitting Pattern
On Sale
$8.99
Listing is for the pattern (knitting instructions) only.

Hello Gorgeous! This drop-shouldered beauty is worked seamlessly from the top-down with a strand of fingering weight yarn and mohair-silk lace held together throughout.

The stunning lace pattern is initially worked flat on both the front and back until you reach the underarm and join in the round.
A separate, simple lace pattern is inserted at the sides for ease in knitting and allowing you some wiggle room to add shaping if you prefer (the pattern as written has no waist or hip shaping—the lace tends to drop and hug your curves on its own, but you can add shaping at the sides if you wish)).
Three-quarter sleeves are worked by picking up sts around the armscye and working to the cuff.

The lace pattern does require some lace patterning on WS rows for the time you are working flat—No worries! There are line-by-line directions for the lace whether you work flat or in the round in addition to the charts. Just take your time with them until the pattern becomes more intuitive.

It requires a bunch of short rows to shape it so that the shoulders angle downward and don't create a "winged" effect or too much underarm bulk

Gauge: 21 sts & 27 rows/4" (after blocking) in stockinette stitch and 22 sts & 23.5 rows/4" (after blocking) in the Chart 1 lace pattern (slightly stretched) on a size 5 needle (or size to achieve gauge) with both yarns held together. Yours may vary, but my PRE-BLOCKING gauges were 21.5 sts/4" in stockinette and 24 sts/4" in the Chart 1 lace pattern.
Materials:
2(2, 2, 3, 3, 3, 3, 4, 4, 4, 5) skeins of Hedgehog Sock (437 yds/100 g, shown in Plump) AND
2(2, 2, 3, 3, 3, 3, 4, 4, 4, 4) skeins of Hedgehog Kidsilk Lace (459 yds/50 g, shown in Plump), or approximately
(750(800, 950, 1040, 1150, 1225, 1300, 1425, 1550, 1650, 1750) yds EACH of fingeringweight and laceweight yarn.

The sweater is worked by holding one strand of Sock with one strand of Kidsilk Lace yarn together, but if you wish, you could try workibg it with a DK weight yarn--just be sure that the yarn isn't so bouncy that the lace pattern is obscured. This requires some drape.
It is worked from the top-down by casting on for the front, working down to the underarm. The front sts are then put on hold while you pick up stitches for the back and work down to the underarm. The front and back are then joined, and the remainder of the bodice is worked in the round to the hem. Stitches for each sleeve are picked up from around the armscye and worked circularly down to the cuff.