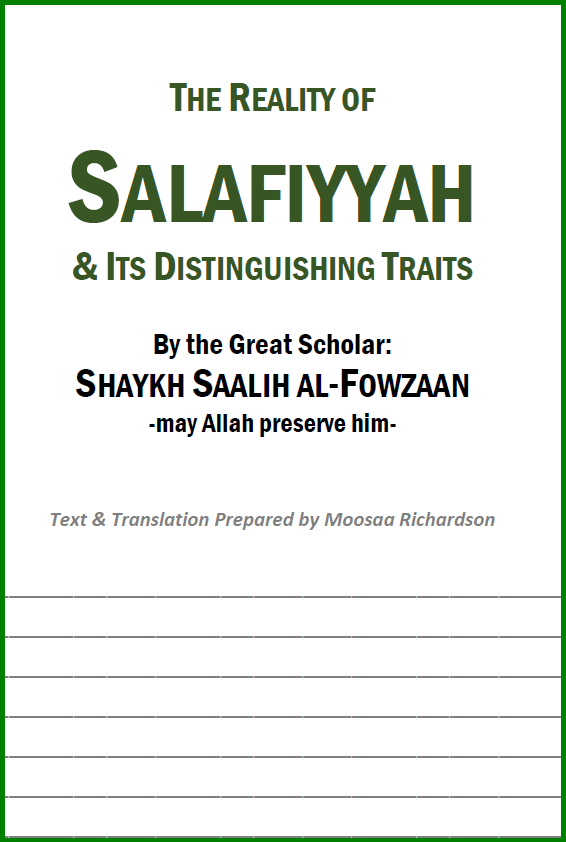 The Reality of Salafiyyah [FOR NOTE-TAKERS]
On Sale
$0.00
Preview
This is the official text for the upcoming Islamic seminar in Pittsburgh, Pennsylvania (USA), at al-Masjid al-Awwal (the First Muslim Mosque), for the weekend visit of our special guest,
Shaykh Abu Muhammad al-Maghribi
(may Allah bless him and preserve him).
Bakkah Publications is making this complete text, a 30-page PDF, fully-voweled Arabic text and its English translation,
freely available 
worldwide. Alternatively, we have enabled the option for our brothers and sisters to enter any amount they would like to pay (like $3 or $5), in order to support this work and future projects like it, but this is not required. Simply enter
$0
as your price, and a fully licensed PDF copy is yours
FREE of charge
. But please, be reminded: This material is still copyrighted, so do not send anyone a copy of the PDF, but instead simply send them a link to this page, and they can access their own free copy, just as you have done,
wal-hamdu lillah
.
Generous people of
khayr
(finanicial supporters) may also use this opportunity to contribute to our ongoing work by choosing to pay
$50
,
$100
, or whatever Allah has enabled them to pay.
(And may Allah reward you generously!)
Payhip only takes 5% of the payment as their fee, so understand that 95% of it reaches us by Allah's Permission.
CAN I PRINT THIS OUT FOR MY OWN PERSONAL NOTE-TAKING COPY?
Yes, once you download this official version here from Payhip, you may print out one (1) copy on paper for the purpose of taking notes. Since the book is available for free, if someone asks you to print them out a copy, simply direct them to this page, where they can access their free copy and print their licensed official copy.
Jazaakum Allahu khayran!