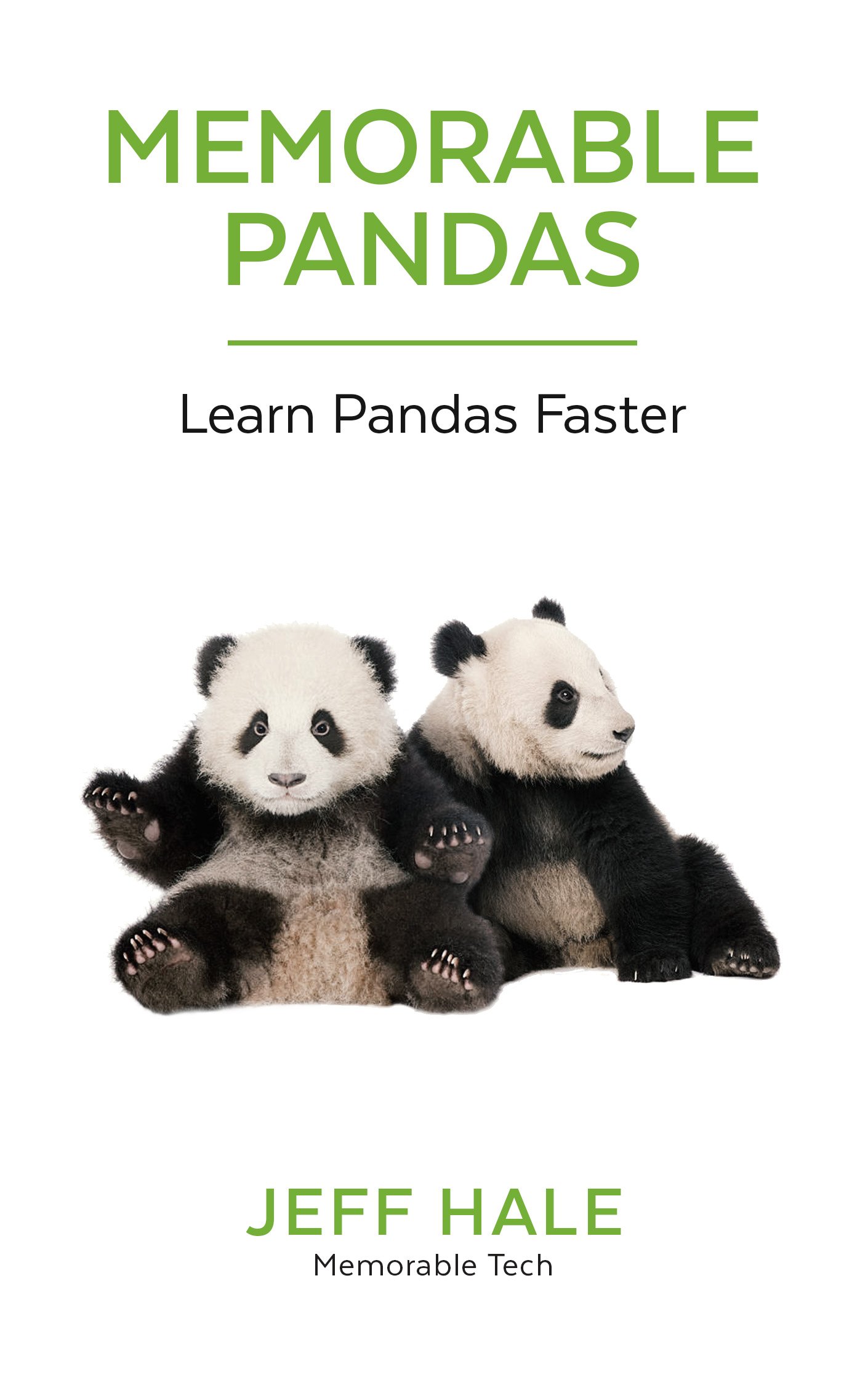 Memorable Pandas
On Sale
Pay what you want:
(minimum $19.00)
Memorable Pandas is the best book to help you learn the Python pandas library quickly! 🐍 Too often, technical books are unclear and assume you have lots of background knowledge. Memorable Pandas is different. 🎉In Memorable Pandas you'll learn to manipulate data with Python the brain friendly way! 🧠
This is the latest version of Memorable Python: 1.1.0, May 19, 2020. You can download both the .pdf and .epub versions. When you buy the ebook, updates are free! 👍
Jeff Hale's engaging style, complete with dad jokes, will keep you awake. He uses the latest research in psychology and education to help you learn pandas quickly. At about 185 pages, Memorable Pandas contains everything you need to learn pandas, without the minutia you don't. 😀
Memorable Pandas is perfect for anyone who knows Python and wants to learn pandas for data analysis or data science. All you need is a computer and an internet connection. You can even use a Chromebook. 💻
If you don't know Python yet, check out Jeff's 
Memorable Python
 book to learn everything you need to become proficient with Python. 📘
You can quickly get up to speed with Docker, Python, pandas and SQL when you buy the
Data Skills Book Bundle
- all 4 books for $29! Check it out
here
.
Jeff Hale
is a passionate technology educator. He teaches Data Science, writes at the
Towards Data Science Medium publication
, and is an experienced entrepreneur. He lives in Washington, DC with two wonderful kids, an intelligent, lovely, considerate spouse, an ancient beagle, and a cute kitten. When he's not doing data things you'll likely find him in the gym or on the trail. 🗻