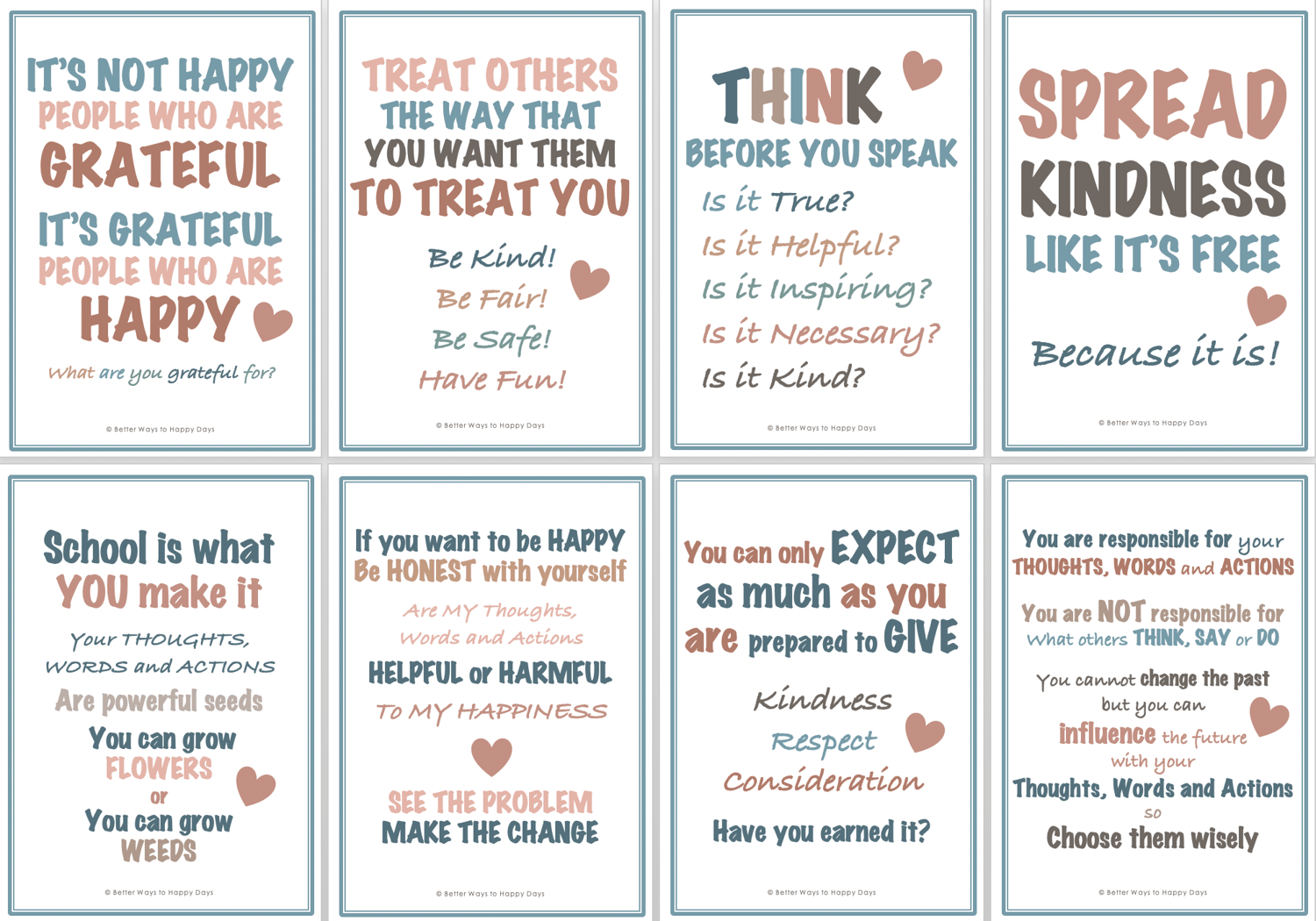 Mindset Poster Kit - MINDSET
On Sale
INSTRUCTIONS - Poster Kit - Mindset
MINDSET - INSTRUCTIONS - Better Ways to Happy Days ©
 
Clear, consistent, universal (school wide), expectations and consequences, means educated behaviour choices
 
INSTRUCTIONS TO MAKE:
·      Print Poster
·      Laminate
·      Print and laminate, punch hole add hinged ring for class flip cards
·      Print and reduce for personal flip cards
 
LESSON TIPS:
·      Introduce the posters one at a time as an informal discussion or structured lesson
·      Students may be asked to explain (verbally or in writing) what they think the meaning of each poster is and give examples of when and where this is relevant and how it can be actioned
·      PDF pages can be displayed on electronic whiteboards during lesson
·      Display the posters in classrooms and around the school
·      Use the posters for grateful journal covers
 
 
Check out our other Social, Emotional, Behavioural and Academic Resources at
Better Ways to Happy Days
 
WEBSITE/SHOP: https://payhip.com/betterwaystohappydays
TPT: https://www.teacherspayteachers.com/Store/Better-Ways-To-Happy-Days
FACEBOOK: https://www.facebook.com/betterwaystohappydays/
INSTAGRAM: @betterways101
 
BWTHD has a range of resources that use consistent language and can be implemented throughout your school as whole school behaviour management tools. Consistency is key. Why not become a Better Ways School today?
 
If you like our resources please like our page, share and follow.   Thank you.