This liturgical guide has been reconstructed from historical records, eyewitness accounts, theologians and the scriptures of Paul the Apostle. It is designed to be used in conjunction with
The Very First Bible
of 144 A.D. (which you will receive free with your download) and will show you how a simple mass was conducted during times of persecution and oppression - just as the first Christians did from the first through fourth centuries.
*Now available in paperback online at
Barnes & Noble
 and as an Ebook from
Amazon
*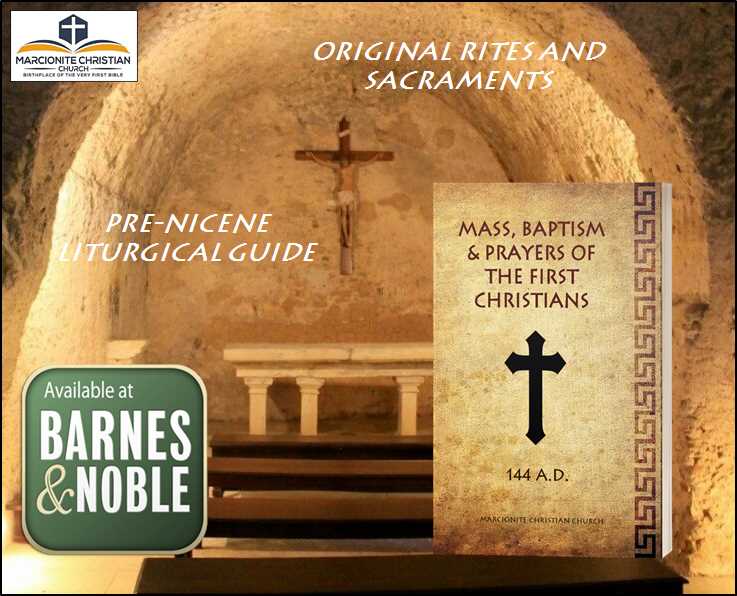 ISBN: 9781666270464
32-pages, qualifies for free shipping
$3.89
You will also learn how to conduct a Pre-Nicene Christian baptism, following the ancient rites and sacraments. Detailed instructions are included in the walkthroughs - including responses, motions, directions and blessings of the water and oil.
This special edition also includes the ancient prayers just as they were invoked almost 2,000 years ago - including:
Prayer for All Needs
Prayer for Perseverance
Writer's Prayer
The Intercession Prayer
Prayer Before a Journey
Prayer in Preparation for Death
You will receive the book in PDF and EPUB formats. If you can not afford the book contact our
Outreach Director
and we will assist you.
Mass, Baptism & Prayers of the Very First Christians
is published by the
Marcionite Christian Church
. The church also publishes
The Very First Bible
and produces the
First Bible Network
radio and television streams. Proceeds directly fund our Outreach Programs.