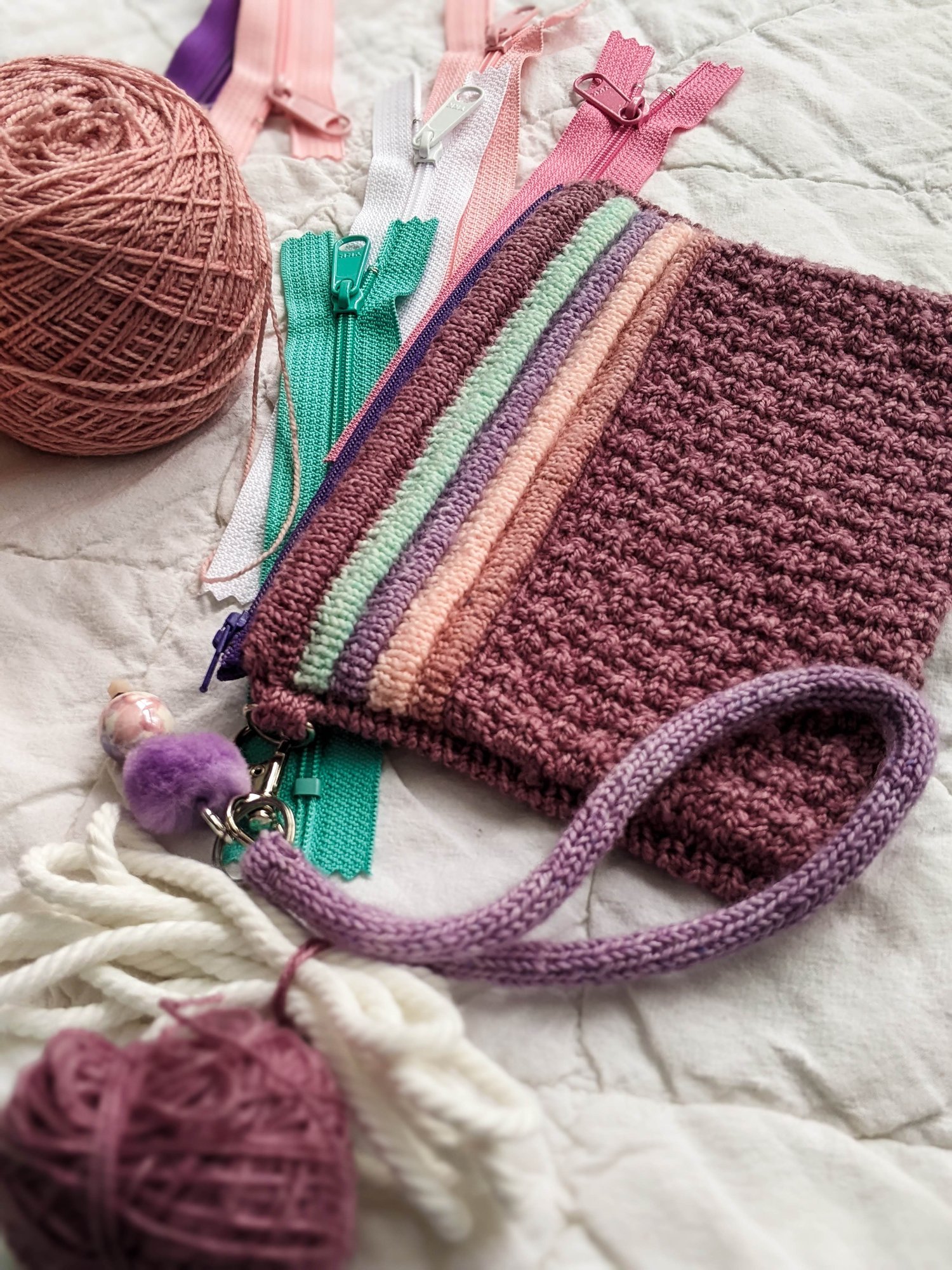 Ziplet
On Sale
This wristlet is just enough for a wallet, keys, and a lip balm. Knit it as a notions pouch, or add an optional liner, hardware and strap for the perfect bag for running errands.
Ziplet is a learning pattern, packed with photo illustrations and with a supporting or the zipper installation. You'll get familiar with the stitch pattern, seam with mattress stitch, create the welts, block to measurements, install the zipper, and work a tubular bind-off - all the skills needed to go on to knit
Letters From the Open Road
.
If you'd like to go on to knit Letters, you'll receive a discount code for $6.50 that you can apply to the purchase of Letters From the Open Road, allowing you to try the techniques without committing to the full sweater and getting both patterns for the price of just the sweater.
This pattern is perfect for stashbusting or using up minis. Note that the sides are worked using fingering held double, and the welts and strap are worked with fingering held singly.
To get a free Kit Planner, for tester credits, and to learn more, visit the
pattern page
on my website.
CONSTRUCTION
Ziplet is knit flat from side to side. Stitches are picked up to create the welts, and the zipper is sewn in by hand. Sides are sewn at the bottom, and stitches are picked up and worked together for the sides, which are closed with a sewn tubular bind-off.
If you prefer, a three-needle bind-off can be used instead of the sewn tubular bind-off.
DIMENSIONS
The finished Ziplet is 7.75 x 5.5 inches / 19.5 / 13.75 cm. The strap is 13" around.
YARN
Sprinkled Fibers by Lindsay
2-ply fingering - 80% superwash merino / 20% nylon, 463 yds / 100 g skein.
Main Color (MC) is held double for the Seersucker Stitch panels and D-ring strap. MC is held single for the welted Zipper Placket. All Contrasting Colors (CC) are held single. If you wish to replace the MC with DK weight-held single, that will also work.
MC (plum):
180 yds / 165 m
CC1 (dark pink):
15 yds / 15 m
CC2 (light pink):
15 yds / 15 m
CC3 (purple
): 40 yds / 35 m
CC4 (mint):
15 yds / 15 m
GAUGE
28 sts and 40 rows over 4 inches / 10 cm in Seersucker Stitch with yarn held double and size A needles.
NEEDLES
Size A:
US size 3 / 3.25 mm needle, or as needed to obtain gauge.
Size B:
US size 2/ 2.75 mm, or one size smaller than A, circular needle at least 24" / 60 cm. When closing the sides, you will need another size B needle, which can be straight or circular.
Size C:
US size 1 / 2.25 mm needle, or two sizes smaller than size A, circular or straight.
Size D:
US size 0 / 2 mm, or three sizes smaller than size A, double pointed needles (four). Optional - these are used only for the Strap.
NOTIONS
Pouch only
Tapestry needle
Sewing needle
Thimble (optional)
All-purpose cotton thread that matches MC.
Tailors chalk or disappearing marker
7 inch / 17.5 cm non-separating zipper
1/4 yard cotton lining fabric & matching thread - optional
Strap and hardware
1/4 inch cotton cord - 15 inches / 37.5 cm, or as desired
Medium safety pin and tape for preparing cotton cord and threading through casing.
D-ring and swivel set, 1/2" wide or hardware as desired
Crochet hook, 2.5 mm
Decorations, as desired
TECHNIQUES
Slipping stitches
Picking up and working stitches
Handsewing (for the zipper)
Seaming
Optional - sewing a tubular bind-off (can use 3-needle BO instead)
Optional - grafting with kitchener stitch (strap only)
CREDITS
Tech Edit: Heather Storta