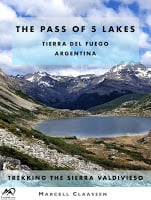 Trekking the Sierra Valdivieso - Pass of 5 Lakes
On Sale
$1.89
Tierra del Fuego on the Argentinian side offers a host of wilderness trekking opportunities.
     One of these goes through the Valdivieso mountains offering views of many lakes including the Lago Fagnano north of the range.
     This trekking diary describes the 60km route Marcell trekked over 5 days from the Carbajal Valley over the Valdivieso Pass (Pass of 5 Lakes) and back to Ushuaia vía Laguna Azul, Paso Beban and Refugio Bonete.