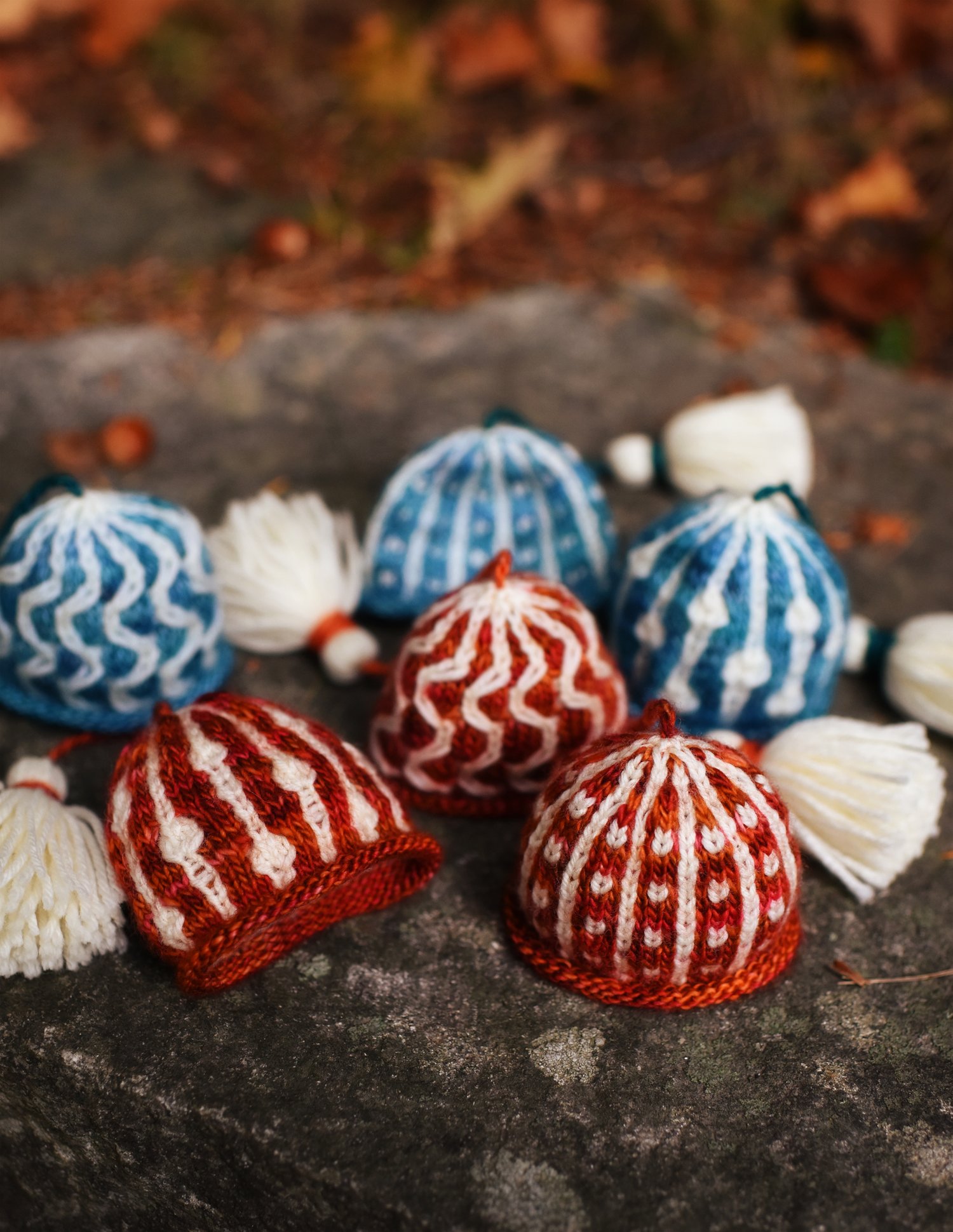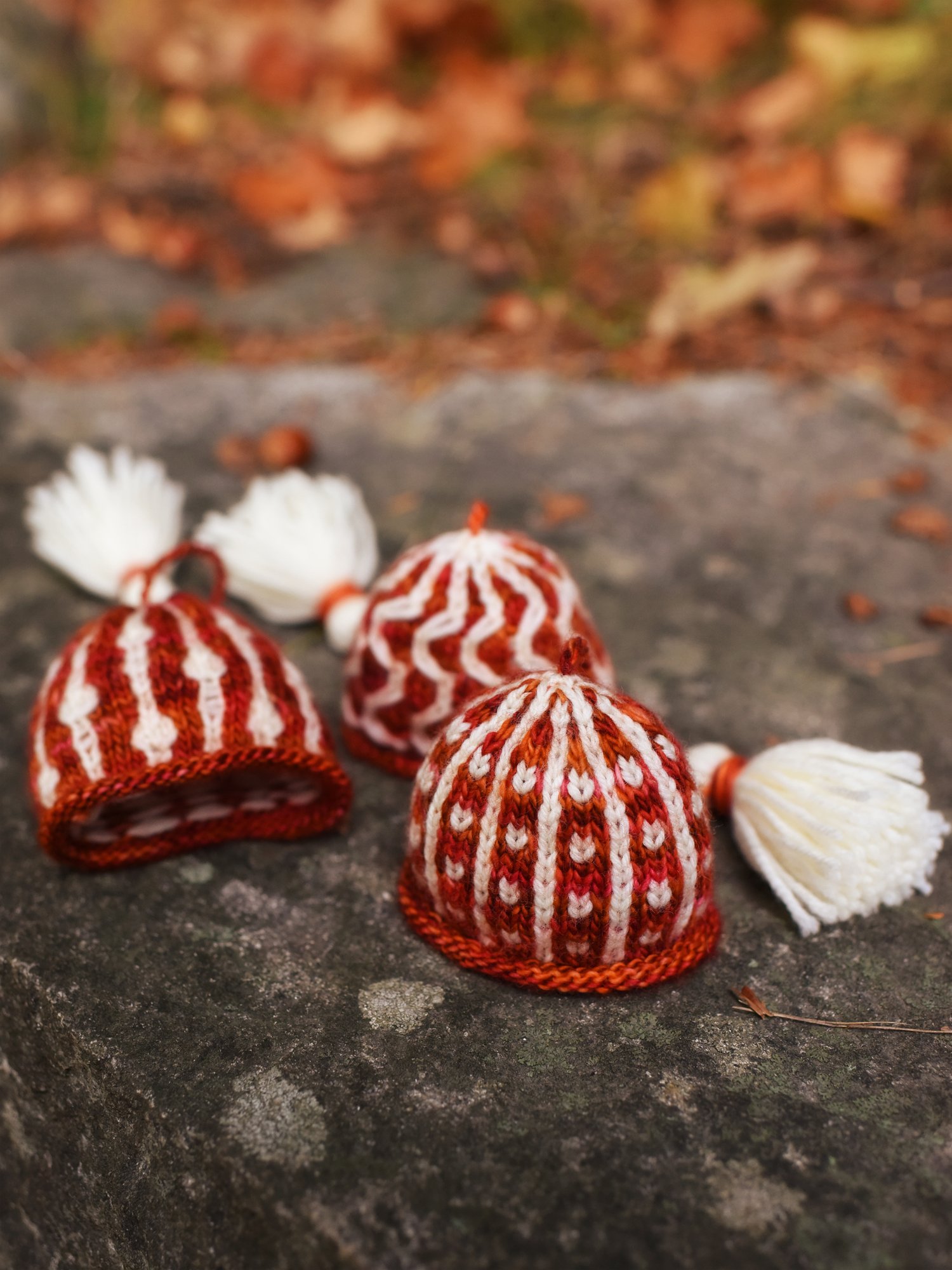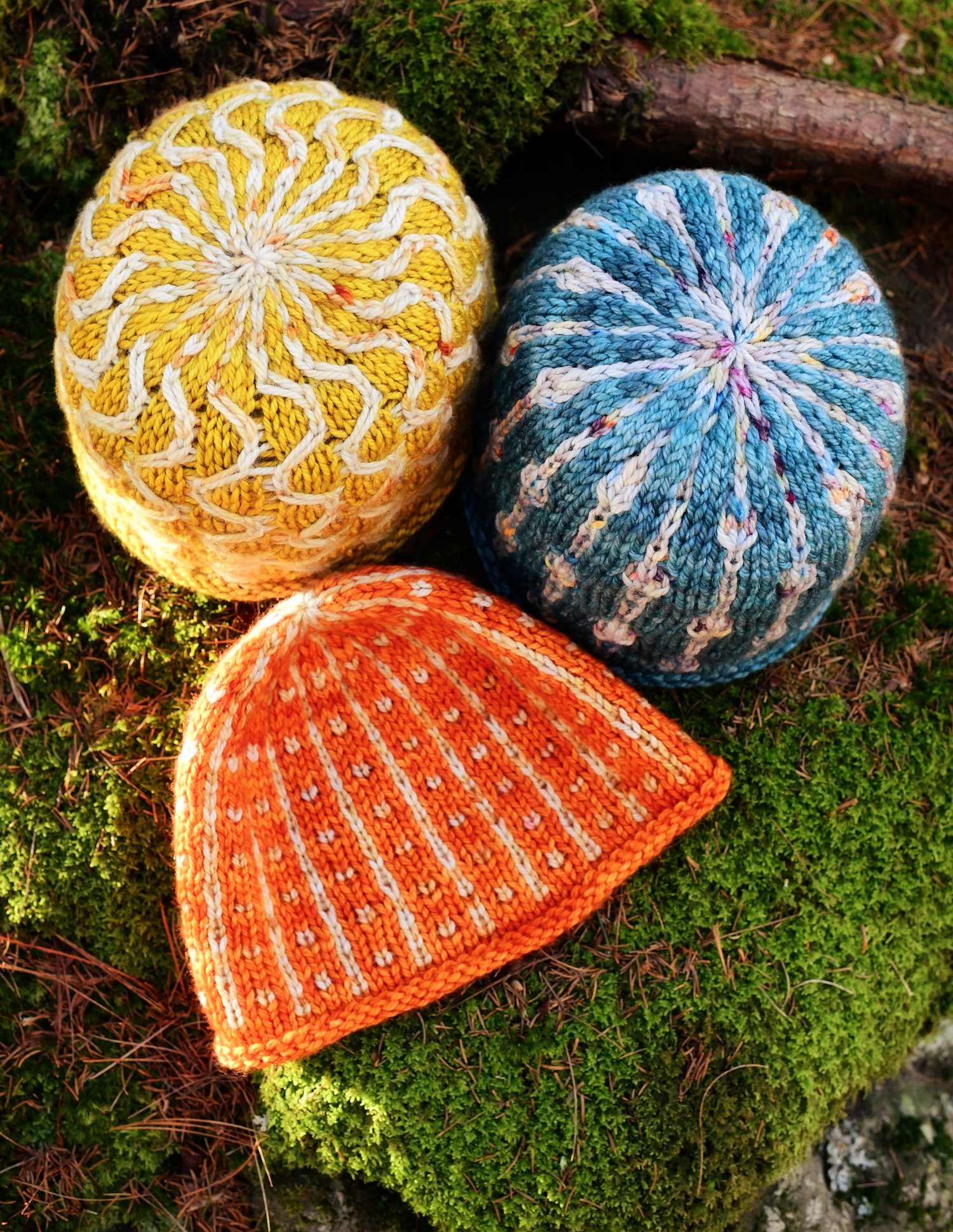 Bedeck
On Sale
---
Patrons at any level (yes, even the levels that cost less than the pattern!) get this pattern for free as part of their membership. The patreon version includes a super secret bonus (only available through patreon) that lets you make it in people sizes. The version you can buy here only includes the ornament sized version. The people version comes in seven sizes and six gauges (to fit anything from babies up through adults and to work in anything from fingering through bulky yarn). The pictures without tassels show the people version (only available through patreon). The pictures with the tassels show the ornament version (that's what you'll get if you buy the pattern here).

---
I have a fondness for tiny hats. I fully admit that they're completely impractical and serve absolutely no purpose whatsoever. But just lately, I find myself less and less convinced that 'practical' and 'useful' are the only ways to judge the worth of a thing.
Some things you do just because they're fun. Some things you do just because you need a quick win. Some things you do just because they're pretty. Some things you do just because you need a way to connect with someone. And those things can be every bit as valid as the things you do to be practical or functional.
And tiny hats? Well, they're pretty great at all of that!
They only take an hour or two to knit (they're perfect for using yarn scraps leftover from bigger projects). They're a great way to practice new stitches or try out color combinations you want to play with. They make adorable ornaments. I've even been known to stick one on top of a present as a bow or tuck one in a card.
And really, that seems like plenty to ask from something so tiny!
---
General information
This 22-page pattern is tremendously detailed and holds your hand every step of the way. It includes all three hats, detailed instructions for making the twisted cord and the unspeakably adorable little tassels, and even some delightful little postcards you can print out and pop in an envelope along with a hat to remind someone you're thinking of them.
Skills & scope
Each hat fits in the palm of your hand and takes only a few hours to knit. The knitting is surprisingly mellow, you're only ever working with one color per row (all the drama comes from slipped stitches). The tassel is optional, but I think it's adorable, and you should probably give in to your baser instincts and make one (don't worry, the pattern tells you how).
Yarn, gauge & sizing
The hats comes in one size (intended to be a decoration, not something you wear).
You can make them in any weight of yarn, and the finished size will change depending on what yarn you use. You don't need to match any particular gauge, but I found I liked mine best if I knit a fairly tight fabric (so the contrast color doesn't show through).
You can absolutely use scrap yarn for this.
The hats in the pictures each took less than 30 yards of the main yarn (blue or orange in the pictures), less than 15 yards of the accent yarn  (white in the pictures). I worked in fingering weight yarn at about 8 stitches per inch to get hats that are about 3 inches across and 3 inches high (not counting the tassel). The tassels each took about 20 yards of the main yarn (white in the pictures) and about 1 yard of the contrast yarn (blue or orange in the pictures). Each piece of twisted cord took about 1 yard of yarn.
Tools & supplies
You'll need needles that let you work in the round (circulars or DPNs) in whatever size lets you get a solid fabric with your chosen yarn plus the general knitting tools you need for most projects (scissors to cut your yarn, a darning needle to weave in ends, the occasional stitch marker or bit of scrap yarn to hold stitches).
If you want to make tassels, you'll need either a tassel maker or a piece of sturdy cardboard (a few inches wide and little more than twice as long as you'd like your tassel to be) that you can cut with scissors.
---