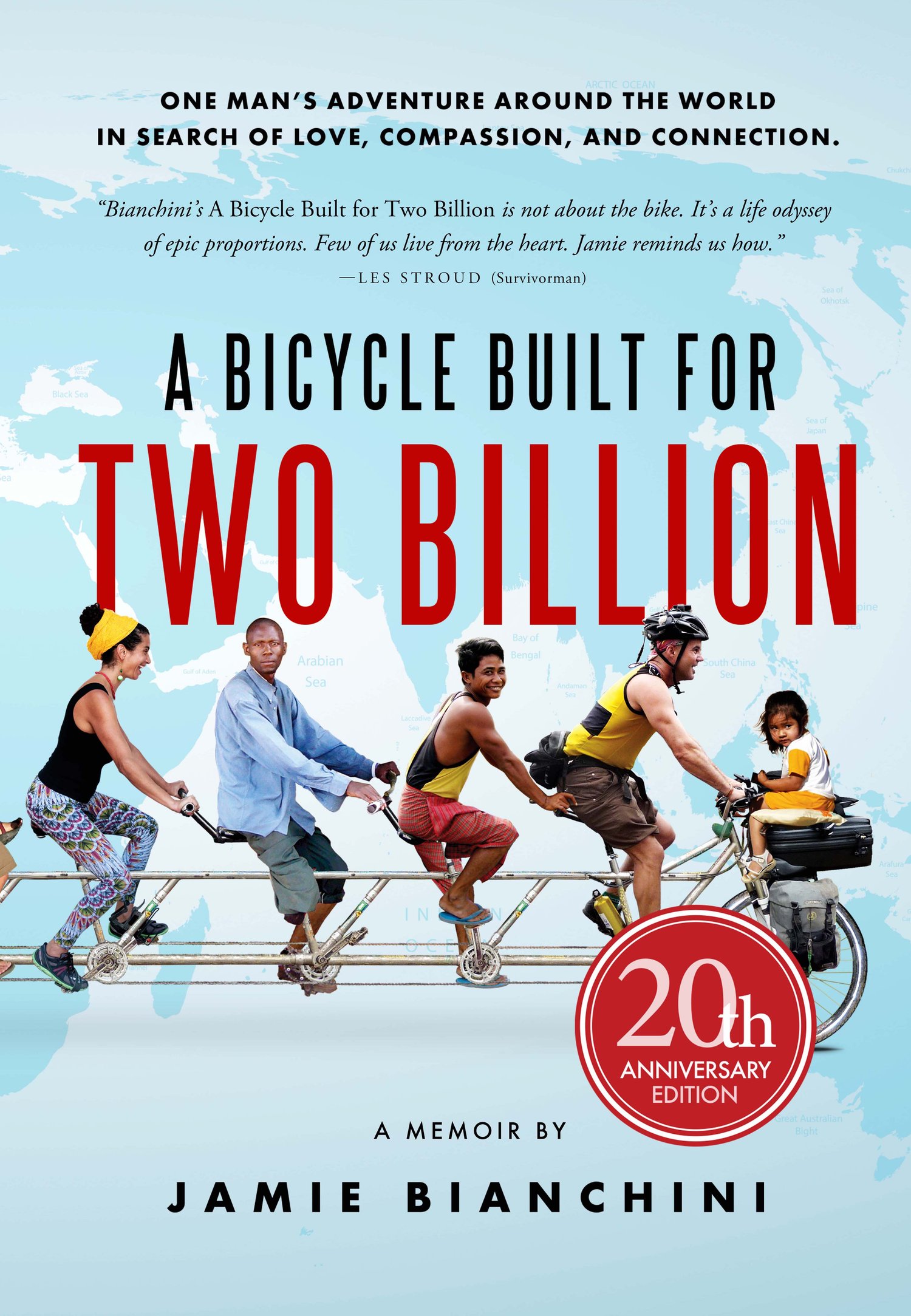 Signed Copy of A Bicycle Built for Two Billion: 20th Anniversary Edition
On Sale
$25.00
This is a signed paperback that will come from Jamie's home and includes free shipping media mail. Once Jamie receives your order he will reach out and ask for any specific personalization requests you may have besides an author signature.  Feel free to request what you'd like - within reason, of course ;)

Product Description: 

Jamie Bianchini needed a lift. A big one. After a series of spectacular business flops drove him into bankruptcy and the love of his life kissed him goodbye, Jamie knew he needed a world of help. But instead of seeking assistance from a counselor or support group, Jamie sought comfort where he'd always found it - on his bicycle.

As his world hit rock bottom, Jamie hatched a crazy plan that just might make everything right. His life lacked purpose, passion, and connection with his fellow man. So Jamie decided to go for a bicycle ride, around the world, on a tandem, solo, inviting everyone he met to join him for a spin.

A Bicycle Built for Two Billion is the moving story of an audacious optimist who tried to change the world - while hoping the world would change him - one rider at a time. A heartfelt, hilarious, adrenaline-fueled journey through 81 countries, A Bicycle Built for Two Billion will allow you to see the planet in a way never experienced before.

Come join Jamie and his unforgettable cast of co-pedalers - from inspiring villagers to conniving thieves, romantic paramours to unlikely gurus, excited school kids to seniors who have never set foot on a pedal. Come join them all for the ride of your life. Includes nearly 200 spectacular photos and videos captured around the world, bringing this rich story to life.

The 20th Anniversary Edition features new stories, characters, and the long-awaited bonus chapter Re-Entry: Living a Real Life after an Unreal 8-Year Odyssey.