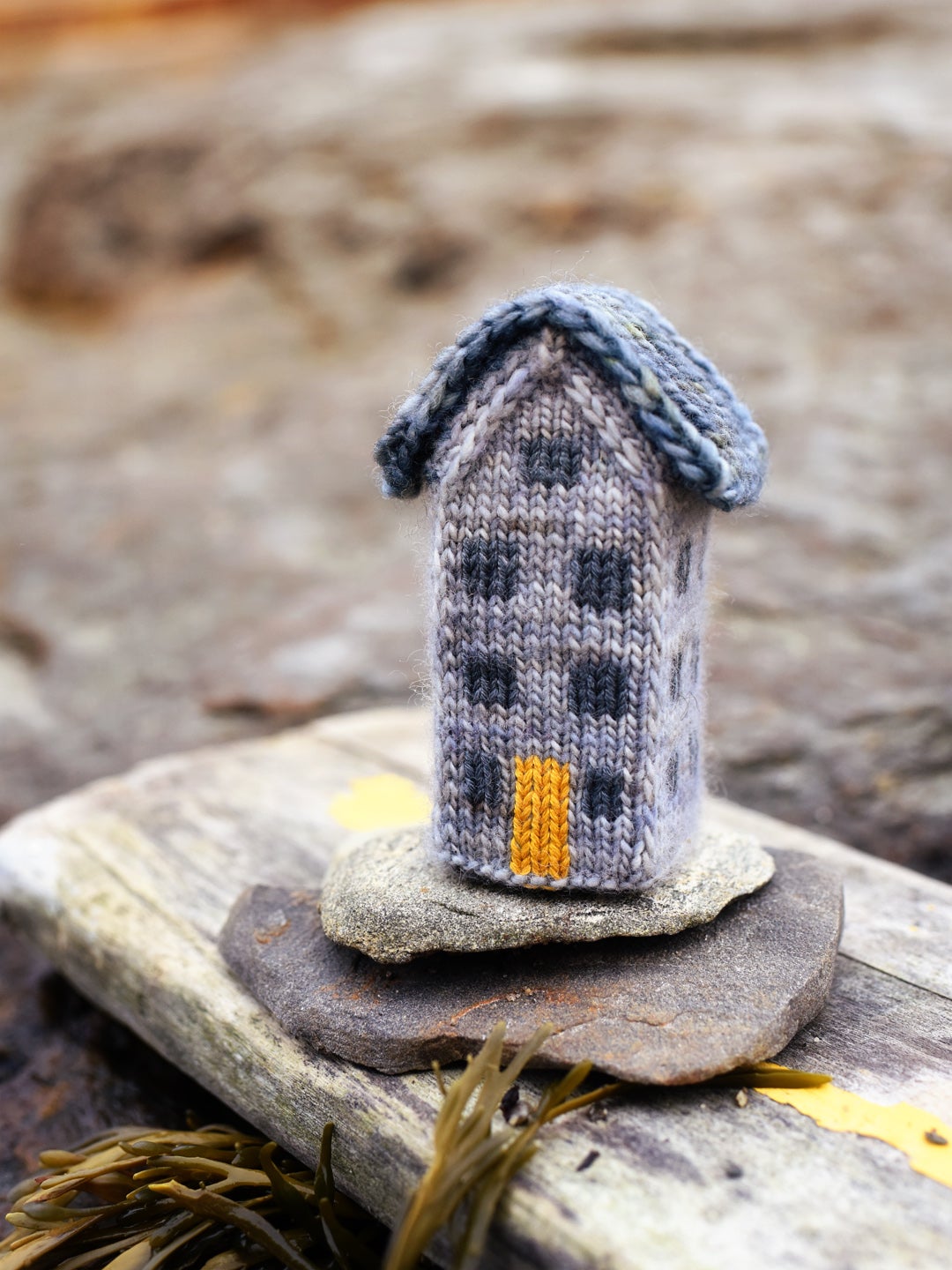 Chimney
On Sale
$10.00
---
Chimney
noun (dialect)
fireplace, hearth
---
You already know if these are for you or not. If you looked at the picture, gasped in delight, and immediately started making plans, they're for you. If you looked at the picture, thought 'huh, folks sure do knit some weird stuff,' and went on with your day, they're not for you.
And that's ok! We should all kit the stuff that brings us joy. For some of us, that's respectable sweaters and intricate shawls and massive blankets. And for some of us, that's teeny tiny houses. Lots and lots and lots of tiny houses.
The trick to happiness is knowing what group you're in (and yes, you can totally be in both) and knitting whatever fills you with delight!
---
What to do with the sweet, silly little things:
Knit a whole tiny village, you know you want to
Knit a haunted house
Make one in colors to match your house (or the house you grew up in)
Make one in the colors of someone else's house as a truly adorable hostess or housewarming gift
Make one to remind you of the cool houses you saw or stayed in on a great trip
Knit a christmas ornament
Your imagination is the limit here. I suspect you already have a whole host of ideas for exactly how you could use a few of these!
---
The pattern is
tremendously
detailed and gives you lots of possible variations to experiment with. There are instructions for two different house shapes (the rectangular base and the square base) and one of the shapes looks adorable in either a tall or a short form, for a total of three different styles of house. Each house shape is given in three different stitch counts, and you can adjust your gauge a bit to get a wide variety of finished sizes (and work with a variety of different yarns).
The knitting is easy. The walls of the house are all knit in one piece, and they're mostly stockinette and mostly knit in the round. The roof is knit flat (and is far smaller than a respectable swatch so you'll be done in no time). The only sewing is one seam at the end where you attach the roof to the house (and it doesn't really show when you're done, so you don't have to be especially tidy about it, I totally wasn't).
Each house took less than 30 yards of yarn for the walls and less than 20 yards of yarn for the roof (if you're making bigger ones, you should be able to make the houses with less than 75 yards of yarn and the roofs with less than 50). I used a fingering weight, single ply yarn, but anything that will give you a smooth, dense fabric is fine (this is a great project for using up yarn scraps). The windows and doors are duplicate stitched on with embroidery floss once the knitting is finished.
I've stuffed my houses with blocks, which give the finished pieces a delightful heft and structure. I've got a blog post up over
here
with more information about the exact blocks I used, but almost any set of kids blocks will work great. If you don't want to use blocks, I've also included templates you can print out and assemble to make your own out of card stock (though really, part of the reason I knit is that my chances of needing stitches is low...introducing an exacto knife into the process changes those odds). Or if you're the industrious type, I've heard from people who have cut upholstery foam to size or assembled blocks out of plastic canvas. So you do have options! But I think toy blocks are going to be your easiest and most satisfying choice.
Oh and if you're feeling nervous about knitting something tiny and 3D, don't worry. The pattern includes a
lengthy
photo tutorial with pages and pages of step-by-step photos to walk you through every part of the process. There's also a worksheet to help you figure out your gauge (in case you're using different size blocks than I did), a resource guide with links to techniques you might need, a printable grid so you can sketch out your windows and doors, and printouts you can use to assemble your own shapes if you don't want to track down blocks.
The pattern is 28 pages long and holds your hand the whole way through. There are lots of pictures and lots of cheer leading and encouragement. If you take it step by step, you can totally do this!
---
Oh, and just to be super clear so no one misunderstands,
this
pattern is for the houses (the three smaller buildings shown in all the pictures). The church and lighthouse that accompany it in the other pictures are in the
Belfry
and
Foghorn
. You'll get the set at a discount if you buy all three.
---
These are perfect for you if:

You knew there was a reason you had a box of blocks kicking around in the basement
You suddenly find yourself filled with ideas for all the awesome things you can do with these
They're not for you if:

You don't like charts (the pattern uses charts)
You are a respectable grownup at all times and couldn't possibly let anyone know you made something so absurd
---
If you're interested in the companion church or lighthouse (shown in pictures that show more than one kind of building), you can find the
church
here and the
lighthouse
here. If you buy all three patterns together at the same time, you'll get 30% off the second and third patterns (make sure you see the discount before you pay, the price for all three pieces together should be $24.00, a savings of $6.00 off the full price of all three patterns).