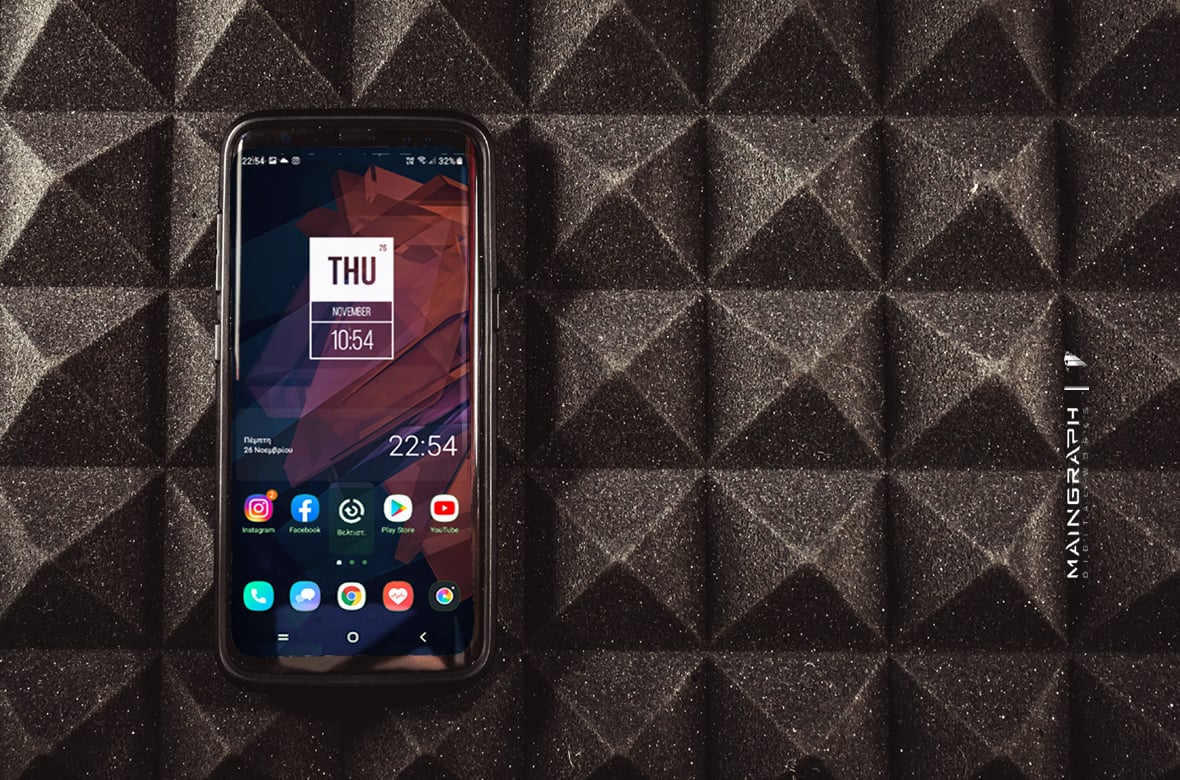 Crystal series | QHD phone wallpapers | pack of 3
On Sale
Custom 3D graphics, wallpapers for your smart phone (iPhone or android)
3x vertical backgrounds with geometric design and a dark, crystallic aesthetic that gives a futuristic, tech look to your home screen or lock screen, without distractions from the UI.
🎨designer: 
Terry Papoulias
you will get:
- pack of 3 (jpg files)
- 1440x2560 QHD resolution
- electronic delivery  
- price include vat
Digital files will be available via email, after your purchase.
Items you see at the images (phones, cases, etc.), are for demonstration purposes only.
No physical item will be sent or shipped to you.
You will find the templates of this promo 
here
for personal use only
reselling is prohibited ⛔️
📦 visit our 
online store
for desktop wallpapers versions!
------------------////
A Maingraph production:
http://www.maingraph.gr/
🎥 Maingraph is a HQ premium content creator. At the link below you can explore our full collection of video footage, images, or royalty free music
http://www.maingraph.gr/shop.html
The process of
installing a new wallpaper
on your smartphone may vary slightly depending on the operating system (iOS, Android, etc.) and the make and model of your phone. Below are general instructions for both iOS and Android devices:
iOS (iPhone):
Find the Wallpaper: Start by finding an image or wallpaper you want to use. You can either download it from a website or use an image from your phone's photo library.
Open Settings: Go to the "Settings" app on your iPhone.
Wallpaper Settings: In the Settings menu, tap on "Wallpaper."
Choose a New Wallpaper: Select "Choose a New Wallpaper." You can either choose from the pre-installed wallpapers or browse your photos to select the image you downloaded earlier.
Adjust the Image: Once you've chosen the image, you can adjust its position and size by dragging and pinching the image on the screen.
Set Wallpaper: After you've adjusted the image as you like, tap on "Set." You can choose to set the wallpaper for your "Lock Screen," "Home Screen," or both.
Android:
Find the Wallpaper: Similar to iOS, start by finding the image you want to use as your wallpaper. Download it or ensure it's already in your phone's photo gallery.
Open Wallpaper Settings: The process of setting a wallpaper can vary slightly depending on the manufacturer of your Android phone. But generally, you can do the following:
Long-press on a blank area of your home screen.
A menu or options bar should appear. Look for "Wallpapers," "Wallpaper," or "Display Settings."
Choose Wallpaper Source: In the Wallpaper settings, you'll typically see options for selecting a wallpaper from your gallery or choosing from pre-installed wallpapers. Select "Gallery" or "Photos."
Select the Image: Browse through your gallery to find the image you want to set as the wallpaper.
Adjust and Set: Once you've selected the image, you may have the option to adjust its position and size. After making any adjustments, tap on "Set Wallpaper" or "Apply" to set the image as your wallpaper.
Choose Screen: Depending on your Android version and phone, you may be asked to choose whether you want to set the wallpaper for the "Home Screen," "Lock Screen," or both.
That's it! Your new wallpaper should now be applied to your smartphone's home or lock screen, or both, depending on your preference. If your phone has a different user interface or operating system version, the steps might vary slightly, but the general process should be similar to the instructions provided above.
📢 Enjoy your new wallpapers and don't hesitate to tag
@maingraph
on instagram, with your amazing phone homescreen setup, post
🙏 thanks for watching!