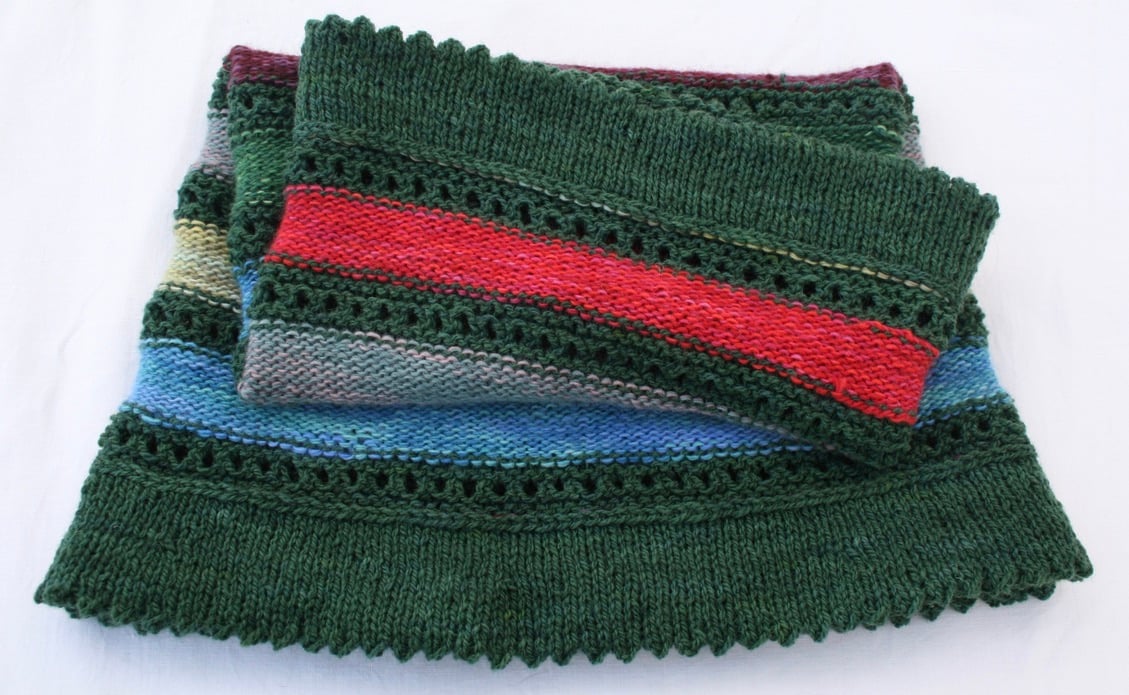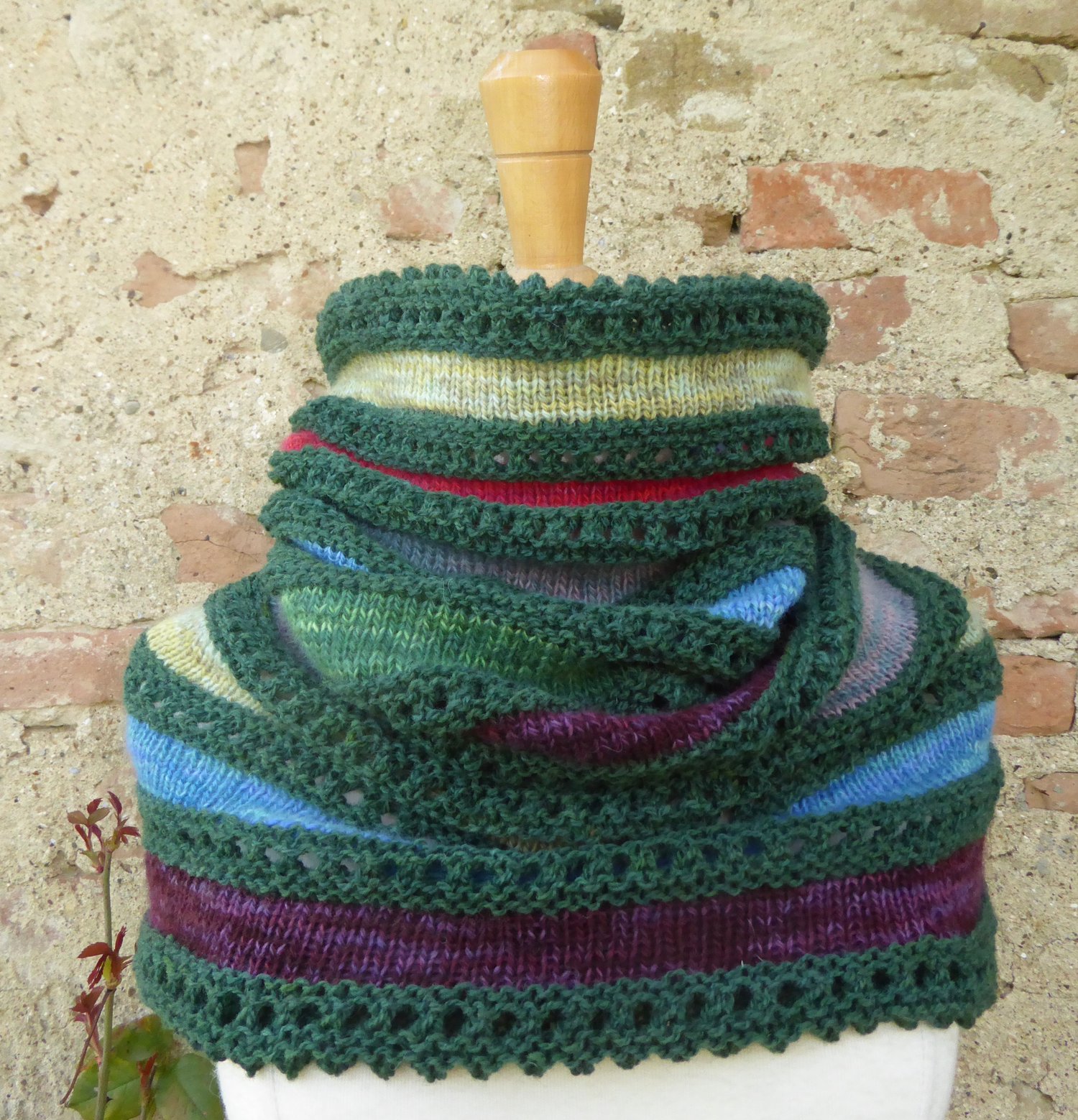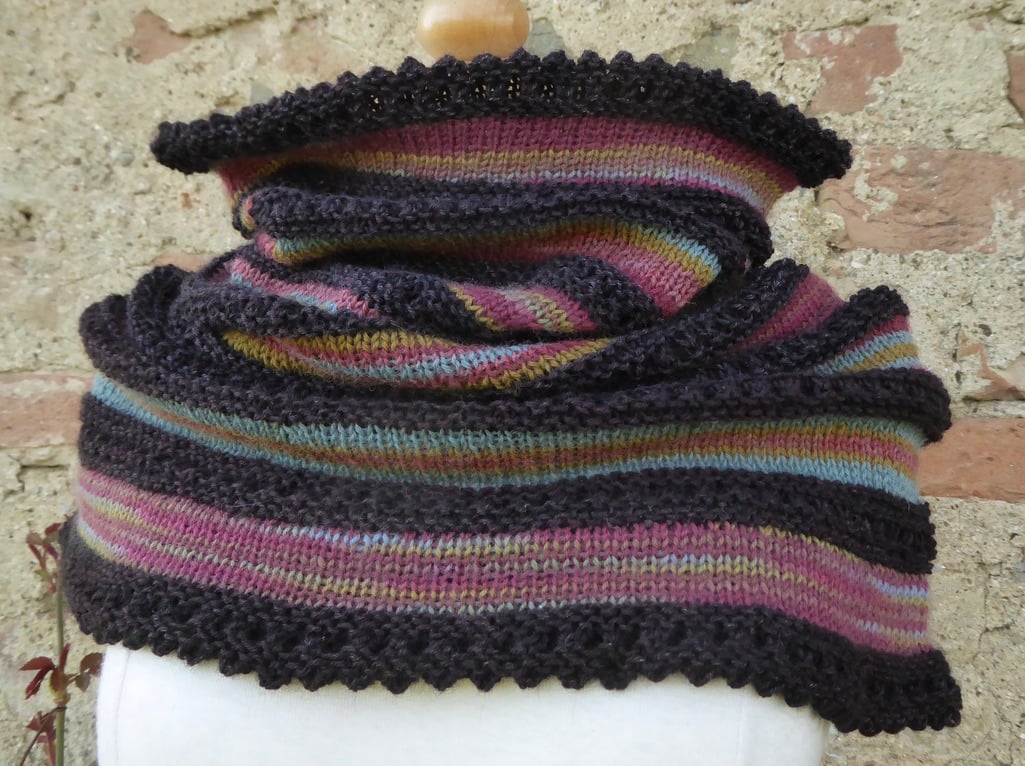 Dorotea Cowl
On Sale
Overview

The Dorotea Cowl combines texture with stocking stitch to create a deep shaped and cowl that is so easy and cosy to wear.
The shaping keeps it snug and draught proof at the neck while it keeps sits nicely on the shoulders and there is sufficient length to pull it up over the head snood style.

Please note:This pattern includes instructions to knit this cowl with 2 weights of yarn, 4ply fingering **or** sportweight.

In both cases it's perfect for leftovers and yarns can be held double to work to the appropriate gauge. For example, the Green main colour sportweight versions uses Malabrigo lace held double for the contrast section. A lace plus a fine mohair silk blend would also work wonderfully.

Like the wraparound shawl which inspired this cowl, the Dorotea Cowl is perfect for using up oddments for the contrast sections. Worked with either 4 ply or (sportweight) each contrast section will use up to 6(7)g or 22(24)m/24(26) yds, with the initial rounds at the widest point using the most and the final sections using a gram or two less.
This pattern uses an optional provisional cast on, picot edges and hems at the top and bottom which elevate the cowl to a very stylish accessory and an accomplished piece of knitting.

Full detailed instructions for the provisional cast on are provided, as is a photo-tutorial for the folded and knit down hem: the hem is knit in place as you cast off in a single process. Pictures of the wrong side of the cowl are provided here so you can see how neat this looks.

Size
60cm/23.5 inches around at the top
84cm/33 inches around at the bottom
56cm/22 inches height

Yarn
Sportweight - 347m/379yds of main yarns and a total of 243m/266yds of contrast yarns - 7g/24m for each of the 10 contrast stripes. (I used malabrigo laceweight held double)

4 ply - 366m/400yds of main yarns and a total of 240m/262yds of contrast yarns - 6g/22m for each of the 10 contrast stripes.

Gauge
4 Ply - 22sts x 35 rows =10cm x 10cm / 4in x 4in in stocking stitch.
Sportweight - 17. 5sts x 35 rows =10cm x 10cm / 4in x 4in in stocking stitch.

Needles & Notions
Sportweight - 4.5mm/US7 60cm/24 inch circular needle
4 ply - 3.75mm/US5 60cm/24 inch circular needle
Stitchmarker & Tapestry needle for sewing in ends

Format
The pattern is provided and a 8 page English Language PDF download.
Pages 6&7 provide a step by step photo-tutorial for the knitted down hem finishing
Page 8 provides full written instructions for the optional Provisional cast on.