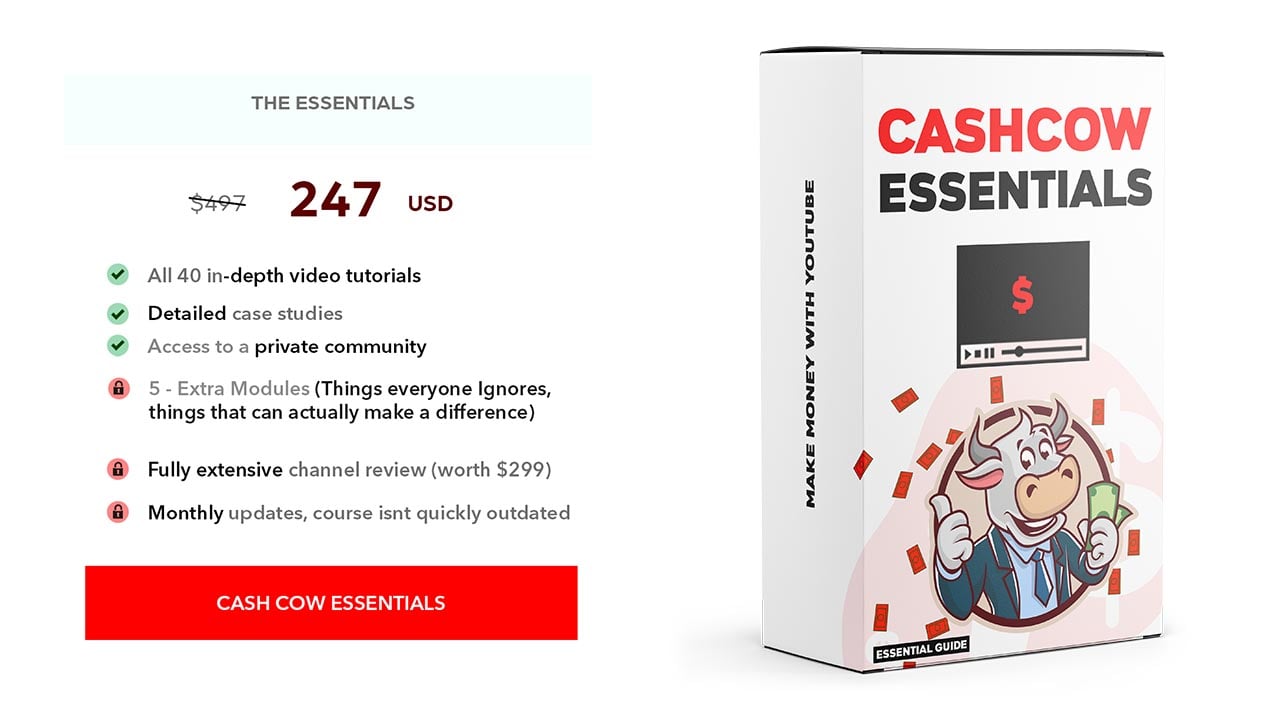 CashCow ESSENTIALS (Sold out)
Last month, I made $127,803 from YouTube Ads ALONE, from multiple channels, and the kicker YouTube isn't even close to saturated.

2 BILLION People Use YouTube every single month, and advertisers are willing to spend BIG BUCKS to reach those eyes to get their potential product/service sold.

The crazy part is that you only need a small fraction of those views to generate a substantial income online.

💰 Most people want to make money from YouTube  — but they have absolutely no idea where to start.

They flounder through eBooks and YouTube videos, stumbling upon misinformation because they can't piece it all together and get it from the right source or the person doing it, is not as nearly experienced as I am.

🙁 They end up wasting months, if not years, of time and opportunity cost because they were too cheap to be resourceful and get one single, all-in-one resource.

Worst of all, many quit because they just don't have a clue what they're doing.

This is where my course comes in.

No fluff, no bullshit. Just 100% useful information so you don't waste time and opportunity cost trying to figure out how to grow an online income using YouTube.

Here's what is covered in this course:

✅ The BEST Niche To Start a Channel In -

Most people create YouTube videos with the goal of creating an online income, the only problem? They are in the WRONG NICHE. There are just some Niches in YouTube that DO NOT PAY. Don't be someone who spends hours creating content and working on a channel only for you to realise you have been working on the wrong channel. There is so much misinformation that I WISH I knew when I started out on my journey, I spent hours creating content in many niches which just aren't worth it, and do not scale effectively. Hours of time I will NEVER GET BACK. I will show you which niches pay the most $$$ in ads and how you can effectively start your own channel within that niche. Your direction is much more important than your speed, and as long as you are in the right niche, you WILL make money.

✅ Money Beyond YouTube Ad Revenue

YouTube is a traffic source, and what can you use traffic sources for? Sales. I will show you how you can create a record number of sales by using your YouTube traffic as the number one driver of traffic to your product/service.



✅ YouTube SEO

YouTube is literally just a giant video search engine. You MUST master SEO before you can even think about making money from YouTube. This is something most people seem to forget, but don't worry, I have you covered. I will show you the easiest tricks and methods to making sure your content ranks above everybody else's.

✅ Monetisation

Nobody wants to wait months for a channel to get monetised. You need money, and you need it now. I'll show you how to get your channel monetised in record time, and every single method you can use.

✅ Automated Content Creation

Just like you, I don't have hours to slave over some highly complex editing programme and try to produce videos. I will show you how to EASILY create high quality content, at scale. I've been doing YouTube for over 5 Years, and with that time I've managed to save numerous amounts of time saving hacks that I'd simply wish I'd found sooner.

✅ Channel Ideas

Do you really want to start a channel that gets 0 views and 0 subs? Struggling to break through, or do you want to sail past everyone else seamlessly and effortlessly, with my help. You can pick the right niche.

✅ Marketing

Everyday there are millions of people trying to upload content to YouTube, and to be honest. Their content is good, their biggest problem? They SUCK at marketing. You can make amazing content but that means NOTHING if people don't SEE your content. You need to be able to MARKET your content so that people will WANT to click on it. Most people think: build it and they will come. No, you build it, and then you market the heck out of it.


✅ BONUS (Additional Updates)

Unlike other courses which are sold to you once and eventually become outdated, this course will ALWAYS be up to date.

Im never going to release Videosidehustle V2, and even if I do, the first 100 people in this course will get access to it for free.

You only have to buy this product ONCE.

 Every month there will be updates added to the course, and the price will subsequently increase as these videos are added, until it reaches the final price of $197.

⏳Price Increasing Soon.

I don't want the methods I teach to become saturated. Because if you've seen my methods. You know they work.

And unlike other 'gurus' im actually using the methods I teach in the course.


The price is less than $100 right now.

Which is insane when it comes to an opportunity that can literally change not just your life, and your family and loved one's lives.

You will be kicking yourself if 1 year from now, when the price is $997, many people are making thousands, and your stuck on the outside, with no way in, thinking to yourself, what if?

Well the people that win in life take action. And they act fast.

So whilst your wondering whether or not this is a good opportunity, someone else is going to buy this, make thousands, change their life, and be on a different path.

The only question is, will you give yourself that chance?

Frequently Asked Questions

How long do I have access to this information?
Lifetime access. (+ Monthly updates)

Do I need to be on camera/have my face in the video?
No , you do not need to visually be in a YouTube video for you to make money. I show you exactly how to do this effectively.

Will you build my YouTube account from me?
I'm afraid not! This course provides the training and resources to help you grow and monetize your YouTube Channel.

Is all of the content available straight away?
Yes! You'll access to all the content once you purchase it.

Who will be teaching me?
Jack, someone who worked a dead end 9-5 , (yes I know typical story but its true) And now makes a fulltime income posting videos. Some videos are made using professional voice overs actors, simply because they are better than me, and their voice sounds awesome.

What skills will this course teach me?
How to dominate YouTube, and make a fulltime income.

Is this actually going to work?
Nothing in life is 100%. However, if you take the time and put in the effort to follow the plan of action I lay out for you, your chance of success will rise significantly. Your best bet is to learn as much as you can from this course and put the information to work. If you do that, there is no reason you should not be able to achieve some measure of success.


The course will be released on the 25th Of December and will cost $497 From there on out.