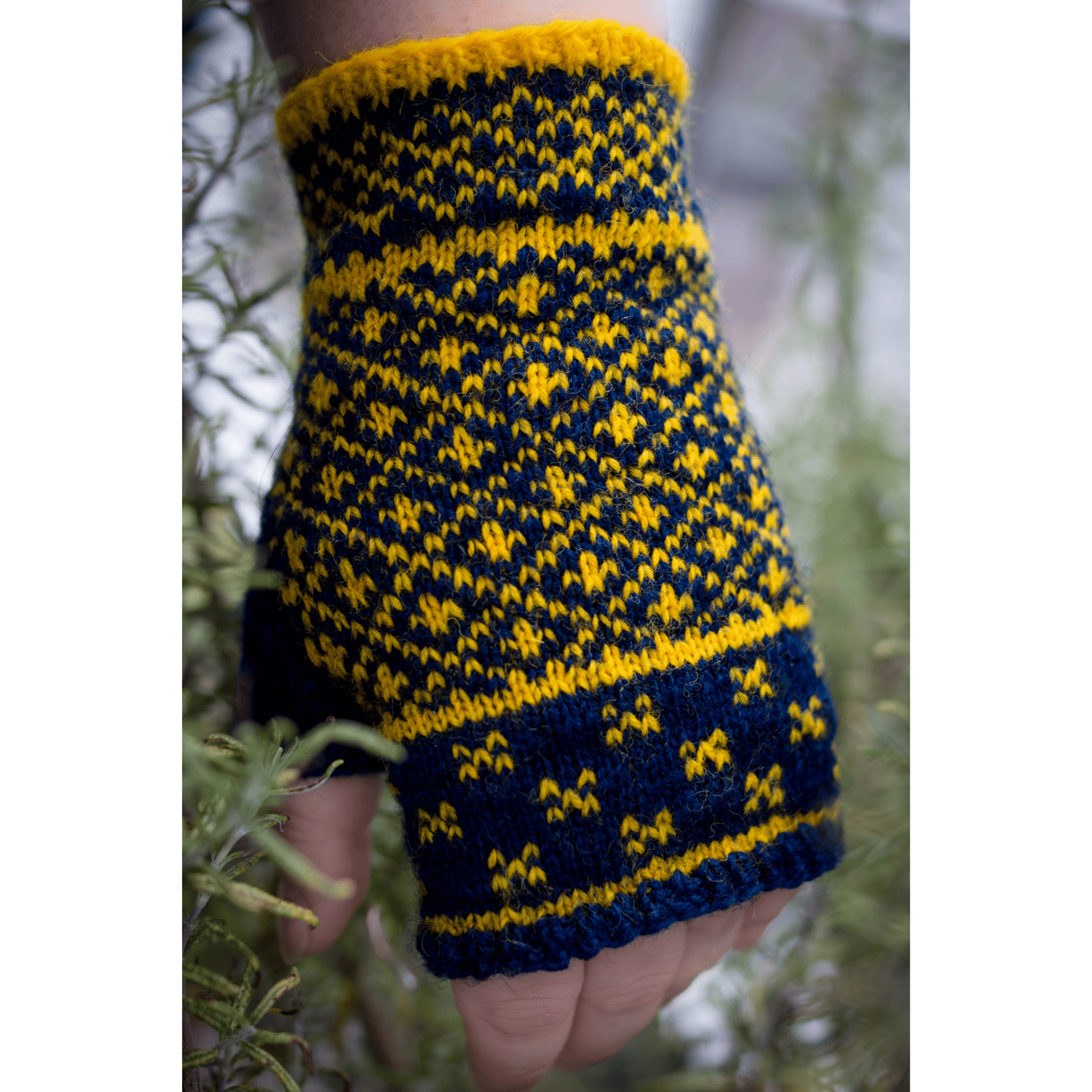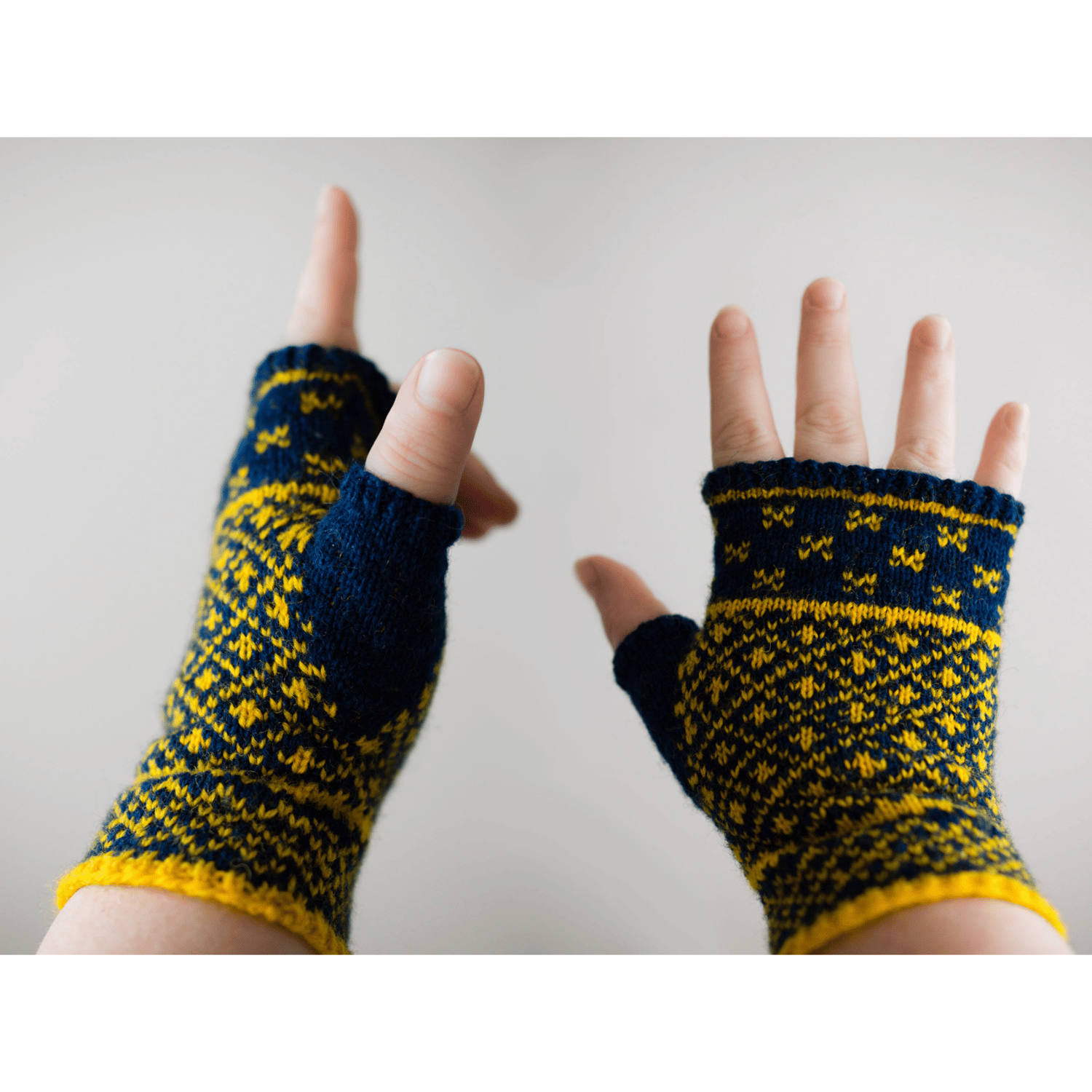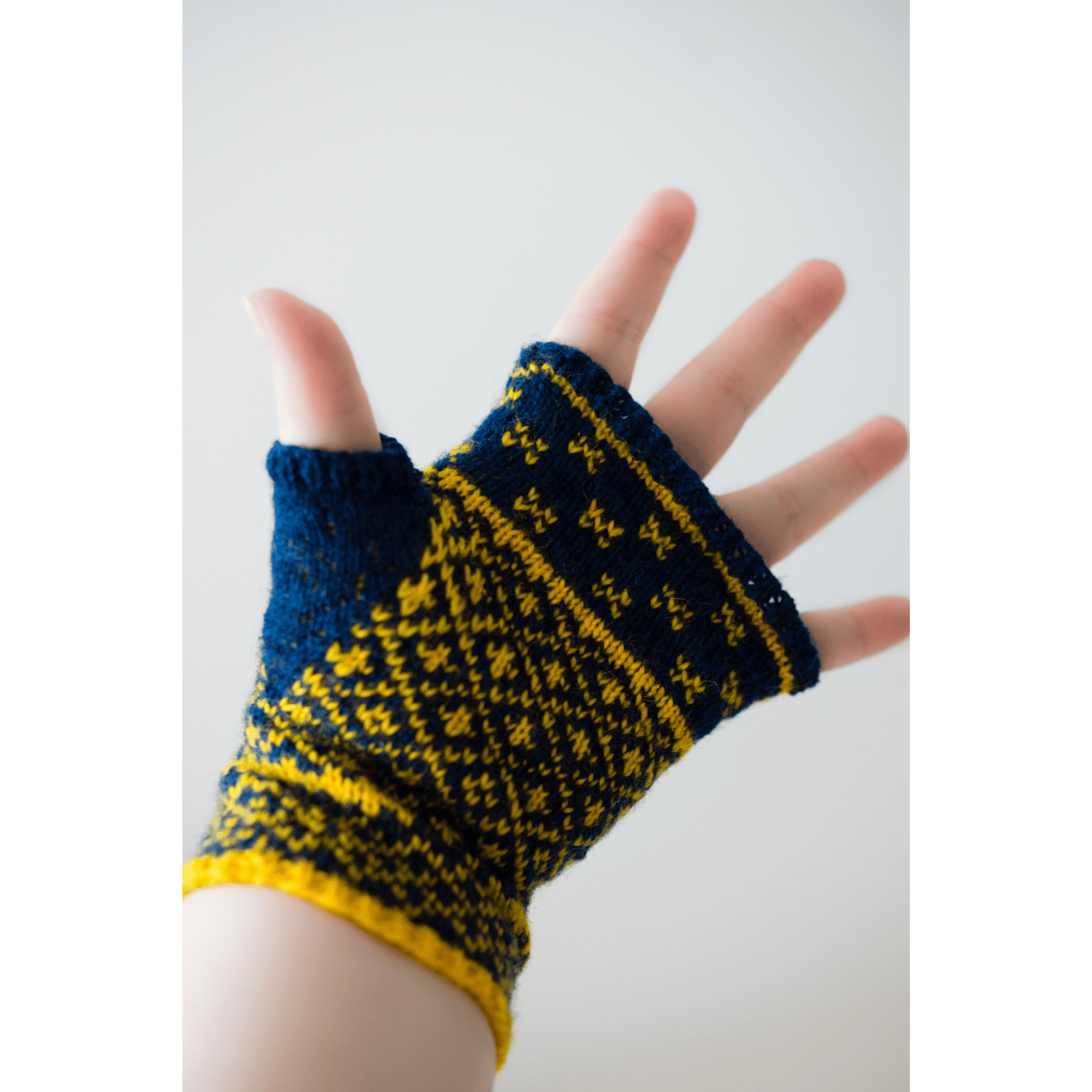 Midas
Pay what you want:
(minimum £5.00)
Designed to use exactly two mini skeins of Highland 4-ply, Midas is a thick, warm mitt that will keep you interested as you knit them and warm as you wear them. Featuring simple colourwork motifs, it's suitable for confident beginners to stranded knitting.
About This Pattern
written instructions
charted instructions
worked in the round
screen reader and print challenged accessible version
Materials
92 yards (84 meters) 4-ply yarn in each of 2 colours (184 yards / 168 meters total)
2mm needles (or size needed for gauge) suitable for working in the round
3 stitch markers, 1 of which you can tell apart from the others
your preferred blocking equipment
Sizing
Midas comes in three sizes: small, medium, and large (S, M, L) and is designed to be worn with around 1" / 2.5cm negative ease.
Small: 6" tall by 5.1" diameter (15cm tall by 12.6cm diameter) to fit hands up to 6.1" (15.5cm) at knuckle / wrist.
Medium: 6" tall by 5.9" diameter (15cm tall by 12.7cm diameter) to fit hands up to 6.9" (17.5cm) at knuckle / wrist, with an option to work an additional repeat to extend the length to 7" / 18cm (see page 3).
Large: 7" tall by 6.7" diameter (18cm tall by 17cm diameter) to fit hands up to 7.7" (19.6cm) at knuckle / wrist.
Accessible Version
The accessible version of this pattern is included with your download. It has been formatted to suit low vision / print challenged knitters and to be compatible with screen readers.
Specifically, the pattern:
24 point sans-serif font (Arial) throughout
Fully saturated black text on white background
Single column layout
Left-aligned text
No italics
No header or footer – just page numbers (bottom left)
Consistent use of heading tags for easy navigation
Internal links to aid navigation
All instructions written out in text without reliance on diagrams or charts
All words written out in full (i.e. no abbreviations)
No bulleted lists
No tables*
In addition, the main version of the pattern has been checked to ensure that any charts, diagrams, or other visual instructions are suitable for colour-blind readers.
All of my patterns have been tested and tech edited, and include details of how to contact me should you need pattern support.Please note that patterns are for personal use only. If you would like to use one of my patterns to make items to sell or for teaching a class, please get in touch. Yarn store owners are very welcome to make samples.