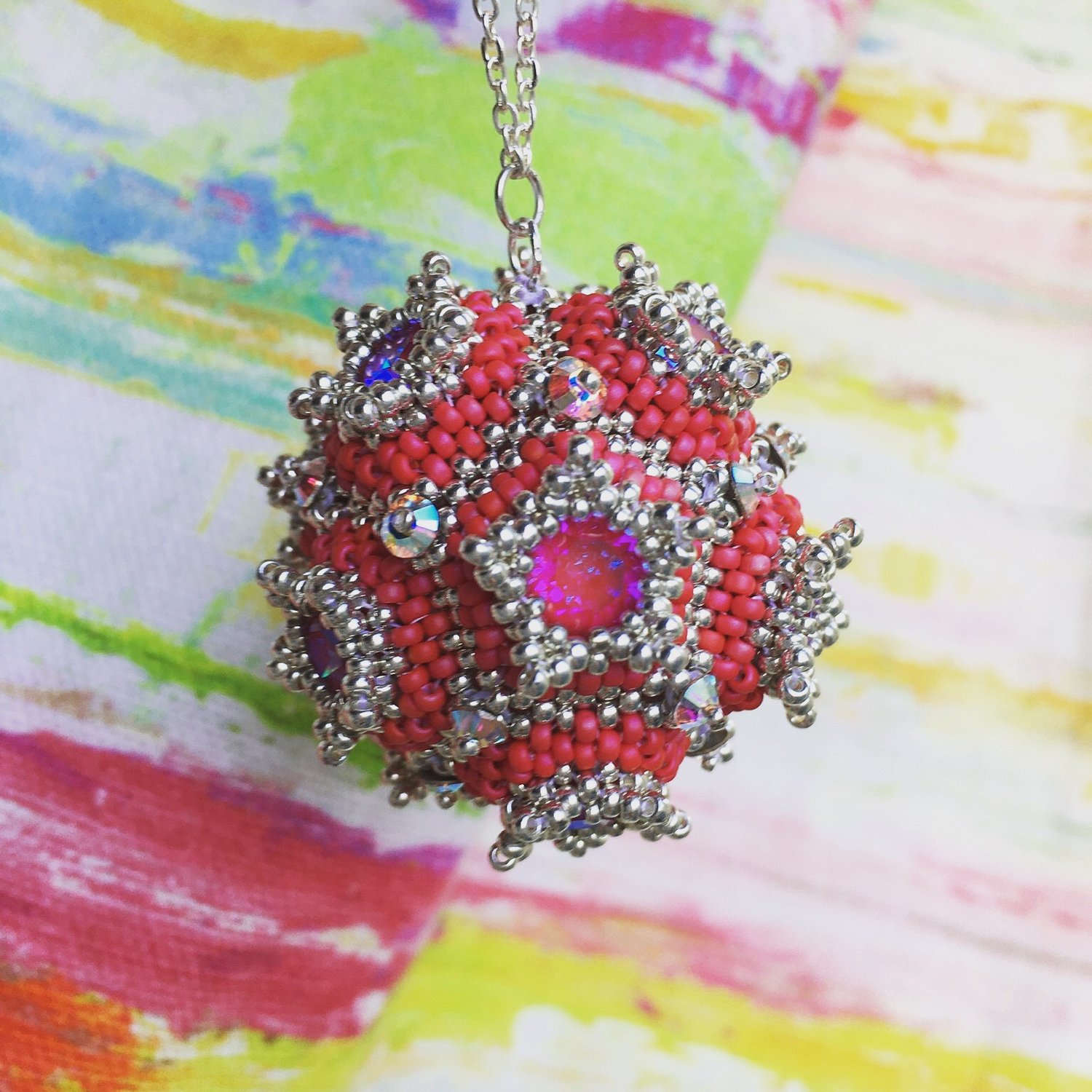 Oscar's Bauble Beadweaving Tutorial
A PDF tutorial for my Oscar's Bauble. This uses circular peyote to create a dodecahedron of gumdrop or spike beads, or of 8mm chatons which forms a perfect bauble for your Christmas tree, or to decorate your home all year round. Will suit intermediate beaders who have experience with peyote and 3d beadwork.
The twenty-nine page tutorial contains a full materials list, with suggestions for colour schemes and variations, and every step is fully illustrated with a detailed diagram showing thread paths etc, as well as being written out clearly (in English). And there is even a blank bead template so you can design your own patterned colourway. Please note that the chaton version is a more recent addition to the original spike/gumdrop, and has different starting steps given in an appendix at the end of the tutorial PDF.
The finished bauble measures 5.0cm in diameter made with Gumdrops, 6.5cm with Spikes and 4.2cm with chatons. The smaller size of the chaton version makes it wearable as a pendant.
You will need:
12 qty Czech Gumdrop beads 7x10mm, Czech spikes 7x17mm or SS39 8mm Chatons
11A 11g Size 11 seed beads, colour A (main colour)
11B 8g Size 11 seed beads, colour B (highlight colour, forms the petals/star)
15A <1g Size 15 seed beads, colour A (although these are not seen in the spike and gumdrop versions so you could use any colour, they will be visible in the chaton version so I would suggest matching to your 11As).
Optional extra feature beads (for the apexes) - 20 4mm lochrosen, or O beads, or anything you care to try.
Something to hang the bauble by - a fine chain, thread or fine ribbon or cord.
Beadweaving needles, thread of your choice, scissors.
Materials packs featuring some of the colourways shown and more are also available here
https://www.etsy.com/uk/listing/577029289/materials-pack-for-oscars-bauble
The tutorial will available through PayHip for you to download as a PDF as soon as possible after PayHip detects a cleared payment.
As a beader who designs and sells largely to support my own out of control bead buying habit, you may make from my tutorials to sell (in small quantities only) so you can buy lots more beads (and tutorials), but please ensure you give me full credit as designer.
Please do respect my rights as a designer and do not pass finished pieces off as your own design, teach the design, or reproduce this tutorial or the images in it in any way.  Thank you!