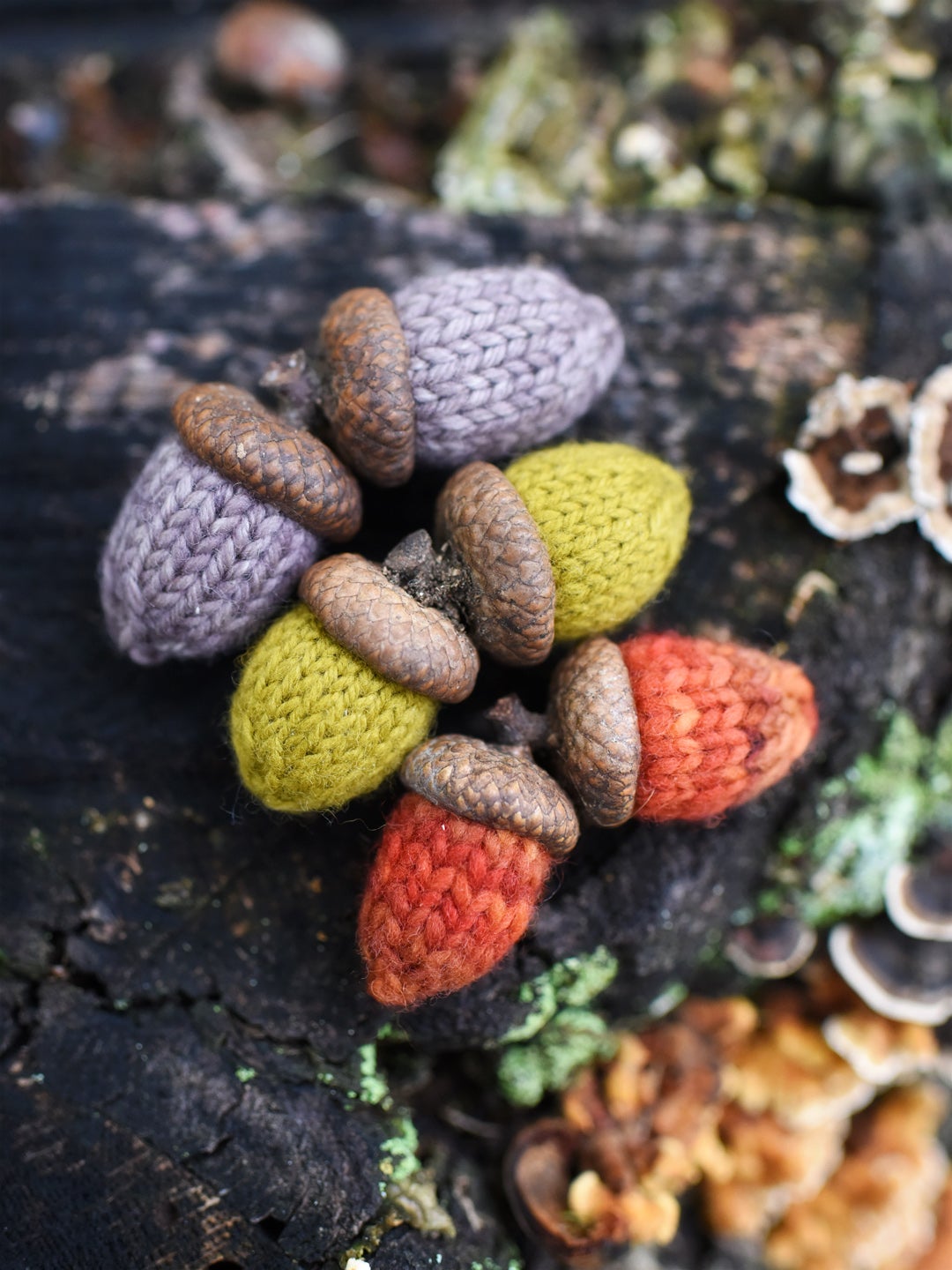 Hoard
On Sale
$8.00
---
Hoard noun a supply of valuable objects, often hidden away

---
So let's be clear right from the start. This is not somber, serious, grown-up knitting. This is not the thing you knit to win the approval of that one slightly scary person at the yarn shop who is always knitting intricately cabled sweaters on size two needles and who lets it be known that anyone not doing the same isn't a proper knitter.

This is frankly adorable, borderline ridiculous knitting that absolutely no one needs and that serves no practical purpose at all. Despite that, I love it. I love it and it makes me happy. And some days, that's really what I'm looking for in my knitting.

---
What to do with the sweet, silly little things:

- Use them as table decorations for your holiday table
- Use them as party favors or place card holders at your next party
- String them on ribbon or twine and use them as bunting or a garland
- Add them to your favorite kiddo's play set
- Hide them where someone who could use a little surprise will find them
- Hang them from your christmas tree

Your imagination is the limit here. I suspect you already have a whole host of ideas for exactly how you could use a few of these!

---
The pattern is tremendously detailed, and you can use just about any yarn you can imagine. I used everything from fingering to worsted weight yarn, and each acorn took less than ten yards of yarn. The fastest of them have about as many stitches as are in one row of a sock, and the slowest have far fewer stitches than are in a respectable swatch. I knit a dozen of them in an afternoon (and then came back for more the next day because I was having too much fun to stop). This is unquestionably the easiest and quickest project I've ever knit (possibly the cutest too, though there's room for debate there).

The only special equipment you'll need is the acorn caps. If they don't grow near you (or if it's the wrong time of year where you live, or if you just don't want to go looking for your own), you can totally find them online on etsy or amazon! (Update: In October of 2020, the pattern was updated to include instructions for a knit acorn cap. You can either use real ones, or make knitted ones, as you prefer!)

And just in case you're feeling a bit nervous, the pattern includes a *lengthy* photo tutorial to walk you through every step of the process. There are all sorts of helpful tips on everything from what to fill them with to how to find and attach acorn caps to how and when to weave in your ends. It's almost absurdly detailed, but it really does mean you can totally make these!

---
These are perfect for you if:
- You're in the mood for something unabashedly frivolous
- You want to really confuse the squirrels in your yard

They're not for you if:
- You are currently knitting an impressive cabled sweater on size two needles and judging everyone who isn't doing the same
- You don't like knitting in the round

---