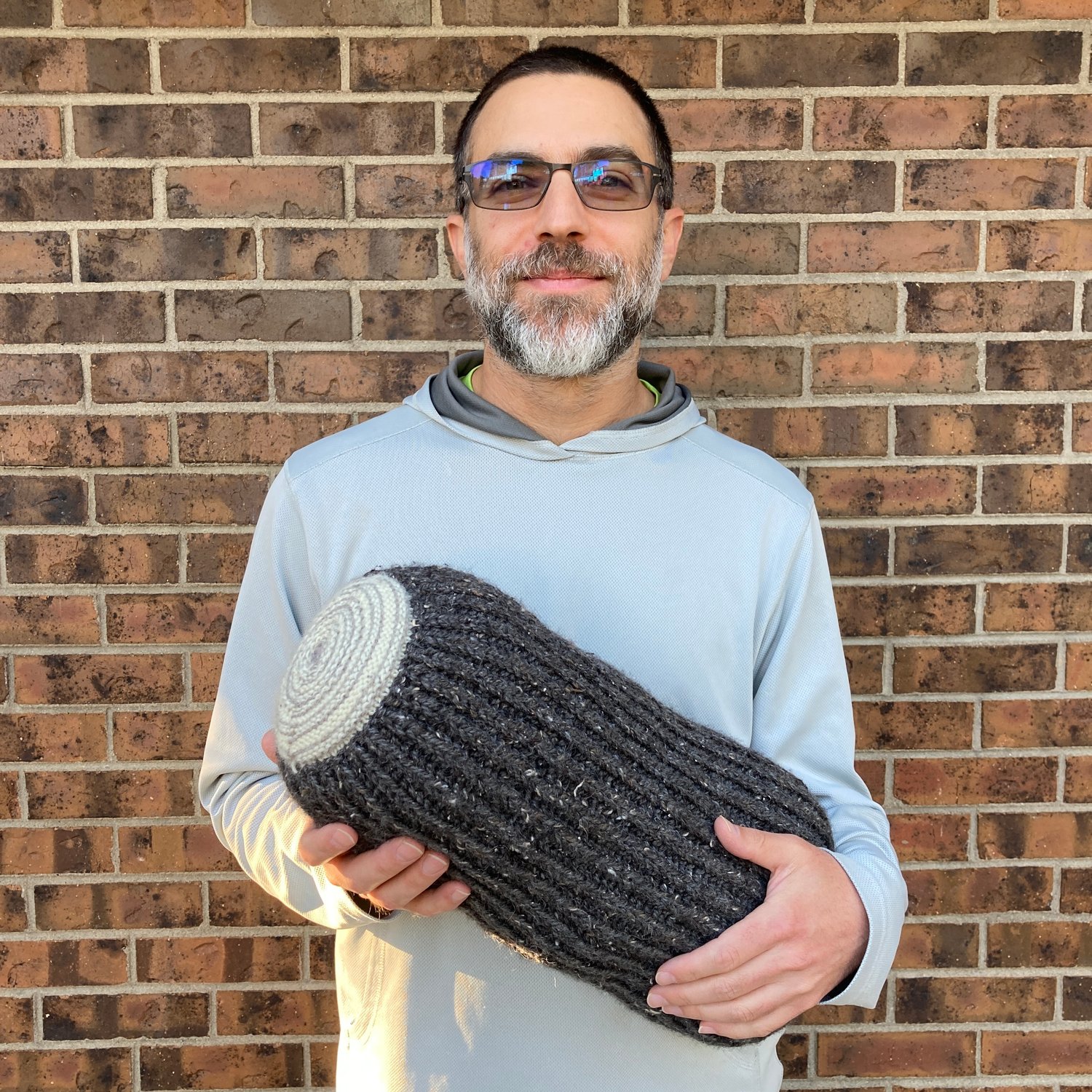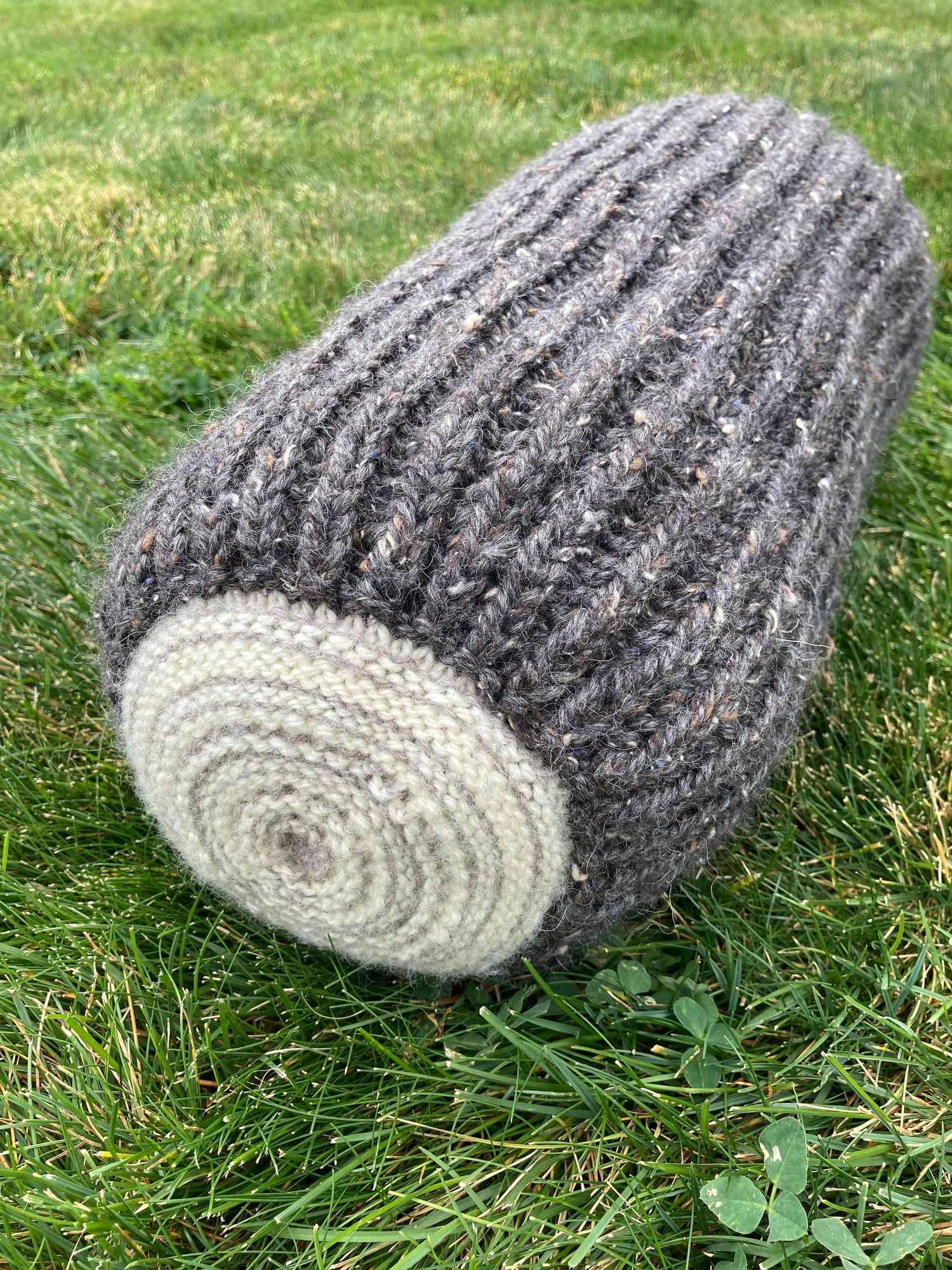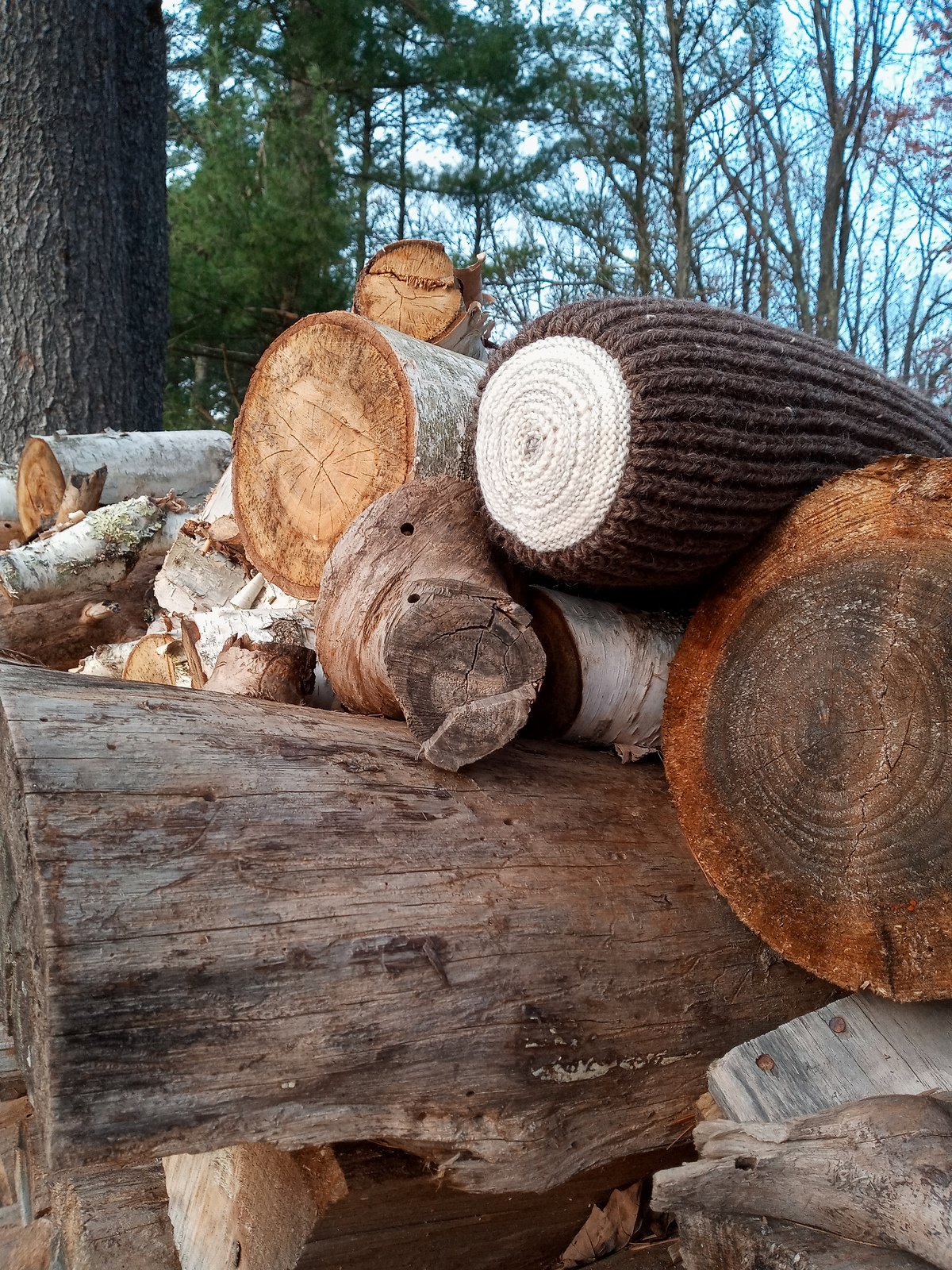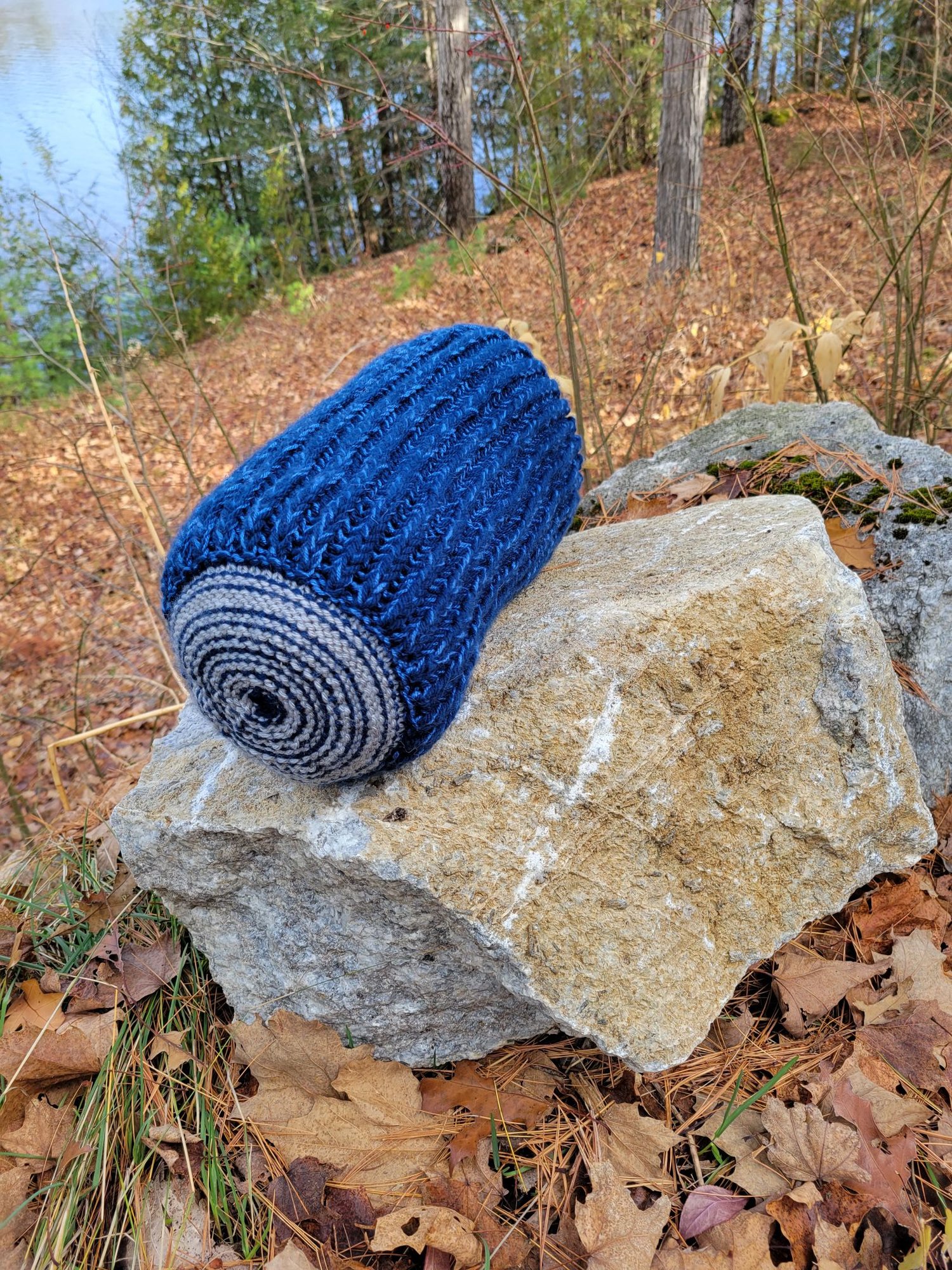 Lumber Support
On Sale
Pay what you want:
(minimum $7.00)
Purchase both Logging Off and Lumber Support for $9! MORE LOG PILLOWS!!
After creating my
Logging Off 
pillow design for my son, my husband mentioned it would be fun to have a companion bolster pillow resembling a longer limb of a tree. My son asked my husband why he wanted a pillow other than the circular slice pillow I had already created, and my husband responded that this shape could be a good back pillow—for lumbar support. Almost immediately, my son said,
"Lumbar support? MOM! You should make a long log pillow and call it LUMBER SUPPORT! Isn't that a great idea??"
I broke out into a smile and nodded vigorously in agreement and got to work on the design right away!
The length of this pillow is easily adjustable to meet your needs. The size shown fits conveniently nestled into a standard camping chair. It is possible to get a larger or smaller diameter finished pillow by adjusting needle size and yarn.
While I can't confirm back support benefits to this particular pillow design, I CAN confirm that a
LUMBER SUPPORT
pillow will make you smile and provide a great conversation piece in your home or cabin décor.
GAUGE & NEEDLES
20 stitches & 26 rounds = 4" (10 cm) in stockinette in the round
13.5 stitches & 16 rounds = 4" (10 cm) in fisherman's rib in the round with thicker yarn (after stuffing)
US 5 (3.75 mm) circular needle, 32" (80 cm) or longer for magic loop, or double-pointed needles or size needed to get gauge
Spare needle in same size, minimum length 32" (80 cm)
NOTE: some test knitters found they needed to use a larger needle size for fisherman's rib stitch than for stockinette stitch
SIZE
Circles: approx. 5" (13 cm) diameter
Stuffed pillow: approx. 6.5" (16.5 cm) diameter
Sample pillow length: 15" (38 cm)
YARN
The design uses worsted weight yarn in cream and light brown for the circles, and 2 strands of a darker brown yarn held together for the log body. A single strand of bulky weight yarn may be substituted for the 2 yarns listed for CC, which are heavy worsted weight held with fingering weight. (Psst! If you've made a
Logging Off
pillow, you should easily have enough leftovers of cream and light brown to make this one!)
Choose colors for MC1 and MC2 with a high contrast.
Check the contrast by looking at a photo of the colors through a black and white filter.
Patons Classic Wool Worsted
100% Pure New Wool, 194 yd / 177 m per 100 g
MC1: Natural Mix (light brown) - 1 strand
MC2: Aran (natural) - 1 strand
Size shown requires less than 30 yd / 27 m of each color
Knit Picks City Tweed HW, 55% Wool, 25% Alpaca, 20% Donegal Tweed, 164 yd / 150 m per 100 g
Berroco Remix Light, 30% Nylon, 27% Cotton, 24% Acrylic, 10% Silk, 9% Linen, 432 yd / 395 m per 100 g
CC: 1 strand of City Tweed HW in Orca with 1 strand of Remix Light in 6975 Earth
Size shown requires approximately 240 yd / 220 m of each color
This project also requires approximately 150 g of fiberfill stuffing, or a pre-made pillow insert such as this one:
https://www.joann.com/poly-fil-premier-neckroll-pillow-insert/15954043.html
Tech editing: Bronwyn Hahn
Test knitting: Jenn H., Julie H., Wendy K., Kathrin K., Tiffany L., Carrie S., Linda S., Amy S.