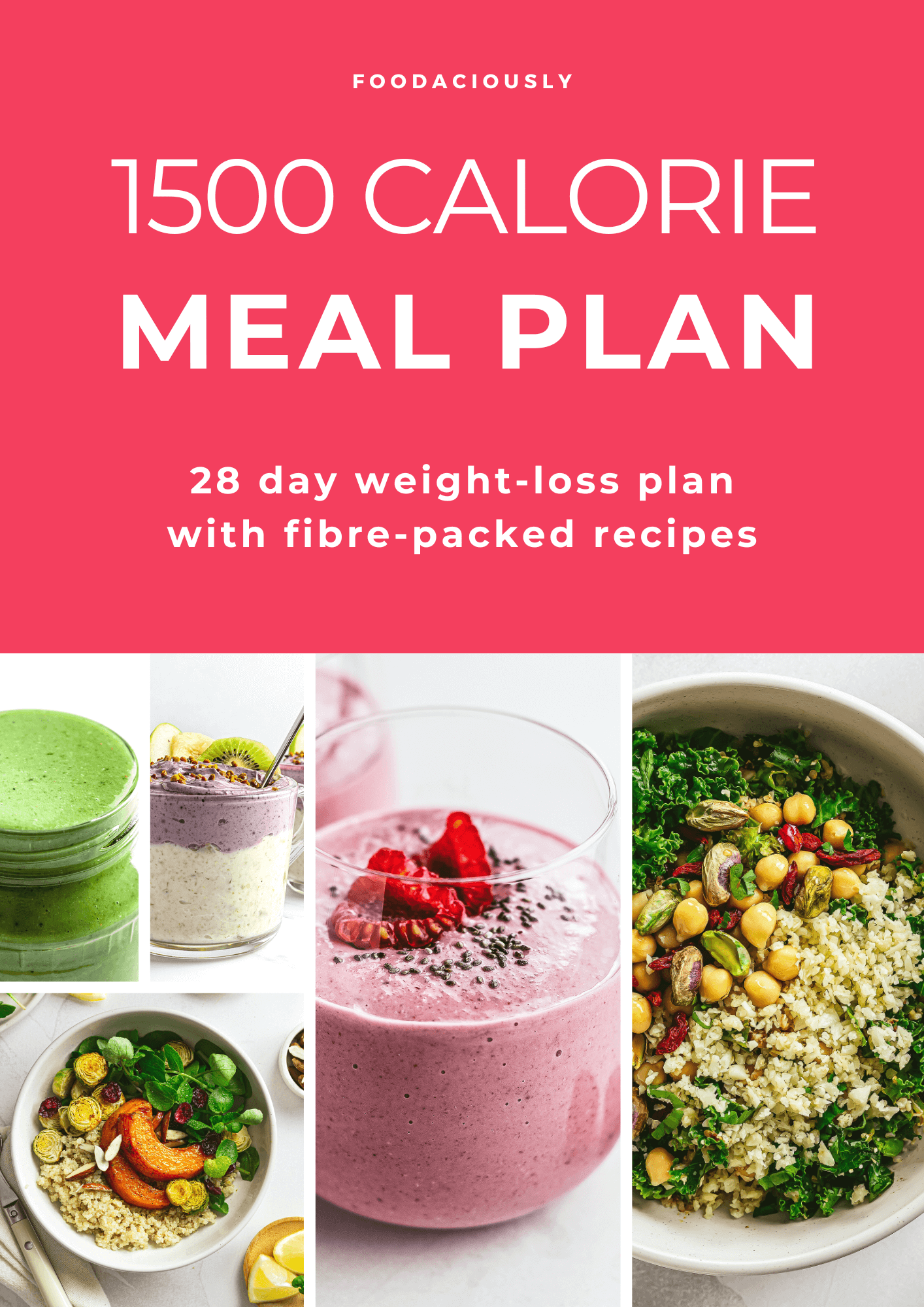 1500 Calorie Weight-Loss Meal Plan (eBook)
On Sale
Preview
Notes
Free preview sample can be downloaded at the top

Option to use coupons available at checkout 
Additional 15% discount is always available by clicking the share button
Shave 4 lbs (2 kg) in 28 days
Losing weight is not just about eating less; it's about eating right.
In this meal plan, I help you prepare nutritious daily meals for the next 28 days, with a total of 
1500 calories per day
. 
By following this program plan you'll
lose 4 lbs (roughly 2 kg) in 28 days
. Calorie restriction is regarded as the most effective approach to weight loss as it boosts your metabolism and pushes your body to use fat stores.
What's in this bundle? 
When you buy this bundle, you'll get:
Carefully balanced meals that cover breakfast, lunch, and snacks.
28 delicious recipes that are simple and easy to follow.
Well-organised, time-saving grocery lists
Detailed nutritional breakdown
Interesting nutritional facts
Behavioural tips
Downloadable grocery list and weekly meal plans that you can print or use on your phone
Science-backed and evidence-based tips and info
Why does it work?
For a woman, a deficit of 3500 calorie corresponds to one pound of body weight lost. When your body is in a caloric deficit, it gets the required energy from stored fats. 
How do you get a deficit of calories? By ending the day with less than 2000 calories.
So if you want to lose 4 pounds (2 kilos) in 28 days, you have to drop 500 calories per day from your average 2000 calories intake. 
Now the trick is to drop those 500 calories per day without robbing your body of essential nutrients. That's where this meal plan comes in! I've done all the hard work, so that you eat the right foods, in the right quantity, every day. Zero fuss, lots of yum. 
About the author 
I am Marta Napoleoni, a registered pharmacist, nutritional consultant, and weight loss coach. I am the recipe developer and nutritionist behind foodaciously.com, where I share with you hundreds of diet-friendly and allergen-free recipes.
Thanks to my background, I know what a healthy body needs, both from a medicinal perspective, as well as from dieting. I complement my in-depth understanding of biochemistry with knowledge of the healing properties of wholesome foods. 

In this ebook, I leverage my experience to make a meal plan that follows the science and delivers results. Just like on our website, I use data and science to explain in an easy way why a certain recipe or food is good for you. This way, you feed the body as well as the mind! 
Learn to do it yourself
This meal plan comes with a cute calendar and easy-to-follow, mouth-watering recipes. Hurray! But I didn't stop there. I had a different goal in mind: helping you today so that you can help yourself tomorrow. 

So I filled this book with close to 100 pages of nutritional advice, dieting tips, detailed nutritional breakdowns for each meal, and, of course, awesome recipes! 
At the end of this scrumptious journey, you will be equipped with the foundational knowledge to make your own healthy meals. To help you further, we have built a free-to-use recipe search engine, that will help you find food according to your nutritional needs. 
30 Days Money-back Guarantee 
What I want is for you to reach your goal and be happy about the results you achieved.
If you are not happy, we'll give you back your money. No questions asked. But I'm confident you will get results if you stick to the meal plan.
Reach out to support@foodaciously.com if you have any questions.





Note: This 1500 calories program is designed for adult women. If you are a man, you can follow the same plan and achieve similar results by bringing your daily calories to 2000. It's simple: just divide each ingredient amount used in the recipes by 3 and multiply it by 4.