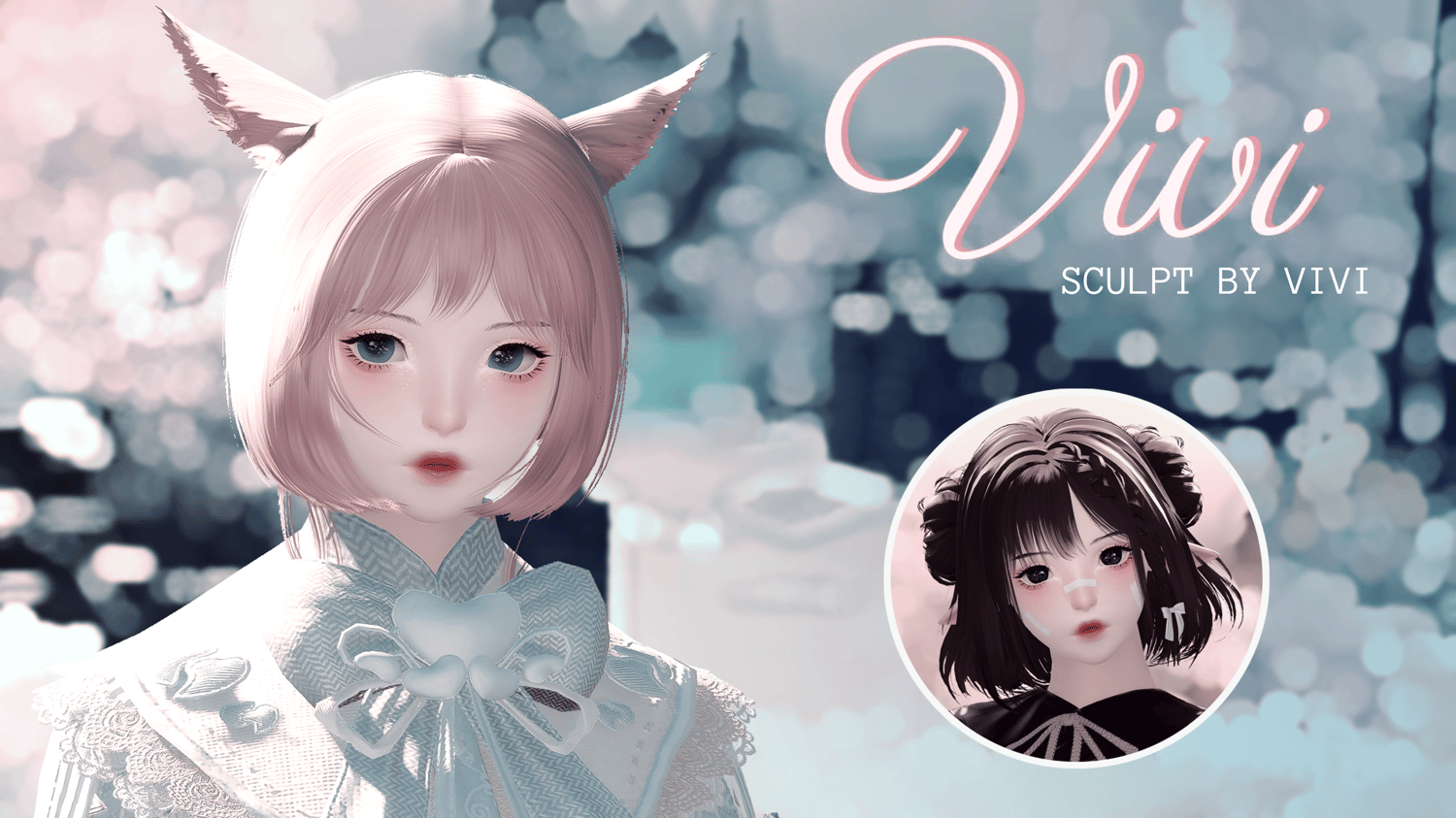 Vivi - Sculpt for Miqo
High-Poly Face Sculpt for all female Miqo Faces based on Miqo F104
This is an old sculpt and does not reflect my current skill and quality, please keep this in mind before purchasing!
————––– ◾◽◻‒♡❀♡‒◻◽◾ –––————
More Preview-Pictures: https://imgur.com/a/4B9Rsmk
————––– ◾◽◻‒♡❀♡‒◻◽◾ –––————
Included are:
o High-Poly sculpt for all female Miqo based on Miqo face 104
o Custom eyelashes, iris, catchlight and eyebrows
o 3 different custom make-ups with 2 variations each + .png overlays for all clan-marks
o Toggable elf ears / earflaps (elf ears are on ETC B & move with specific emotes such as /joy)
o Edited normal map
————––– ◾◽◻‒♡❀♡‒◻◽◾ –––————
Before-you-buy:
o Shapekeys are removed, this means you cannot change the shape of eyes, noses, mouths etc.
o Facial features such as scars may be removed / used as a toggle for ear flaps, horns, accessories etc.
o My sculpts use a custom UV-layout for eyelashes and brows.
o Make sure you check the previews diligently, I try to make them as thorough as possible. If you are still unsure about something after checking them, feel free to reach out for further previews
o Everything comes as is, I will not be making alterations in any way for older work anymore (unless something is broken, I will of course fix any issues)
Terms of Use / Permissions:
• This is a digital product, which means I cannot offer refunds. If you find any issues with my paid releases please reach out to me and I will fix them!
• Please do not share my files with others (except for: family members, significant others, other modders for commissions).
• Please do not use my paid releases as a base for your own releases.
• Feel free to edit and port any of my mods for personal use. Go ham and have fun, as long as it does not involve Lalafell NSFW.
————––– ◾◽◻‒♡❀♡‒◻◽◾ –––————
Feel free to use #vivimods on Twitter so I get a chance to see your lovely characters! ✧⭒
For any questions / issues / suggestions / feedback please reach out to me on Discord (pameyshi#2584) or Twitter (@vivi_mods) ♥