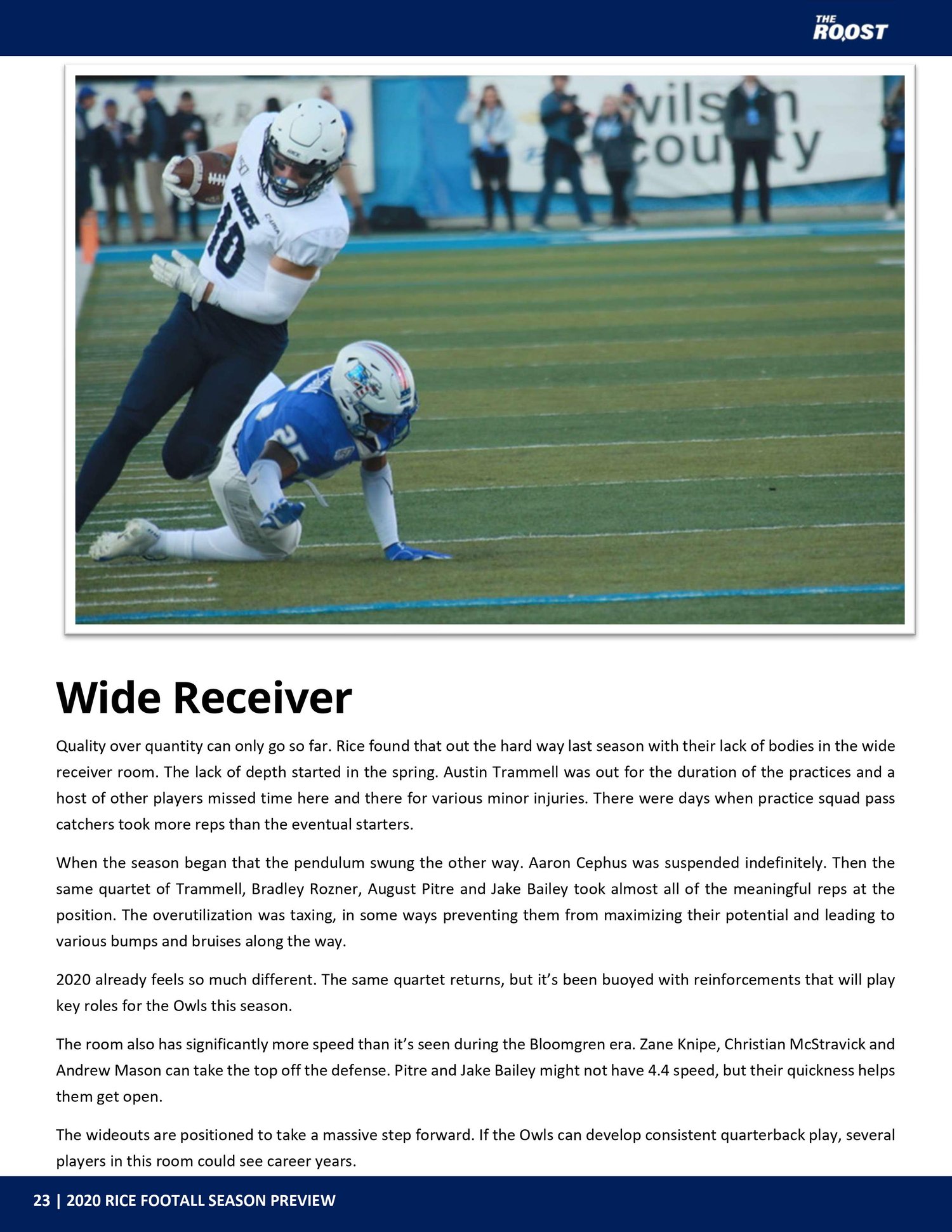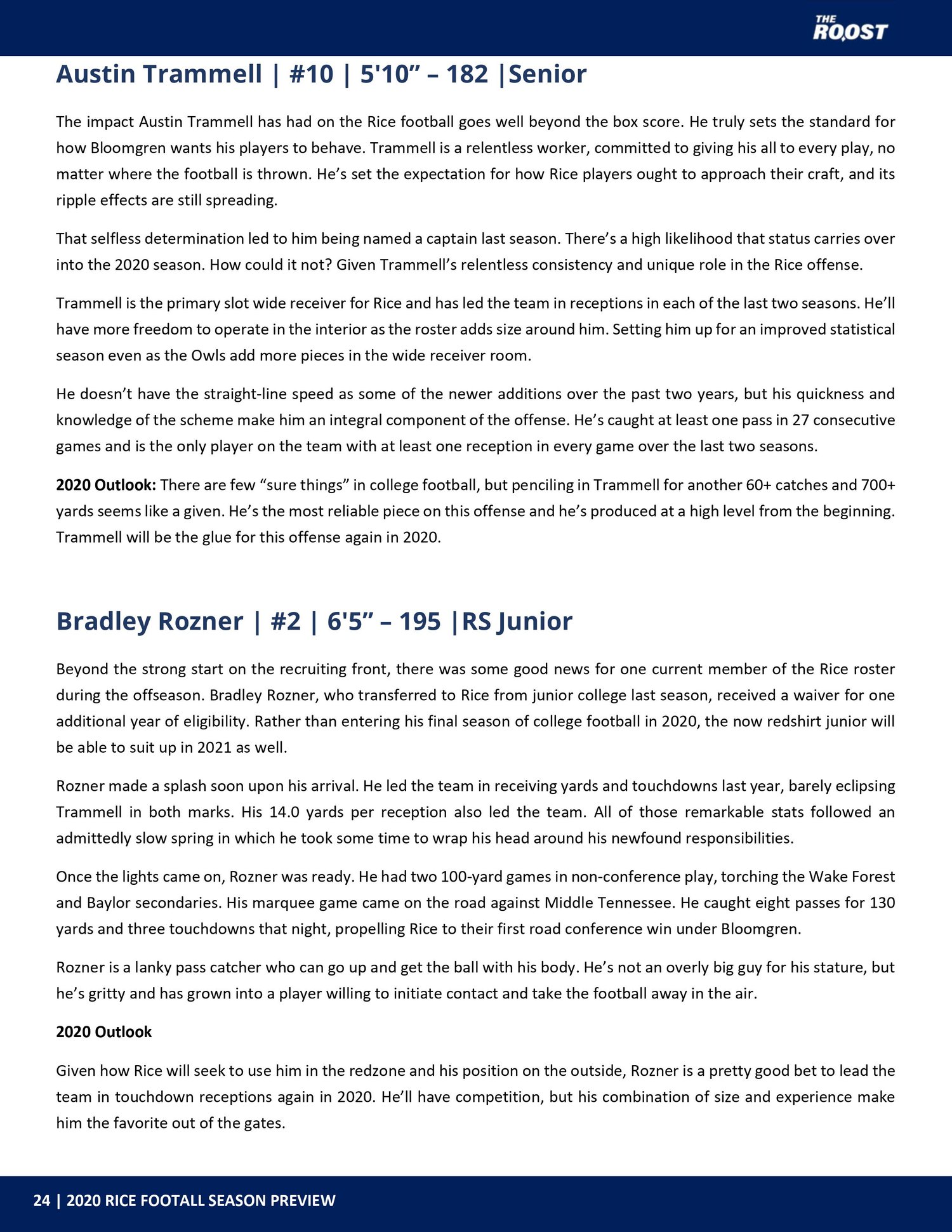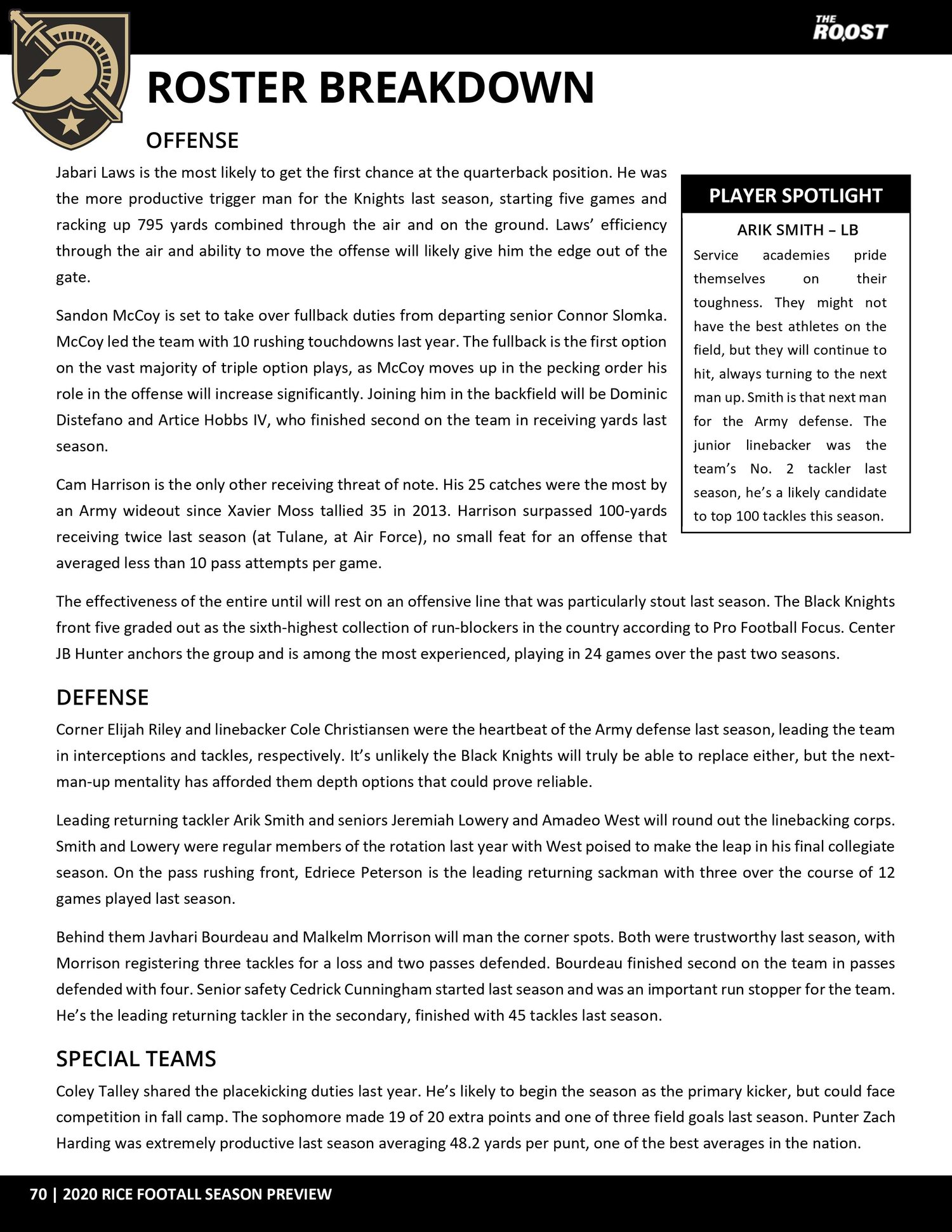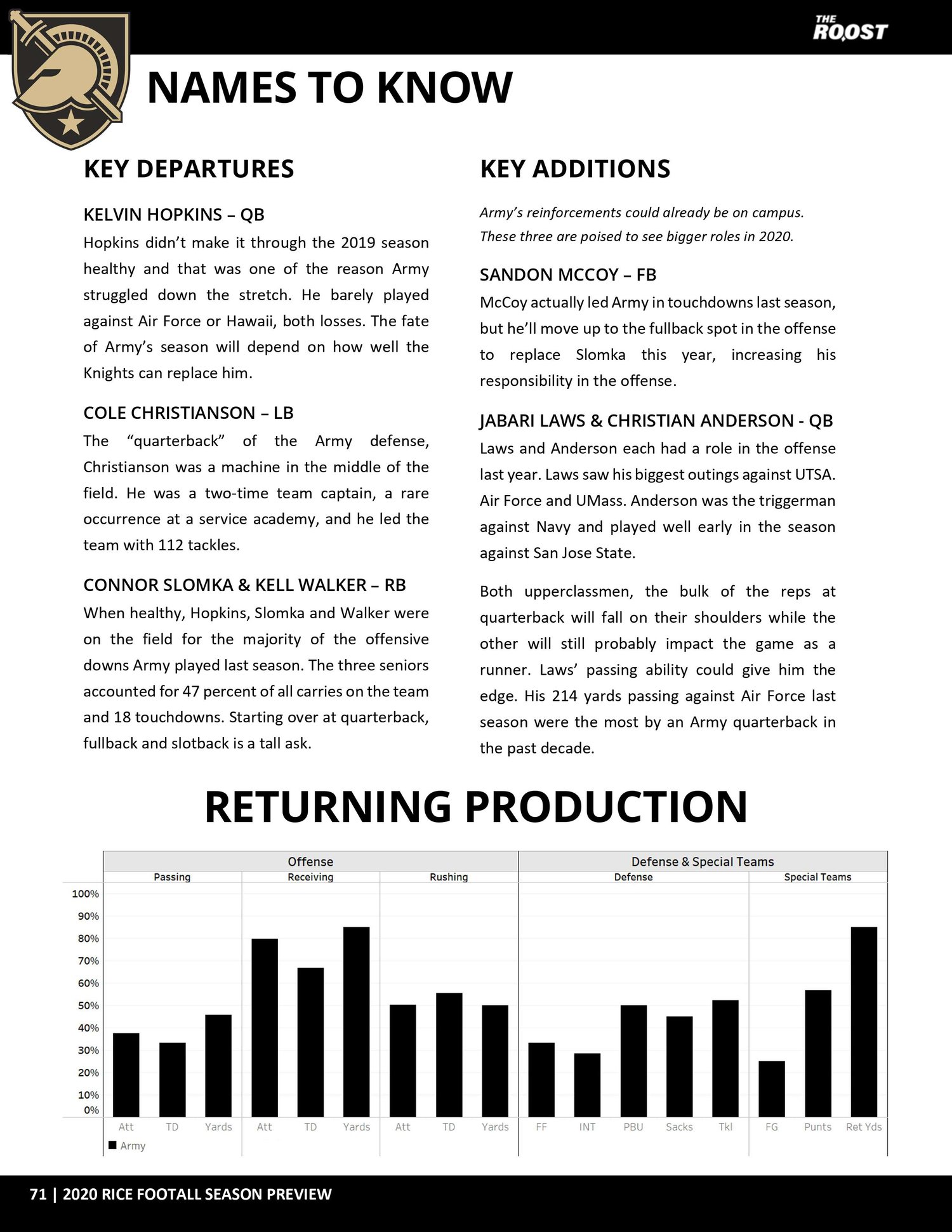 The Roost's 2020 Rice Football Season Preview
On Sale
$12.99
Pay what you want:
(minimum $12.99)
Preview
Available Now: The Rice Football Season Preview is a deep-dive on all things Rice Football with profiles on every C-USA team compiled with the help from local experts. As one Rice administrator dubbed it, it's the bible for Rice Football fans.


This document is a PERSONAL COPY intended for the sole use of the purchaser. It may not be used, published or redistributed without the prior written consent of The Roost. 
Get answers to questions like:
Who has the leg up in the Rice quarterback battle?
Which incoming transfers could make the biggest impact?
Which opponents are returning the most production on offense? defense?
Who are the top returning players Rice will face in Conference USA? 
What can I expect?
160 pages
Two reading formats: PDF, ePUB (eBook)
Player by player detail on the entire Rice football roster
Position profiles with depth chart projections
Insight on every Rice opponent and all 18 Conference USA teams supported by plugged-in local experts
Computer, mobile and tablet-accessible
Why the open-ended price?
The Roost is a privately funded business and we cover all of our own costs. If you've been following us for some time or have recently started, please consider a gift beyond the asking price to help us continue to grow the site and increase our contributions in the months ahead.
Note *A portion of all proceeds will be donated to Rice Athletics*

What are people saying?
Don't just take our word for it. Here's what people are saying:
"The Roost's C-USA preview has been an indispensable resource for me as I make my preparations for this season."
"I just spent 30 minutes going through it, but barely skimmed the surface.  It's a great way to learn the new players.
"I don't know any preview that could be more detailed than that."
"This is worth spending the money on. Best you will get for CUSA"
"I liked everything."
Want more?
Find additional Conference USA and Rice Football content at
The Roost website
and consider supporting us on
Patreon
. 
IMPORTANT | FINE PRINT
Upon purchase, you should receive an email with a download link. If there are any issues with the delivery, please don't hesitate to contact us.
Some mobile devices have trouble downloading larger files. It is recommended to download on a PC first then transfer the file to a mobile device.
Your device may require an app to open the eBook file. For Apple users, we recommend iBooks. For Android users, we recommend Google Play Books. Both can read ePub files directly. Once opened, it should remain in your eBook reader.
If you have any questions, please contact me: matthewbartlett@attheroost.com